The HomeKit-enabled SYLVANIA SMART+ A19 Full Color Light Bulb is now available for pre-order (MSRP $44.99) with delivery expected in September and additional products coming out soon after. This is the first light bulb you can buy that can be easily controlled via Siri and Apple's Home app and doesn't require buying a separate hub or smart socket, or need a Wi-Fi router to function like other products.
Installation is easy. Screw in the Bluetooth-enabled bulb into any lamp in your home, apartment or dorm room. Sync it with the Home app on your Apple device that is already an integral part of your busy life. Start controlling the light. Its that simple. The user-friendly Home app allows users to control all HomeKit accessories in one place, including lights, temperature, locks, garage doors, scenes and more, making it a great command center for your Smart Home.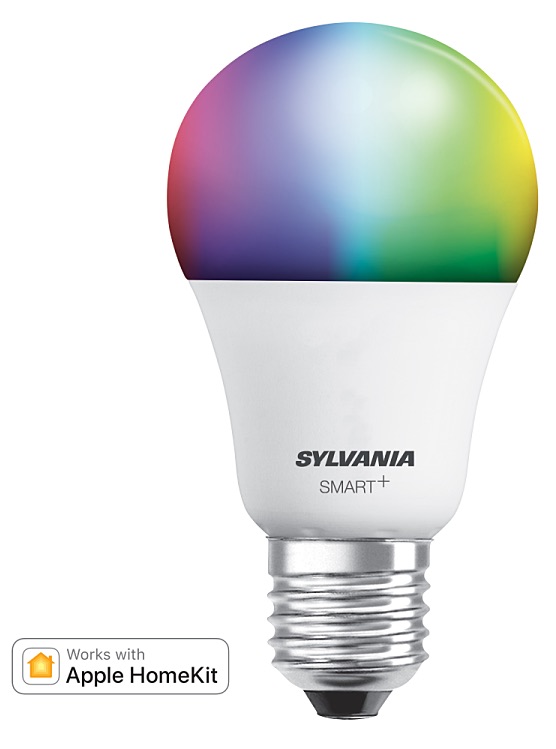 LEDVANCE, maker of SYLVANIA general lighting in the US and Canada, will be adding a HomeKit-enabled SYLVANIA SMART+ A19 Soft White Light Bulb, Indoor Full Color Flex Strip, and Plug to the portfolio for purchase in the near future, adding even more ways to customize and control your Smart Home.
With SYLVANIA SMART+ lighting products, you can change the look and feel of a room to suit your mood or whatever you need to accomplish. You can use the Home app or via voice commands with Siri to control the HomeKit-enabled SYLVANIA SMART+ A19 Full Color Light Bulb individually or in groups as part of scenes. Features include turning it on and off, dimming it, adjusting it from a cool white for concentrating to a warm white for relaxing, and changing it to one of millions of colors to quickly and easily complement the dcor of any room. For example, a living room can be easily transformed from a home office for being task orientated to a fun party room for entertaining in seconds.
"We are proud to break new ground with Apple to bring to market this first of its kind product," said Aaron Ganick, head of Smart Business Americas, LEDVANCE. "Apple is known for innovative products that are simple and intuitive to use, while making our lives better. HomeKit is no exception. Our new HomeKit-enabled SYLVANIA SMART+ products are perfect for those who have heard how great it is to have a Smart Home but arent yet ready to tackle the installation and maintenance responsibilities of a larger system. Every iPhone, iPad and Apple Watch user already has the Home app at their disposal, and children are growing up talking to Siri as just a normal part of everyday life. We are making the reality of Smart Home even easier to obtain for the masses."
For those times when you are away from your Smart Home, Apple has also made it possible to control HomeKit-enabled products like the SYLVANIA SMART+ Full Color A19 bulb SYLVANIA SMART+ A19 Full Color Light Bulb using an Apple TV or iPad running iOS 10 as a home hub. This allows consumers flexibility when deciding how to control their HomeKit-enabled products. With a home hub, you can set up schedules to turn lights on and off while youre on vacation or for when you get home in the evening. You can also combine activities with other HomeKit-enabled devices to create custom experiences through the Home app. For example, turning on the lights, unlocking the front door and turning on the heat can be accomplished simply by speaking voice commands to Siri such as, Im on my way home.
"Our approach is unique in the Smart industry because we focus on delivering quality lighting products first and only then adding Smart functionality second. Our customers expect their Smart lighting to not only work with the latest and greatest technology ecosystems, but to look good while doing it," added Ganick. Our products combine over a century of lighting expertise with our forward-thinking, high tech mentality. Thats why they arent just Smart, they are SYLVANIA SMART+."
HomeKit-enabled SYLVANIA SMART+ lighting products will be available at additional major retailers online and in store nationwide and via industrial commercial distribution partners later this year. For more information, :
http://www.sylvania.com
Source: LEDVANCE GmbH, SYLVANIA