Logitech has announced announced its new MX ERGO wireless trackball, the company's first new trackball product in nearly a decade, Logitech's MX ERGO offers personalized comfort with a unique adjustable hinge, precision tracking, and multi-device connectivity for trackball enthusiasts, and those consumers searching for pointing device alternatives to mice and touchpads.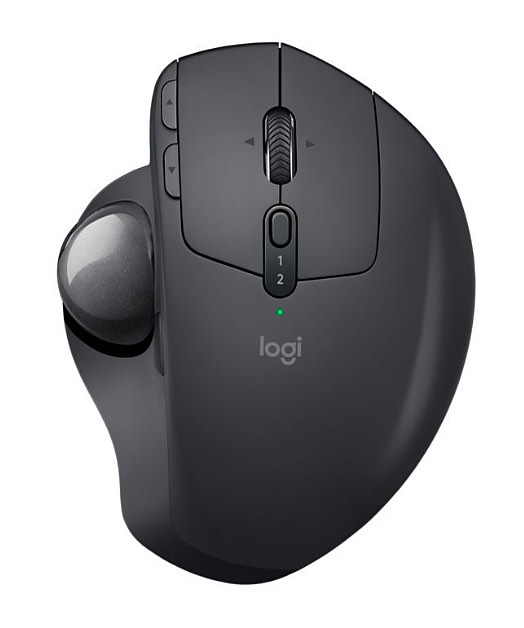 "We are so excited by this new trackball. It is back, better than ever and the idea for this trackball innovation was inspired by our users, who invented creative ways to achieve their desired level of comfort, sometimes adding additional wedges under their trackball for elevated angles," said Anatoliy Polyanker, global portfolio and brand director at Logitech. "The MX ERGO is our first adjustable trackball that delivers on the need for elevated comfort in a beautiful design."
The MX ERGO is clamed to reduce muscular strain by 20% compared to using a standard mouse. With the adjustable hinge, you can increase the angle from 0 to 20 degrees which improves wrist posture and pronation. The carefully sculpted shape gives your hand full palm and finger support, while the soft rubber on the top ensures a good, comfortable grip for long hours at the computer.
MX ERGO offers the latest tracking technology, allowing faster and more precise navigation, with the ability to instantly change your cursor speed and accuracy for optimal control with the press of a button. An LED light illuminates when precision mode is activated, giving you the ideal control with the trackball.
Featuring a rechargeable battery that lasts up to four months on a full charge, depending on usage, the MX ERGO can also give you a complete day of work with just one minute of charge if you find yourself low on power.
MX ERGO is enabled with both Logitech Easy-Switch and Logitech Flow. With Logitech Flow, available as a free download as part of Logitech Options software, and Easy-Switch, you can take multi-computer use to a new level. Seamlessly switch between two computers with one mouse, and copy and paste content, images and documents between them.
The elegantly designed MX ERGO is made with Logitech's typically high-quality materials that feel good in your hand, and will pair well with Logitech's other luxury products like the Logitech CRAFT Advanced Keyboard with Creative Input Dial, Logitech Spotlight Presentation Remote, or Logitech MX Sound
The Logitech MX ERGO is priced at $99.99 and expected to be available at http://Logitech.com and select retail stores throughout North America in September. An exclusive edition is also available at Best Buy for $99.99, MX ERGO Plus. For more information, visit http://Logitech.com, the Logiteh blog or connect with Logitech on Facebook, Instagram and Twitter.
Source: Logitech