Gumdrop Cases have announced that their new DropTech Clear iPad 9.7 case is now available to protect Apple's education focused iPad 9.7 (5th Gen) from damage — safe from accidents, drops, light spills or other mishaps. It's durable, easy to install and keep clean, and fits snugly around the new iPad 9.7 released by Apple earlier this year.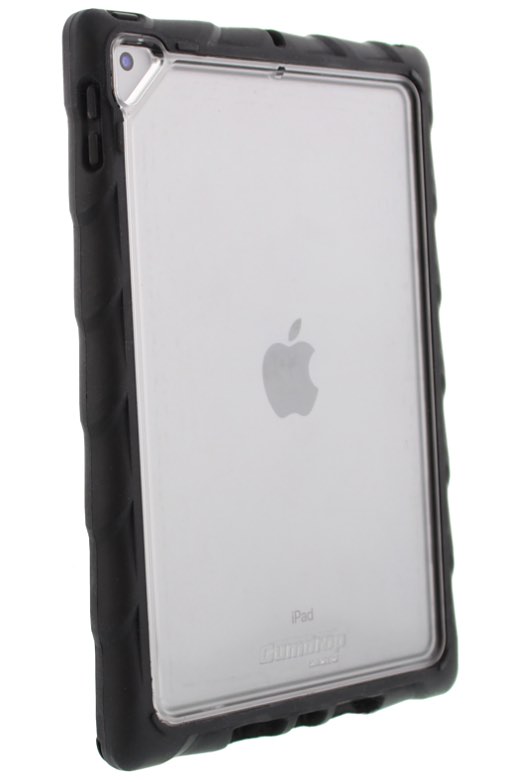 The DropTech Clear iPad 9.7 case is made of shock absorbing, dual-layer silicone with reinforced bumpers on the corners and a replaceable screen shield to prevent scratches and repel light splashes. The case allows full access to Apple's touch ID technology, ports, buttons, camera and speakers, and is perfect for any environment. The transparent Polycarbonate back is also perfect for schools to display asset tags, logos or any other identifying feature and can be wiped clean quickly.
DropTech Clear Highlights:
* Heavy Duty Case For iPad 9.7 (5th Generation): The DropTech Clear case remains tough as nails, able to take repeated drops without breaking a sweat
* For Work Or School Environments: The new transparent Polycarbonate back strengthens the case and now allows you to easily display asset tags, logos or simply gaze at the Apple logo
* Keep Your iPad Looking Like New: Screen protector keeps scratches, smudges and spills at bay. Now it's more affordable than ever to keep your tablet in near perfect condition
* Full Coverage With Easy Access: Includes a screen shield and moveable covers for all ports and buttons, but still allows quick access to use the iPad fully
* Supports the 2017 9.7-inch iPad
The DropTech Clear iPad 9.7 case is available on the Gumdrop Cases website in a Black/Smoke color combination (black silicone cover with transparent smoke back window) for $49.95 (USD).
Gumdrop Cases:
https://www.gumdropcases.com
DropTech Clear iPad 9.7 Case:
https://www.gumdropcases.com/products/ipad-case-droptech-clear
Other Cases for Apple Devices:
https://www.gumdropcases.com/collections/apple
Other iPad 9.7 Cases:
https://www.gumdropcases.com/collections/ipad-9-7
Drop Test Videos:
https://www.gumdropcases.com/collections/drop-test-videos
Facebook Profile:
https://www.facebook.com/gogumdrop
Twitter Profile:
https://twitter.com/gumdropcases
Source: Gumdrop Cases