A Primer on MacPrices' Newest Writer Joe Leo
NEWS: 05.14.18- Joe Leo is the newest writer to the MacPrices website. He joins the team and will be writing product reviews along with other news and commentary pieces related to the world of technology and all things revolving around Apple.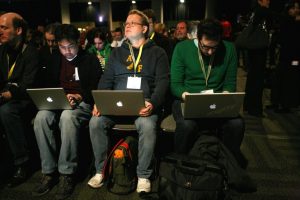 Leo is not entirely new to the MacPrices family having been a former columnist writing "The Press Box" column from 2006-10 for sister site PowerBook Central (pbcentral.com, which closed down in 2015). While there, he also provided news, reviews, and commentaries for the web's "Your Mobile Mac Resource." Among the highlights of his time at PowerBook Central was covering the Keynote addresses from Macworld 2007 (iPhone and Apple TV), 2008 (MacBook Air), and 2009 (Apple final appearance) with a live blog from Moscone Center West in San Francisco. It was also there where Leo was a fellow colleague of MacPrices' own writer Charles W. Moore (a very well-known author in the Mac news publishing community) who wrote for PowerBook Central as well.
A resident of the San Francisco Bay Area, Leo is a lifetime Apple user who has owned a plethora of the company's products over the years from his first Mac, the Power Macintosh G3 All-in-One in 1998 to his latest, a MacBook Air 11-inch Mid-2011, and his current mobile device an iPhone SE from 2016, just to name a few.
Leo has taught for close to two decades in the elementary school setting, teaching technology to students in Pre-K to 8th grades and journalism to students in Grades 5-8 at three different sites in the Catholic schools of the Oakland Diocese. In addition to teaching the subject, he was a professional freelance journalist on the side first writing for PowerBook Central and later from 2008-12 as a correspondent for Bay Area News Group covering the cities of Alameda and Oakland, Calif. (located in the S.F. East Bay) writing for each city's local weekly newspaper.
Currently, Leo is a full time freelance tech journalist writing for Low End Mac where Moore happens to be a writer as well) — a website geared toward users of older Apple technology — with his column "Leo and Mac," a play on words for the name of the website and of course, here on MacPrices.
"MacPrices is proud to welcome Joe Leo to our team," says site publisher and founder Steve Hildreth. "Joe wrote for our (now defunct) sister site, PowerBook Central, a few years ago. As a writer living in the Bay Area, Joe is able to cover a wide rage of Apple-related subjects and products. He will be a valuable member of the team, and we look forward to reading his columns!"
---
About the Photo: The photo in this article is under license from the San Francisco Chronicle and is used with permission. It was first published the day after the keynote address at Macworld Expo 2009 on January 7 in an online photo essay on SFGate.com accompanying an article about the expo and later that same year on December 22 in the business section of the San Francisco Chronicle — which was also published online on SFGate.com — included as the featured photo in a general article about the year had by Apple, Inc.
Note from the Author: it would appear that the photographer took the photo due to its striking resemblance to an Apple ad from 2003 which featured a trio in an airport seated by each other using one of the three models of the aluminum PowerBook G4 on their laps (12-inch, 15-inch, and 17-inch). It is unknown whether the 15-inch and 17-inch Mac notebook computers being used by the other two journalists seated to the right of Leo in the photo were The aluminum PowerBook G4 and may well could have been MacBook Pros but the one Leo was using was the ultra-portable 12-inch model of the aluminum PowerBook G4.