Apple potentially working on higher-end audio gear for 2019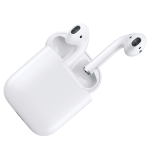 According to a report published today by Bloomberg, Apple is working on beefing up its audio gear for 2019 and doubling down on the HomePod.
Next-generation AirPods are reportedly gaining much-needed noise cancellation plus limited water resistance. Other features are thought to include increased range and an AirPower-compatble case.
Details on a new HomePod other than Apple potentially expanding production to Foxconn.
Finally, Bloomberg states that Apple is working on high-end over the ear headphones to compete with models from Bose. These models would likely be positioned as a high-end alternative to Apple's existing Beats line of headphones.
Check out Bloomberg for more details.