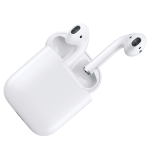 MassGenie is a new crowdsourcing marketplace offering deals on numerous items. For a limited time, use coupon code PODS to save on new, unopened Apple AirPods for a total price of $127.95 after coupon code and MassGenie's Power Deal. Their final price is $31 off Apple's MSRP, and it's the lowest price we've seen so far for new AirPods.
A MassGenie Power Deal is where buyers ask sellers to lower their prices if they get enough people to buy the items at the same time. This typically requires a minimum number of people to join. In the case of these AirPods, only two buyers are required in order for the seller to lower the price. More details are available on their site.
Offer is valid while supplies last.
For more AirPod prices, see our AirPod Price Tracker, updated continuously.