Apple CEO Tim Cook On iOS And Its Devices' Impact On Our Lives
FEATURE: 10.12.18- At the Apple special event last month on September 12 — where the new Apple Watch Series 4 and the iPhone XR, XS, and XS Max were unveiled — Apple CEO Tim Cook said a key point about iOS that got me thinking about my personal use of "the world's most advanced mobile operating system" and how it has become my daily OS for computing since I completely lost my eyesight five years ago, changing the way I use and have had to learn to adapt to using a computer.
In recent years, my preferred operating system of choice for daily computing has been iOS and two devices that run it have served as my primary computing hardware, relegating my three Mac computers to the backseat so to speak.
Created by the Cupertino, Calif.-based tech giant, Apple, Inc., and designed to power its line of mobile devices including the iPhone, iPod touch, and later the iPad, the mobile operating system first began as "iPhone OS" since it was initially created for Apple's smartphone that debuted in 2007. Three years later, just a couple of months following the release of the very first iPad, iPhone OS would be rebranded as iOS with the release of iOS 4. More than a decade later, we have the twelfth iteration of the mobile operating system with the current version, iOS 12, which recently dropped last month on September 17.
"As you know, Apple was founded to make the computer more personal," said Cook. "Of course, first with the Apple II and then later with the Mac. Over the years, we've taken this mission further than anyone could have imagined."
"We've created several categories of technology that have had a profound impact on people's lives. From the iPod to the iPhone to the iPad…"
"We're about to hit a major milestone. We are about to ship our 2 billionth iOS device. This is astonishing!"
"iOS has changed the way we live, from the way we learn, to the way we work. To how we're entertained, to how we shop, order our food, get our transportation, and stay in touch with one another."
"… It's amazing how our mission started with personalizing technology for the desktop to now seeing the many ways that we made it more personal in so many aspects of our lives."
(The preceding quotes attributed to Cook were sourced from a full transcript courtesy of the staff at The Singju Post website).
As a visually impaired user of Apple products, I have been able to continue using them thanks mainly in part to the tech company's commitment to making all of its products accessible right out of the box, in most cases, to those with disabilities like myself. Technologies such as VoiceOver, which for the uninitiated, is a screen reader built in to both of its operating systems, that are included free with MacOS and iOS. But the huge game changer, at least for me, is? iOS.
I previously use my Macs on a daily basis for work and personal use. My iOS devices were more of a novelty and let me do things that I would do on my Mac in mobile form such as checking email, surfing the web, and going on Facebook while on the go or away from my desk. (And of course, playing games!). But when I became blind, I found it hard to use my Macs even though it had VoiceOver on it, it didn't have the same ease of use as VoiceOver on iOS. Controlling your computer with keyboard shortcuts and commands — and the occasional use of the mouse/trackpad, when appropriate — is more difficult than navigating in the more intuitive and innovative environment of iOS using a touchscreen with simple gestures and swipes.
Take for example the process of moving icons. To move icons around and/or place them into folders to organize them, the process is quite tedious, a little more difficult, and more involved using a series of multiple keyboard commands in MacOS on a desktop or notebook computer. In stark contrast, with iOS, however, the process is much simpler thanks to multitouch and only requires a few swipes and taps of the screen with your fingers on an iPhone or other iOS device.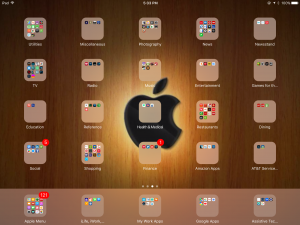 I am able to do basic everyday tasks and more in the iOS environment/ecosystem than I am able to or can do on MacOS. As a result, my main computing device these days are an iPhone SE and an iPad mini 4 with an iPod touch (fifth generation) serving as a go between backup. My iPad mini is permanently connected to a Bluetooth keyboard folio case while for my iPhone, if I ever need to type something long and typing with my thumbs or using dictation is not ideal, I use a Bluetooth folding mobile keyboard with it. And the experience is no different than what I was used to on my Macs as far as the workflow is concerned and getting things done is just as productive, the perfect example being my work as a tech journalist such as right here on MacPrices: doing research on the web, conducting interviews via email, and typing up my articles in the Notes app then uploading them to the WordPress app for iOS. And all of this is done with a mobile operating system in use.
And therefore, my three Macs are generally gathering dust and sitting unused. The only thing I use my MacBook Air 11-inch for these days is for backing up my iOS devices to iTunes on the computer (though my long term project for the Air, having recently upgraded its SSD from 256GB to a whopping 1TB, is to digitize all of my music CDs and import them to iTunes so that I have a digital library that I can easily access and listen to) while my aluminum unibody MacBook Pro 15-inch sits on stand by on my desk, my "legacy" machine with practically my life's work saved on it and all the application programs I used before I became blind are archived in case I ever need to access and use them again (with the help of a sighted person, of course). As far as my aluminum iMac 20-inch goes, I can't remember the last time I used my desktop computer for anything while I've been blind, having rarely even turned it on in the last five years.
Using my iOS devices for working is not the only thing I do on them. Like Cook said in his keynote address, I use it to keep in touch with others such as texting people with, of course, the Messages app, or socializing on the Facebook app. I have even ordered food for delivery to dine in at home using the Eat24 app or done my grocery shopping on the zSafeway app (a major grocery store chain in Northern California with sister stores spread across the U.S.) and had it delivered to my door. The possibilities are endless and thanks to iOS and its vast library of mobile apps, being blind has not been a barrier to my personal use of the computer and technology.
Speaking of technology, a very useful one that is built in to iOS is Siri, the digital virtual personal assistant powered by artificial intelligence or A.I. For short. The technology originally debuted as a third party app in early 2010 before Apple acquired it two months after its release and later discontinued it as a standalone app when it integrated Siri into the iPhone 4S in 2011 as part of iOS 5. Siri eventually would make its way across the board to its other two iOS devices, the iPad and iPod touch, as well as the Apple Watch, Apple TV, the HomePod, and most notably, onto the Mac with the release of MacOS Sierra version 10.12 in 2016. The breakthrough technology is a huge boon to the visually impaired for doing things on your iOS device without actually having to physically do what you want done yourself by simply using your voice to control or perform tasks like: opening an app without having to navigate to or search for it, controlling settings like turning on off Wi-Fi or Bluetooth without having to perform the function in the Settings app, or composing a text and sending it without having to use the Messages app and physically type it up.
In addition, there are special assistive technologies apps for iOS that specifically cater to the visually impaired which help those who cannot see with things that only a sighted person can do or could accomplish. Apps like Tap Tap See which uses your device's camera and A.I., to detect what it sees from what kind the can of soup you're about to open is or what color clothing you're about to put on. Or apps like Money Reader which by its name alone reveals its purpose, letting you know the denomination of your bills. Another app that has also been very helpful is another A.I.-powered one called Seeing A I developed by Apple rival Microsoft which has an assortment of features like text and handwriting recognition. But one particular feature I have come to really appreciate is photo recognition which has allowed me to easily find and determine the content of photos I've previously taken before I lost my eyesight or to know what are contained in new images that people send to me or ones I've downloaded for use, for example, including in my articles or posting to share with friends on Facebook.
As the saying goes? There's an app for that!
On a related note, all of this is a reason that I am looking forward to the day that the possibility of a merger — which has been a point of contentious debate among Mac users and also denied by Apple — between iOS and MacOS becomes a reality in the near future. A hybrid operating system with the ease of use of iOS but with more features and functionality of a full-fledged computer operating system like MacOS. And then placing that hybrid operating system on a new touchscreen Mac for a whole new user experience!
iOS has its DNA from MacOS X and both share a lot of similarities with each other. Remember what the late Apple co-founder and former CEO Steve Jobs said in regard to iOS (as iPHone OS) in his keynote address at Macworld Expo 2007 during the unveiling of the original iPhone? (An event that I live blogged and covered for PowerBook Central, the sister site of MacPrices, which merge earlier this year).
"… we start with a strong foundation: iPhone runs OS X," said Jobs. "Now why, why would we wanna run such a sophisticated operating system on a mobile device? Well, because it's got everything we need."
It's no secret that MacOS has become a little more like its mobile counterpart (offspring?) in recent years so why not merge the two operating systems together? It will only be a short time before the lines are blurred between the two operating systems. Evidence such as "Project Marzipan" by Apple — where iOS apps will soon be compatible to run seamlessly and simultaneously in MacOS — point to this future. But, I digress. Whatever Apple decides to do with iOS and MacOS? One thing is certainly for sure.
iOS, the world's most advanced mobile operating system, just as Cook said, has changed the way we live. I personally can attest to that fact as it definitely has applied to the way I live and iOS along with the three devices that it runs on has had a profound impact on my life and being visually impaired, I don't know how I would have fared technology-wise without it.
Join the conversation below: