Apple May Have 'One More Thing…' To Announce Before Year's End
NEWS: 10.15.18- Steve Jobs, the late co-founder of Apple, Inc. and its former CEO, was famous for ending his keynote addresses that unveiled the tech giant's newest products with "one more thing…" which usually included an additional announcement to surprise the audience and this just could be the case with Apple reportedly rumored to be planning one last special event before the end of the year to unveil a slew of new Mac related products.
An iDrop News article written by Mike Peterson on October 1 detailed this additional special event which may possibly be held sometime during this month and will finally focus on its line of computer hardware to which major product updates have been next to absent so far this year, with the sole exception the release of two updated MacBook Pro models earlier in June.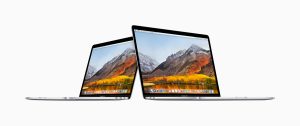 Peterson wrote, "In past years, Apple has taken to debut new Mac and iPad products at a second Fall keynote — typically in October. With a handful of significant rumored product refreshes this year, it's looking increasingly likely that we should expect press invites for an October keynote sometime soon."
He added and pointed out that product updates also could be announced by way of a simple press release (as was done with the aforementioned MacBook Pro refresh in June) but he feels that would be unlikely due to the scope of the expected announcements.
Ad: Compare Mac prices using our Apple award-winning price trackers here at MacPrices.net. New and clearance models included!
Peterson outlined the following products which are expected to be unveiled by Apple at the second special event.
— iPad Pro: new models are expected to get features borrowed from the iPhone such as Face ID, no physical Home button, and gesture-based controls like those found on the iPhone X and XS / XS Max. In addition, the new models may sport thinner bezels in order to increase display size while retaining a smaller form factor.
— MacBook 13-inch: this notebook computer would be an entirely new model that is supposed to be the successor to the current MacBook Air 13-inch though it is unknown at this time whether it will be labeled as simply a MacBook or retain its MacBook Air moniker. The new model is expected to be an entry level notebook computer starting at the same price of the current version of the MacBook Air 13-inch.
— Mac mini: in what is probably expected to be the biggest update at the rumored special event is a newMac mini that will find the "headless" little Mac growing in size along with its new internal components. The mini has not been updated since 2014 and is long overdue for a major update.
— iMac: the venerable desktop computer is expected to receive incremental updates as Peterson wrote including significant display performance upgrades.
— AirPower: after being delayed to market due to engineering issues, the AirPower wireless charging mat that was announced to be forthcoming following the release of the iPhone 8 / 8 Plus and iPhone X last year could finally be released at the event.
— AirPods 2: along with the possibility of the AirPower wireless charging mat could be the second generation version of the AirPods which are expected to get a Qi-based wireless charging case.
Missing from Peterson's predictions is the iMac Pro and the Mac Pro, the two desktop computers designed for professional Mac users. The latter is especially significant because it was previously announced in 2017 by Apple senior Vice President of worldwide marketing, Phil Schiller, to be receiving a brand new overhaul in the near future but still has not surfaced, that pro desktop computer last having been refreshed back in 2013 with the infamous "trash can"-like circular design.
So when will this Fall special event likely occur?
"Apple's past October events haven't been as consistent as its annual iPhone keynotes. While they have all occurred in October, the exact dates range from the first week of the month to the third week," wrote Peterson.
At this rate, with the first week of October having since passed and the third already upon us, with invitations yet to be sent out, it's looking like — if the second Apple special event even happens — that product announcements just may come to fruition next week if not the end of the month. Or, if Apple is bucking past trends, sometime within the next two months before year's end.
Join the conversation below: