Retro Reading: PowerBook Central Coverage of Leopard Release Day
FEATURE: 10.30.18- Welcome to another edition of "Retro Reading," a series here in my column, "Mac Potpourri," where we dig deep into the archives for content written on today's date several years ago from PowerBook Central — where I served as one of its three columnists from 2006-09 — a website established in 1997 and retired in 2015, which was defunct until it merged earlier this year with its sister site, MacPrices, in May 2018.
Today we take a look back at my coverage a little more than a decade ago of the worldwide release on October 26, 2007 of Mac OS X version 10.5 also known by its internal code name, Leopard, the fifth major update to the operating system for Mac desktop and notebook computers since the inception of OS X with version 10.0 on March 24, 2001. While the event itself took place on the 26th, my article about it would not be published until four days later on October 30.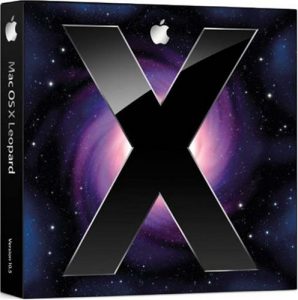 That day, I headed over across the Bay and took BART — the name of the subway system in the San Francisco Bay Area, the acronym aptly standing for Bay Area Rapid Transit — over to the flagship Apple Store, then on Stockton Street in downtown San Francisco (now in the city's Union Square) where the main event accommodating members of the media, I being one myself, was being held. The release "party" was scheduled for 6:00 PM and I arrived into the city around 5:00 PM with 99 people already in line making me number 100. The first 500 visitors in the store would receive a free T-shirt, hence the party aspect. Getting in line behind me, to my surprise and delight, was another member of the media, Ken Ray, host of the daily podcast "Mac OS Ken" (check it out here on iTunes)who was also there to cover the event. Ray graciously held my place in line while I, with my Canon D-SLR camera in hand, covered the scene outside the store with the throngs of Apple fans anxiously awaiting the six o'clock opening.
Interestingly enough, for reasons that puzzle me having only realized it after the fact from revisiting the story for today's edition of Retro Reading, I did not include a single photograph from the event that day in my article! Why? I have no idea…
Although the article did mention the release of the software at the event, I did not talk about what new features were in the new operating system and my second angle became the main topic at hand with the sub headline of the article being "Timing Product Releases, Retail Strength Key to Growth." However, on the day of its release, I published a piece which focused more on the operating system war between Apple and Microsoft but within that article, I did reference a preliminary review of Leopard by renowned writer of The Wall Street Journal, Walt Mossberg, who test drove the software in advance of its official release and he called it an evolution rather than a revolution.
So, let's look at what I wrote about my coverage of that day 11 years ago last Friday, shall we?
Here is just a sample of my feature article published on October 30, 2007:
Today would have been the perfect day to release Mac OS X Leopard, the fifth iteration of the world's most advanced — and now even more advanced — operating system. It's the 30th day of the month (first 30 years were just the beginning), the 10th month of the year (Mac OS X), and it's 2007 (welcome). In just this year alone, Apple has outdone itself tenfold. "The 'Wow' Starts Now" and Microsoft isn't part of this picture.
If "The First 30 Years Were Just The Beginning," then the last ten months must have been a blur in the space time continuum (immeasurable in normal time standards), with so many advances from the Cupertino, CA-based company coming out since the day they announced that "Welcome to 2007" ad campaign. One can only wonder what the next 30 years holds in store.
January saw the announcement of the iPHone at Macworld Expo 2007, June saw its release, then came the new iMacs in August, and in September the debut of the new iPod models in quite possibly Apple's best line up yet. (Wake me up when September ends!). Last Friday's release of Mac OS X version 10.5 was yet another big event and does it stop there?
It's just the beginning! This whole year has been like a bad worm virus infecting a Windows-based PC. Once it started, the whole process spun out of control. Except in Apple's case, it's not bad — it's still infecting the Windows world — and so far, they've got everything in control.
With the holiday season fast approaching, there will be no end in sight. "The 'Wow' Starts Now" and unfortunately, the company that coined that term isn't the one reaping the benefits of that phrase. It's Apple Inc. and Friday's release of Mac OS X version 10.5 shows the "wow" in action in a way Microsoft's Vista (their answer to Tiger) could never match.
It's always fascinating how many people line up for these Apple events, be it a new iPod, the iPhone, or a newly revamped operating system. In this case, Friday's event was just that. The much anticipated release of the new Mac OS had been building up since January when it was rumored to be possibly released. People have been waiting ten months for this event.
…
Standing inside Apple's flagship store in San Francisco put a whole new perspective on the whole picture. With all the people coming in that night, and it seemed the line would never end, Apple's biggest weapon is not the iPod (it is and it isn't), but its retail store.
That last referenced point, though not the last paragraph of the actual article, was my secondary angle for the story which as I mentioned before, became the primary focus of my article. It is noteworthy that I made that observation two years before Apple would make its last appearance at the Macworld Expo and Conference in 2009 (which I also covered for PowerBook Central), where Apple senior Vice President of worldwide marketing, Phil Schiller — the person who gave the keynote address that year because of then Apple CEO Steve Jobs's leave of absence due to his waning health — attributed the foot traffic and exposure of its retail stores as the reason the company didn't need Macworld to showcase its products anymore.
The other thing I referenced numerous times in my article, as you can see just from the portion sampled, was the marketing slogan used by Microsoft to sell Windows Vista. There was clearly an operating system war going on between the Redmond, Washington-based software company and the Cupertino, California-based tech giant at the time with Vista being Microsoft's answer to Apple's Mac OS X version 10.4 Tiger. Apple even answered back by promoting Leopard as "Introducing Windows Vista 2.0" prior to its release. Vista was viewed as a carbon copy of Tiger which then New York Times technology columnist David Pogue took notice of in his article that reviewed the software and even poked fun at the similarities of the two competing operating systems in a humorous video review (unfortunately, no longer available in the nytimes.com archives) of the product.
On the Leopard software itself, it was the first to support the 64-bit architecture and the last to support the PowerPC platform alongside Intel-based Macs. It also featured a new technology called Boot Camp that allowed the installation of the Windows operating system natively on the Mac on a separate partition of its hard drive. Apple reportedly touted that over 300 new features came with the new operating system.
Mac OS X version 10.5 also finally made Mac OS 9 a thing of the past. By removing the Classic mode that was previously built in to OS X — which allowed Mac users to continue using OS 9 software in the OS X environment — it was a huge mandate by Apple to all of its users to move forward into the future of computing on the Mac. In addition, Apple dropped support for the PowerPC G3 chip making the minimum requirement to install the software a G4-based computer with at least an 867MHz processor, leaving a whole slew of Mac desktop and notebook computers in the dust.
Leopard was released per Apple's then two-year cycle of releasing new versions of its operating system having been previously done on an annual basis starting with version 10.1 in 2001 followed by Jaguar version 10.2 in 2002 and Panther version 10.3 in 2003 before Apple decided that annual updates should be rethought. Version 10.5 was preceded by Tiger version 10.4 two years earlier and followed two years later with Snow Leopard version 10.6. Leopard also cost $129 to purchase and came on DVD media in order to install. Fast forward to today where there have been annual releases once again to its operating system since Lion version 10.7 in 2011 and ever since then the software has been delivered via the Mac App Store an is absolutely free!
For a full list of technical specifications, see this official Apple support page for Mac OS X version 10.5.
By the way, I did not purchase a copy of Leopard that day but eventually bought it sometime later that year. The only thing I walked out with from the Apple Store when I left for the evening after covering the release event was one of the free T-shirts they were giving out to the aforementioned first 500 visitors that night. It had the Leopard-styled "X" logo on the front with the purple space scene swirled behind it (similar to the default desktop picture background for 10.5) on an all black T-shirt. I mentioned in my article that later that evening, I found listings on eBay for the T-shirt. I still have mine somewhere and as far as I know it is still sealed in its plastic wrap and I may do the same thing and sell it on eBay which could fetch a pretty penny, so to speak, with the item now being 11 years old. The limited edition T-shirt will be a collector's item for any Apple fan or enthusiast having been only available to those who attended the Leopard release event that day.
While Mac OS X version 10.5 Leopard is eons old by today's computing standards, considering there have been nine major updates to succeed it since it was released, users of older Mac hardware, for whatever reason, be it computing on a budget or pure nostalgia, may have no other choice than to run it on their machine because that may be the most recent version of OS X that it supports. If you are currently still running Leopard on your Mac, Apple still provides support for downloads related to the operating system.
Do you happen to be still using 10.5 on your Mac today? I'd love to hear from you to know what your experience is and how you've coped with, for instance, various third party software dropping support for the old operating system. Drop me a line at: j.leo@macprices.net. Or simply log in to your Facebook account and leave a comment below.
To read the full version of my original article, visit this link: "'The "Wow" Starts Now' for Apple Inc.."
Thanks for joining me on this edition of Retro Reading where we took a look back at a headline from this particular date on the calendar from my days writing for PowerBook Central. Join me again next time when we dig deep back in to my archives and see what headlines were displayed on the front page of that website.