Get A Job With Apple, The No. 3 'World's Best Employer'
FEATURE: 11.16.18- If you are a fan of Apple, Inc. and an avid user of any one of its vast array of tech gadgets, why not take it a step further and work for the company behind those products you admire and love?
Ranked number three in its top ten list of world's best employers by Forbes magazine on its extensive list of the best for 2018, preceded only by its two rivals, Microsoft in second and Alphabet in first (the parent company of Google), the Cupertino, California-based tech giant — which in August received the distinction of becoming the first American company to be worth one trillion dollars — has a slew of job openings for a plethora of various positions within the company.
Currently, there are close to 3,000 positions open for the immediate taking and Apple being a global company with offices, facilities, and store locations worldwide (North America its biggest footprint with 539 locations alone out of 900 total across the globe) there is probably a job opening waiting to be filled where one resides in the U.S.
It would appear that a number of those jobs are around the San Francisco Bay Area, as reported in mid October in an article on the local version of the Patch website written by Bea Karnes (which this article was based on), with more than 600 positions available. Looks like a move to the Bay Area — home of the Silicon Valley where Apple has its headquarters — might possibly be in order?
The positions available are not limited to those with a background in technology nor do they necessarily require one to have it. Job openings range from corporate positions like finance, legal, real estate, food services, and of course, technology oriented ones like hardware and software just to name a few. Then there are what could be probably the most desired jobs within the company — the Apple Store employee being the person that every customer interacts with on a daily basis and sees as the face of the company — ones in retail with positions in sales, support (e.g., the Genius Bar), and leadership.
However, one does not even have to step out of the house to work for Apple with remote positions available that allow one to telecommute to the job. As far as remote positions, one example is called an At Home Advisor which is a unique job in that a person works in a professional level capacity providing customer support to Apple users around the world all from the comfort of home.
Apple provides a comprehensive package of employee benefits, or job perks, to attract potential candidates and hopefully entice them to stay once hired, the following list — according to an article written by Áine Cain last year in Business Insider magazine — being just some of the examples given:
— Paid time off is standard for new employees and is for 12 days a year with the length of time reportedly extended over the course of one's employment.
— Maternity leave, fully paid for up to a period of 18 weeks, is available for moms after their child is born. An additional 6 weeks of unpaid leave is also an option when that length of time has expired. (The spouse is eligible for 6 weeks of paid leave). Of note is that the freezing of the birth parent's eggs are also covered as another available option.
— Health and fitness benefits are reportedly available with a gym membership fee credit of $300 provided to employees.
— Social events such as "beer bashes" are held by the company on a regular basis and employees are invited to the party where free beer and appetizers are served and also in attendance are special guests who are among the biggest names in the music entertainment industry. Some notable performances have been by Stevie Wonder, One Republic, and Maroon 5 (the latter scheduled to be the headliner during the halftime show at next year's Super Bowl LIII).
— Discounts on Apple products are available for employees which they are eligible to take advantage of on an annual basis. Savings such as 25% off hardware and devices (e.g., $250 off an iPad or $500 off a Mac) and 50% off Apple software (select titles only). Friends and family of employees can enjoy comparable discounts too.
Ad: See our exclusive Apple Price Trackers for current sales & discounts from Apple and its resellers.
The perks listed above were ranked 4.5 out of 5 stars, pooled from users of Glassdoor, a jobs search and recruiting website.
Another added perk, if one is lucky enough to get hired for a corporate position based at the company's brand new headquarters (since April 2017) in Cupertino, is to work onsite at Apple Park. Who wouldn't want to have a job working in a Pod — the name given to the workspace areas designed by the man himself, the late co-founder and former CEO of Apple, Steve Jobs, which are modular sections for work and collaboration (such as ones for office work, teamwork, or socializing) according to an article written by Steven Levy, editor at large of Wired magazine in a story about the construction of Apple Park in advance of its opening last year — in a futuristic looking, ring-shaped, and spaceship-like campus? (Just imagine Apple Park akin to something straight out of "Star Trek," specifically its spinoff, "Star Trek: Deep Space Nine" the sci-fi television series set on a ring-shaped space station outpost).
Of course, the biggest and best perk of all is being employed by the innovator of technology itself in the first place!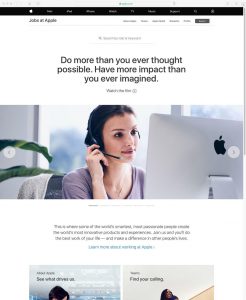 So how does one apply for a job at Apple, Inc.?
First, visit the apple.com website and navigate to the "Jobs at Apple" webpage where a wealth of resources is available beginning with a film with various Apple employees talking about what it's like to work for the company to a page that tells more about working for Apple. Next, there is a teams webpage that describes the different positions offered in each department within the company which then link to a pre-filtered search for available job openings. Or, one can simply perform a custom query by using the jobs search page and entering keywords for a desired position or finding job openings by location. Finally, there is an easy option to simply submit a resumé online directly to Apple using the appropriate webpage and the company will get in contact if a job opening for a position is a match to one's skill set (which bypasses the need to search for job openings since the final step online for the application process will also require one to submit a resumé directly to Apple).
In addition, there is a special section geared toward students (primarily college level) to assist them with getting experience in the workforce through Apple where they can find information on things like internships with the company as well as job opportunities designed for that specific group such as being an AppleCare College Advisor which is similar to the At Home Advisor position or as an Apple Campus Rep who is a student leader that represents the company on their college campus.
MacPrices spoke with three Apple employees, two current and one former, who all declined to be identified per company policy against speaking to the media but happily agreed to share their comments for this article on condition of anonymity.
An Apple employee who has a corporate position working in legal, said, "I've been at Apple for three years now and am really enjoying it. The best part about working here is the people I work with. Everyone is genuinely passionate about their work. I would say that I love working at Apple!"
They added, I was attracted to work here because of the prestige of the company and their great benefits."
A former Apple employee with a retail position who served as a store leader for over three years — just one of a number of roles held during their more than six years with the company — and has been working in the retail sector now for the past two decades, said, "I immensely enjoyed working for Apple. Working within the brand is incomparable. The energy from everyone, both customers and teammates, the positivity and excitement is a thrill!"
Asked to corroborate Glassdoor users' comments boasting the company's great employee benefits, they said, "I'm sure other places have outlined Apple's generous benefits package. It's true."
"Best perk? I don't know. Apple business cards and just being there!" they added.
An employee of an Apple subsidiary with a position in health and wellness who had a internship with Apple for four months while enrolled as a college student , said, "I have been in my current role as a contractor for the last 4 years. The energy and vibes around the Apple campus make coming to work very enjoyable. Apple does a great job with accommodations for their employees like fitness centers, health centers, and cafeterias across the campus. It's very rewarding to play a part in delivering that service."
On the internship itself, they were asked how they came across the opportunity and said, "I actually found out about the internship through a college advisor, and applied online. "
"My internship was an awesome introduction to the inter workings of corporate wellness programs and the meticulous planning and care that goes into everything Apple does. the internship was a great way to gain experience in my field and network with other professionals. It was a big reason I was considered for my current position and was a great starting point for me."
They added, "Apple does a great job fostering a team oriented environment where everyone plays a valuable role. I found my time during the internship to be very insightful about why Apple runs so effectively as a company. It was a great introduction for me going into the working world."
Apple says on its website that it believes inclusion inspires innovation. Furthermore it says the company is an Equal Opportunity Employer (EOE) committed to inclusion and diversity which takes affirmative action to ensure equal opportunity for all applicants without regard to: race, color, religion, sex, sexual orientation, gender identity, national origin, disability, veteran status, or other legally protected characteristics.
Of particular note — which is an important issue for this writer who is an advocate for disability rights who himself is disabled being visually impaired and completely blind (since 2013) — Apple also indicates that it is committed to working with and providing reasonable accommodations to applicants with physical and mental disabilities.
Ready to take the plunge and venture into the world of Apple, Inc. with a job at the company? Then get your resumé polished up and updated then head over to its jobs page and start searching for the desired position already! Happy job hunting and good luck!
(Note From the Author: For full disclosure, the three Apple employees interviewed for this article are personally known by this writer, the former employee a high school classmate, and the other two current employees former students of this writer, both from the same school where he taught technology and journalism during his first job as an educator.)