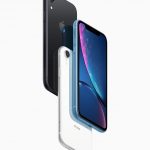 US Cellular is offering $600 off on the 64GB iPhone Xr as part of their Holiday 2018 sale, reducing the price of the phone to only $149. A new line is required, but there is no trade in requirement. Any of the iPhone Xr colors qualify.
The promotion requires US Cellular's Total Plan with unlimited plus data. $24.96 is applied to your account via monthly bill credits over 30 months.
The fine print: "Comes via a monthly bill credit of $15/month on a 30 month RIC plus $150 price discount. Bill credit applied within 3 bill cycles and ends when balance is paid. New consumer or small business (20 lines or less) Total Plan line with Unlimited Data and portin required."
More details are available on US Cellular's website.