Retro Reading: PowerBook Central Live Coverage of Macworld Expo 2009
FEATURE: 01.06.19- Welcome to another edition of "Retro Reading," a series here in my column, "Mac Potpourri," where we dig deep into the archives for content written on today's date several years ago from PowerBook Central — where I served as one of its three columnists from 2006-09 — a website established in 1997 and retired in 2015, which was defunct until it merged with its sister site, MacPrices, in May 2018.
Today we take a look back at my coverage of Macworld Expo 2009 — the last and final event that Apple ever would attend — ten years ago on this day which I live blogged from Moscone Center West in San Francisco, California where the expo and conference was being held.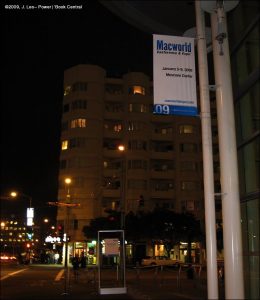 That day, I woke up early in the morning, but not as early as years past, and headed over across the Bay and took BART — the name of the subway system in the San Francisco Bay Area, the acronym aptly standing for Bay Area Rapid Transit — over to the venue where tons of Apple fans were already in line, some the night before (if not days). Thankfully for me, after two years of covering the previous expos, I had finally earned a media badge that allowed me to bypass the regular line and get in a special line just for members of the media so we could go in before your average attendees did.
It surely beat the past two expos I had covered having to get in line with everyone else, standing there for almost three hours, and hope that I would make it in and find a good seat. In 2007, I sat at the very back while in 2008, I didn't make it in and was sent to an overflow room. That year, 2009, I got a great seat close to the front and didn't have to arrive so early or wait for hours on end to finally get in thanks to the special access granted by my media badge.
The keynote address for Macworld Expo 2009 was not given by then Apple CEO Steve Jobs — as was customary since his return in 1998 to the company he co-founded — but rather, by Apple senior Vice President of worldwide marketing, Phil Schiller, who was filling in that year because of Jobs's leave of absence due to his waning health.
The sub headline I wrote in my pre-coverage in advance of the keynote address was, "With Show Being Apple, Inc.'s Last Appearance, Will 2009 be Surprise to Top them All?"
Boy, was that ever a huge overstatement on my part!
For being a grand finale of sorts for Apple, Macworld Expo 2009 was underwhelming compared to past expos, especially the previous two I had covered, and the lack of any big product announcements to rival that of the iPHone in 2007 and the MacBook Air in 2008 was disappointing, to say the least. Not to mention, especially with the absence of Jobs.
So, let's take a look at what I wrote about in my coverage of that day a decade ago today, shall we?
Here is just a sample of my news article published on January 6, 2009:
"The first 30 years were just the beginning…" and "There's something in the air" were Apple's taglines for 2007 and 2008 respectively. What Apple's slogan is for this, their final curtain call at Macworld Expo, remains to be seen. There are definitely a lot of questions on everyone's minds as to what will be announced, released, and said.
Whatever does transpire today, we've got it all covered. Please stand by as we wait for Apple's Senior Vice President of Worldwide Marketing, Phil Schiller, to give the final keynote address this morning, scheduled for 9:00a PST.
…
9:07a PST– We're Talking Only About the Mac Today
Not exactly Schiller's words verbatim but close enough. Mentions three things to be announced today. Three new things.
9:08a PST– New Thing #1: iLife '09
…
9:51a PST– New Thing #2: iWork '09
…
10:10a PST– New Thing #3: 17″ Unibody MacBook Pro
…
10:38a PST– Final Word by Schiller; End of an Era (Keynote LIVE Coverage Ends)
Schiller bids farewell to the audience, tells everyone to enjoy the rest of the show. End of an era for Apple, as far as the Macworld Expo and Conference is concerned. And end of the LIVE coverage from this columnist reporting from San Francisco, CA. …
The reason Apple exited the Macworld Expo as an exhibitor was because of its retail stores where Schiller — to fill in the numerical figures I originally missed during my live blog of the keynote address (courtesy of Macworld magazine's own coverage of the expo) — said, "3.4 million customers per week visit Apple Stores around the world. That's 100 Macworlds each and every week!"
Unbeknownst to many, including myself for a period of time, Apple is not the host of the Macworld Expo and Conference. They are an exhibitor, the main one, like other companies present to showcase their products at the show like Canon with their cameras or even Apple rival Microsoft and its Office suite for the Mac.
With the departure of Apple from the show, I would make the observation and prediction later that same day after the keynote — something which many others probably did as well — about the future of the Macworld Expo and Conference moving forward in the years that followed. In the original caption of the photo I published in the article (as seen above), which I added to the page after the event, I wrote, "Will there be a need for special lines, much less, any lines come Macworld 2010?"
The expo and conference was eventually canceled in 2014 after that year's event but its official status was that it had been put "on hiatus" as reported by Macworld magazine.
Besides being there for Apple's final curtain call and receiving a media badge, one of the other memorable highlights for me from Macworld Expo 2009 was being featured in a news story about the event itself.
A local member of the media there to cover the event was Mike Kepka, a photographer with the San Francisco Chronicle who, while in the midst of taking his shots, captured an image of me seated alongside two other journalists also there covering the keynote address, catching us in action as we typed away with our Mac notebook computers on our laps.
The photo Kepka took was first published the day after the keynote address in an online photo essay on SFGate.com accompanying an article about Macworld Expo 2009 and later that same year in December in the business section of the San Francisco Chronicle — which was also published online on SFGate.com — included as the featured photo in a general article about the year had by Apple.
it would appear that he took the photo of the three of us due to its striking resemblance — you be the judge — to an Apple print ad from 2003 which featured a trio of Mac users in an airport seated by each other each of them with one of the three models of the aluminum PowerBook G4 (12-inch, 15-inch, and 17-inch) on their laps.
I can't confirm whether the 15-inch and 17-inch Mac notebook computers being used by the other two journalists seated to my right in the photo were The aluminum PowerBook G4 and may well could have been MacBook Pros but the one I was using was the ultra-portable 12-inch model of the aluminum PowerBook G4.
(You can also see the photo taken by Kepka at this direct image link as previously featured in the first article published in this column).
To read the full version of my original article, visit this link: "Macworld Expo 2009: LIVE Keynote Coverage from S.F."
Thanks for joining me on this edition of Retro Reading where we took a look back at a headline from this particular date on the calendar from my days writing for PowerBook Central. Join me again next time when we dig deep back in to my archives and see what headlines were displayed on the front page of that website.