Apple iMessage May Soon Play Nicely With Android Devices
NEWS: 01.23.19- iMessage, the proprietary messaging service from Apple (as with most, but not all, of its technologies), is a closed ecosystem that is only compatible with iOS devices and the Mac but it soon could be compatible with Android devices if the Cupertino, California-based tech giant decides to adopt the RCS protocol into its Messages app for iOS.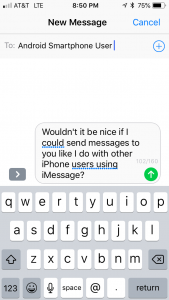 RCS, which stands for Rich Communication Services, is, according to an article published last month on Digital Trends, the protocol that will replace the SMS — Short Message Service — standard.
"The protocol got off to a very slow start. It was formed by a group of industry promoters in 2007 and brought under the wings of the GSM Association in 2008 but carrier participation and other factors kept it from gaining any real steam for nearly a decade."
(GSM, which is short for the Global System for Mobile Communications, is one of two cellular standards used by cell phone carriers around the world. The other, CDMA, which stands for Code Division Multiple Access, is less common. In the U.S., the carriers that use GSM are AT&T and T-Mobile while the carriers that use CDMA are Sprint and Verizon.).
Digital Trends reported that in 2018, Google had been working with every major cell phone carrier across the globe into adopting the RCS protocol. A new CHAT protocol was created by Google and is based on the RCS Universal Profile.
What makes RCS different from plain text messaging via SMS is that its features, as with the upcoming CHAT protocol, will look a lot like iMessage.
"It's a more interactive protocol that allows you to start group chats, send video and audio messages, and send high resolution images. You'll also be able to receive read receipts and even see when someone is replying to your message in real time."
Sound a lot like iMessage?
Some of the other features similar to iMessage — namely not being tied to a 160 character limit and the ability to send messages without a cellular connection — are a few of the advantages and benefits that were previously discussed in a commentary piece written last month in this very column in response to a news story that the Public Utilities Commission (PUC) in California was planning a proposal to impose a tax on text messages sent by state residents over SMS but would not apply to messaging services such as iMessage.
A key point that Digital trends shared in their report is that CHAT, while created by Google, is not just another Android-based messaging app exclusive to that platform. However?
"That said, CHAT will initially only be available on two apps: Android Messages and Samsung Messages. While this may seem a bit limiting, the majority of smartphone manufacturers ship their devices with Android's default messaging app."
In addition, CHAT will be hardware agnostic meaning that it will work on any devices that support it including iOS-based ones from Apple but as of December 2018 the company had yet to announce if it will support the protocol.
That may all soon change according to a report earlier this month on Cult of Mac which stated in the article's headline that Apple is in discussions over bringing RCS messaging to iOS.
In the January 7 story, writer Killian Bell — who in his author biography appears to write primarily Android content on Cult of Android, the sister site of that website — reported that the GSM Association says that carriers are putting pressure on Apple to adopt RCS.
"Apple is in discussions with the GSMA — the trade body that represents cellular operators — as well as operators themselves over bringing RCS to iOS, according to a slide from an October GSMA event."
(GSMA is a reference to the GSM Association which Bell has chosen to abbreviate in his article.).
"The slide highlights the benefits of bringing RCS to iOS, including improved text messaging between Apple to non-Apple devices. It would also allow for things like read receipts, typing indicators, group messaging, and support for sharing higher quality images."
Bell wrote that RCS support is already baked in to Android devices. Whether this is the same as the CHAT protocol mentioned by Digital Trends is unknown since their report last month only refers to CHAT in the future tense suggesting that it has not yet been officially adopted by smartphones with the Android mobile operating system installed.
"… [RCS] has never made its way to iOS. Apple has instead chosen to focus on iMessage, which offers everything you would get from RCS — and more. But iMessage only works between Apple devices."
In a related story, as also reported by Bell, it is interesting to note that on the flip side, Apple itself tried to — at one point in time, as revealed by former Apple iOS chief Scott Forstall — convince carriers to adopt a standardized version of iMessage for everyone.
Furthermore, Apple rival, Microsoft reportedly wanted to bring iMessage to the Windows operating system on PC computers to users using its new Your Phone app which can currently sync content like photos and notifications but not iMessages on iOS and the Redmond, Washington-based software company wants to work with the iPhone maker to fix that. But as of May of last year when the Your Phone app was announced, Microsoft had not yet approached Apple to see if it would be willing to work together. As writer Tom Warren of The Verge wrote and opined, it seems very unlikely that it (Microsoft) will be able to convince Apple to partner on such a project.
In the event that Apple decides not to adopt the RCS protocol, or specifically CHAT, will any messages sent from Android devices over either protocols be compatible with iMessage on iOS devices?
In that case — as users of iMessage already know when sending messages to their contacts with Android devices, the reverse will occur. Any RCS/CHAT-based messages sent from Android devices to iOS devices simply will revert to plain text messages via SMS.
Bell shared two final points as he wrote:
Does this mean anything? We'll have to wait and see whether those discussions lead to anything, then. RCS support would certainly be beneficial for iPhone users but Apple would prefer it if everyone bought an iPhone and used iMessage instead."