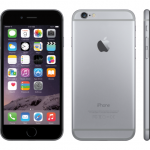 Boost Mobile is offering the 16GB iPhone 6s for $99.99 in multiple colors. These phones are pre-owned and the same models previously sold by Apple in their retail and online stores, except they are tied to the Boost network.
Each iPhone must pass Boost's refurbishment process and is offered with a 90-day warranty.
Order online, then pick a Boost unlimited plan when the phone arrives. Boost Mobile is part of the Sprint network, and they offer plans beginning at $50 per month for one line. No annual contract is required.