Breathe New Life Into Your Older iPhone With An iFixIt Battery Fix Kit
FEATURE: 03.17.19- iPhone owners wanting to replace the battery on their smartphone who missed last year's special discounted $29 battery replacement program from Apple — which was the Cupertino, California-based tech giant's response to the now infamous "throttlegate" fiasco where performance of older iPhone models was slowed down to preserve battery life — can now take advantage of a do-it-yourself option offered and sold by iFixIt which announced in late January an extension through the end of the year the lower price of $29.99 for its own iPhone battery fix kits.
Isn't this news, which came via A blog post published by the company, just the bit o' luck needed by older iPhone owners looking for it on this very St. Patrick's Day itself?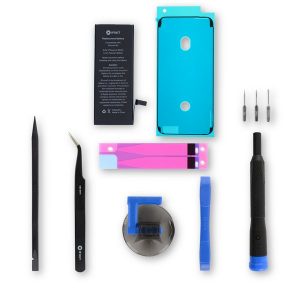 Back in December 2017, Apple responded to the revelation about its performance throttling of older iPhone models by imposing a $50 reduction in price for its $79 fee for battery replacements for certain affected iPhones. iFixIt responded shortly thereafter by reducing the price for its own iPhone battery fix kits down to $29.99 to match (though more by $0.99). As written in this column last year, the $29 battery replacement program from Apple would end on December 31, 2018 and after that, prices were scheduled to increase.
The only options currently offered by Apple for owners of older iPHone models affected by performance throttling — from the 6, 6S, 7, and its Plus versions, to the SE — is either a $49 or $69 battery replacement depending on one's iPHone model. (Take a look at this Support page for more information on battery replacement of your specific device and service directly through Apple.).
In addition to a brand new OEM (original equipment manufacturer) battery that is backed by a one year warranty — by comparison, Apple only gives a 90 day warranty on battery replacements — for $29.99, the iFixIt iPhone battery fix kits come with everything you need to swap out the battery on your own including tools for opening, a custom driver, steel bits, and ESD-safe tweezers.
Battery replacement kits are available for the following iPhone models:
iPhone 8 and 8 Plus
iPhone 7 and 7 Plus
iPhone SE
iPhone 6S and 6S Plus
iPhone 6 and 6 Plus
iPhone 5c
iPhone 5S
iPhone 5
iPhone 4S
Elise Barsch, social media manager and copywriter for iFixIt, pointed out to MacPrices that the iPhone 4S, 5, 5S, and 5c were not included as part of the $29 iPhone battery replacement program, something which iFixIt offers also at $29.99 or less.
iFixIt, according to its website, is a wiki-based site that teaches people how to fix almost anything and empowers individuals to share their technical knowledge with the rest of the world. In addition to offering repair guides and product teardowns (check out this one of last year's refresh of the MacBook Pro in July 2018), iFixIt has an online tools and service parts store. With all of that said, however, contrary to what its name may suggest, the company is not a repair service and does not take in people's products to fix.
iPhone owners who replace the batteries on their smartphones need not worry about being turned away for repairs at the Genius Bar as Apple will reportedly service those devices that have had battery replacements performed — whether done by the owner or through a third party — as revealed earlier this month by the website MacRumors.
To order a do-it-yourself iFixIt $29.99 iPhone battery fix kit, visit this page on the company's website. The discounted price will remain effective through December 31, 2019.
---
Note from the Author: a version of this article first appeared in February on the iPhone Life website where this writer is a contributor of content as well as to its print magazine that is published quarterly. (This writer began writing for its magazine in Fall 2018).