A Look Back At Every New Product Apple Announced Last Week
FEATURE: 03.25.19- In case you were hibernating all Winter long and only woke up after the first day of Spring missing last week's announcements of new products by Apple, worry not as we'll take a look back at everything including features, specs, and of course, cost.
Apple, which is holding a special event today, quietly updated a slew of its products — from tablets and computers to wearables — deciding to make the announcements in advance and separate from today's media gathering. Three of the four announcements made last week were even predicted by a renowned analyst as we reported here in this very column last month.
All of the new hardware and accessories that Apple announced last week over a span of three days are included below. The information provided comes courtesy of a press release from Apple for each individual product announcement as well as key features and tech specs found in the Apple Store app.
**AD: After you read about all the new products Apple announced last week, before you spring for your cash or credit card for any one of the items, be sure to check out our daily price trackers right here on MacPrices for the latest deals and lowest prices.
On Monday, March 18, Apple announced two new iPad models, the next generation of its iPad Air and iPad mini:
"All-New iPad Air And iPad mini Deliver Dramatic Power And Capability"
"The new iPad Air and iPad mini join the most affordable 9.7-inch iPad and the most advanced iPad Pro models offering the best, most innovative iPad lineup ever. The complete lineup now includes Apple Pencil support, best-in-class performance, advanced displays, and all-day battery life for an experience unmatched by any other device. Whether customers prioritize portability, screen size, power, or price, there's an iPad for everyone. …"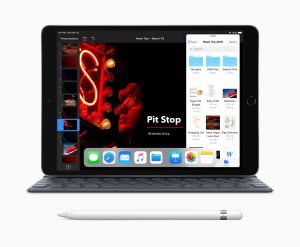 iPad Air (third generation)
ultra-thin 10.5-inch design
a 70% boost in performance
2x the graphics capability
20% larger display with over half a million more pixels
starts at $499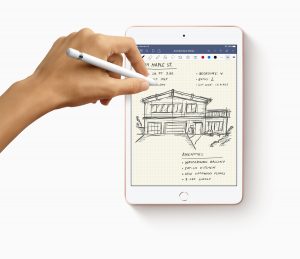 iPad mini (fifth generation)
7.9-inch compact, ultra-portable design
packed with the latest technologies
3x performance
9x faster graphics
wide color support with 25% brighter display
has the highest pixel density of any iPad
10 hours battery life
starts at $399
Both models of the new iPad Air and iPad mini feature an A12 bionic chip with Apple's neural engine, an advanced Retina display with True Tone technology, and support for Apple Pencil (first generation) and Smart Keyboard (each sold separately). In addition, both models come standard with an 8 megapixel rear-facing camera with 1080p HD video recording, a front-facing FaceTime HD camera, plus stereo speakers, a 3.5mm headphone jack, and Touch ID. The new iPad Air and iPad mini are available in three colors (gold, silver, and space gray), either with Wi-Fi only or Wi-Fi + cellular connectivity, and in two storage capacities of 64GB or 256GB.
On Tuesday, March 19, Apple announced updates to its iMac with two new standard configurations of the 21.5-inch model and three new standard configurations of the 27-inch model:
"iMac Gets A 2x Performance Boost"
"… From consumers to pros alike, users will notice their iMac is faster for everyday tasks all the way up to the most demanding pro workloads. This boost in performance combined with its gorgeous Retina display, sleek all-in-one design, quiet operation, fast storage and memory, modern connectivity, and MacOS Mojave make iMac the world's best desktop."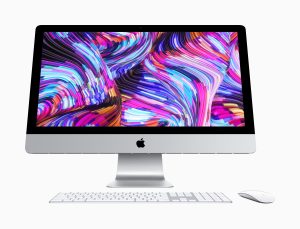 iMac 21.5-inch (2019)
features eighth generation Intel quad-core processors, and for the first time, 6-core processors
up to 60% faster performance
80% faster graphics
4K Retina display
starts at $1299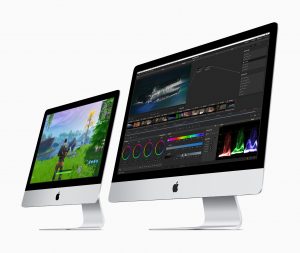 iMac 27-inch (2019)
features, for the first time, up to ninth generation Intel 6-core and 8-core processors
up to 2.4x faster performance
50% faster graphics
5K Retina display
starts at $1799
Both the iMac 21.5-inch and 27-inch models now feature, for the first time, Radeon Pro Vega graphics cards and come standard with 8GB of RAM, 1TB of storage (2TB for the top of the line 27-inch model), two Thunderbolt 3 ports, a Magic Keyboard, and a Magic Mouse.
On Wednesday, March 20, Apple announced the second generation of its AirPods wireless earbuds (which the company refers to as headphones):
"AirPods, The World's Most Popular Wireless Headphones, Are Getting Even Better"
"'AirPods delivered a magical wireless experience and have become one of the most beloved products we've ever made. They connect easily with all of your devices and provide crystal clear sound and intuitive, innovative control of your music and audio,' said Phil Schiller, Apple's senior Vice President of worldwide marketing. 'The world's best wireless headphones just got even better with the new AirPods.' …"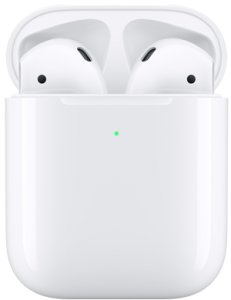 AirPods (second generation)
features Apple-designed H1 chip developed specifically for headphones
improved synchronization
more seamless switching between devices
2x faster connect times
50% more talk time (up to an additional hour)
now with, for the first time, hands-free "Hey Siri"
custom audio architecture to create a revolutionary audio experience
The new AirPods come with either the standard charging case for $159 or the new wireless charging case for $199, the latter of which is compatible with Qi wireless charging solutions and has an LED light indicator on the front to show charging status. Owners of first generation AirPods can purchase a standalone wireless charging case separately for $79. Each case holds additional charges for more than 24 hours of total listening time. Both the standard and wireless charging cases can be engraved for free when ordering through Apple online or on the Apple Store app.
Leif Johnson, associate editor of Macworld magazine, believes that the launches of the iPads, iMacs, and AirPods weren't just a surprise but a smart strategy shift. He wrote, in an opinion piece on March 22, that he'd like to see more of this kind of thing from Apple in the future.
In a subheading to his article labeled a new release style for a new era, Johnson wrote the following:
"It's a smart strategy, especially in an age when Apple's lineup is increasingly crowded with spec-focused upgrades of older models that no longer have the flair of the so called game changers Apple used to reveal on stage."
Earlier in his article, Johnson wrote that nobody would call these earthshaking updates, certainly none would have made the crowds ooh and ahh during a keynote with Apple dropping updated versions of existing products with little of its typical fanfare or event theatrics.
Such as today's special event — dubbed "Showtime" in invitations sent out to the media — from the Steve Jobs Theater in Apple Park, the tech giant's company headquarters in Cupertino, California. As rumors have suggested, first reported by business news site Bloomberg last year, it is widely expected that Apple will be unveiling a streaming video subscription service (akin to Netflix or Hulu), to join the ranks of Apple Music, its subscription based music service.
All of the aforementioned new products that were announced last week by Apple are available for purchase at your local retail Apple Store, via the Apple Store online at apple.com, and in the Apple Store app on iOS devices (or through third party Apple Authorized Resellers).
And for more on the Apple special event today which is being streamed live on the web — either in real time or recorded, depending on when you are reading this article — click on the appropriate link on the Apple Events webpage. The event is scheduled for 10:00 AM PDT / 1:00 PM EDT.