Like To Buy And Keep Your Music? Fret Not As The iTunes Store Isn't Going Anywhere
FEATURE: 06.10.19- If you're the type of person that still prefers to purchase your music and wants to keep a collection of all of those downloaded digital songs for playback on your iPod (whichever model you might have), Mac, or other device, what are you to do now that Apple has shelved iTunes in its forthcoming version of MacOS? Don't worry as the iTunes Store isn't going away anytime soon and, for now, will remain side by side with the Apple Music subscription-based music streaming service.
When Apple last Monday at its annual Worldwide Developers Conference (WWDC 2019) announced that it was discontinuing iTunes, many Mac users and iPod owners alike who are music aficionados may have erroneously thought that the iTunes Store was being shut down too. The truth of the matter is that the iTunes Store is alive and well.
"Die Another Day" — the title of the 2002 James Bond / 007 flick (with actor Pierce Brosnan in the lead role) — certainly comes to mind. (Or how about, for a music related reference, it ain't over until the fat lady sings?).
The problem with iTunes, the software application on the Mac, was that it had become a bag of mess and a receptacle for too many things.
When iTunes was first announced in 2001 (available for Mac OS 9 and Mac OS X), it was a way to rip songs off of your music CDs and burn them onto your own CDs to make digital mix tapes. Shortly thereafter, it was the way to connect the iPod to the Mac in order to load songs onto the device. Two years later, in 2003, the iTunes Music Store (the original name of the iTunes Store) was born.
But it didn't stop there!
Later on, Podcasts were added, in 2007 it was the way to sync and load content onto the iPhone, then TV shows and movies were added to the iTunes Music Store, and finally support for the original Apple TV was woven in for also loading and syncing content onto the device.
That is why on the Mac — specifically in the next major release of Apple's computer operating system, MacOS Catalina version 10.15 — Apple is breaking up its juggernaut into three separate applications moving forward: Apple Music, Apple TV, and Apple Podcasts.
So, where will you find the iTunes Store now that iTunes is going away?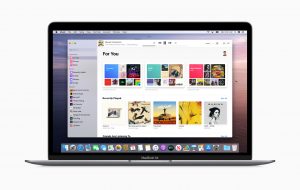 In a press release last Monday previewing MacOS Catalina, Apple explained that for those who like to own their music? The iTunes Store is just a click away in the new Apple Music application. (Interestingly enough, Apple said "iTunes Music Store"). Apple also clarified that with the new Apple Music application, users will have access to their entire music library — whether they downloaded the songs, purchased them, or ripped them from a CD —.
On a related note, if you still own or even buy music CDs, you will be able to rip, mix, and burn CDs within the new application as well (provided you have an external optical disc drive).
In addition, although iTunes, the application, will not be found in future versions of MacOS? iTunes — and subsequently, the iTunes Store — will not just disappear in previous versions of MacOS (or Mac OS X and Mac OS 9 for that matter) and will continue to work as is on older Macs but Apple may not provide any updates moving forward and eventually, almost certainly, will drop support for it.
On the flip side, currently, iOS has two separate apps for the iTunes Store and Apple Music but apparently, the three separate apps in MacOS Catalina also will be coming to iOS 13, the upcoming update to Apple's mobile operating system, presumably meaning that the iTunes Store will become a part of the Apple Music app too (which also will apply to the forthcoming iPad OS, the new operating system specifically for Apple tablet devices).
Prior to its iTunes announcement at WWDC last Monday, the week before last, Apple released an updated seventh generation iPod touch. One of the selling points of the new iPod touch, as it officially has been called, was in regard to the top of the line 256GB version which can hold all of your songs, whether downloaded from Apple Music for listening to offline or purchased from the iTunes Store.
And while the Cupertino, California-based tech giant would like you to subscribe to its music streaming service (which it seemed to tout over purchasing your music)? You don't really own those songs unlike ones you've purchased and downloaded from the iTunes Store.
According to an article — where some information in this article is derived from — written by CNET editor Jessica Dolcourt, the iTunes Store name will eventually fade away. This would suggest that a music store will be a part of Apple Music, though Apple did not specifically say this.
For now, and hopefully for the foreseeable future, the iTunes Store is here to stay — after all, it is a source of revenue for Apple — and music aficionados can breathe a sigh of relief, knowing that they still will be able to buy and download songs (and keep them) for loading onto their iPod or other devices.
Long live the iTunes Store!