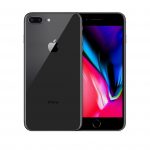 Sprint is offering the 64GB iPhone 8 Plus, preowned, for $10 per month when combined with a Sprint 18 month Flex lease. Offer is valid from 6/14/19 to 6/30/19. Upgrade to a 256GB model for $12 per month.
The fine print: "Lease an incredible Pre-Owned iPhone 8 Plus for $10/mo. Hurry! While supplies last. After $8.75mo. credit applied within 2 bills. Reqs. 18-mo. lease, approved credit and new line of service. If you cancel early, remaining balance due."
More details are available on a Sprint's website.