Need Apple Product Service Or Repair But No Genius Bar Nearby? the Geek Squad Can Provide Assistance
FEATURE: 07.05.19- There's nothing like the peace of mind and convenience of purchasing an Apple product from any one of its 271 retail locations across the U.S. and if assistance is needed with the product, to be able to return to that Apple Store and simply make an appointment or walk in to the Genius Bar for troubleshooting, service, and/or repair but what is one to do if they are not fortunate enough to have a store nearby?
While many more Apple Store retail locations dot the landscape across the nation than ever before, there are still some places that don't have one close by or anywhere at all (like the entire state of South Dakota where MacPrices is based out of) so getting help with an Apple product — whether in-warranty or out of warranty — can be a little difficult, making mail-in service the only option available for those who may be somewhat weary of getting any work done by a third party repair center, despite it being an Apple Authorized Service Provider (AASP) location.
However, there is now another new option available: enter the Geek Squad at Best Buy to the rescue!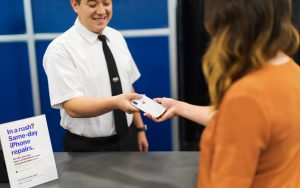 Back on June 19,Apple announced through a press release that it had completed a major expansion of its Apple authorized service network with nearly 1,000 Best Buy stores across the U.S. now providing expert service and repairs for Apple products.
"At Apple, we're dedicated to providing the best customer service in the world," Tara Bunch, Apple Vice President of AppleCare, said in the release.
"If a customer ever needs to repair their products, we want them to feel confident those repairs are done safely and correctly. We're always looking at how we can reliably expand our network of trained technicians and we're excited to partner with every Best Buy store so it's even easier for our customers to find an authorized repair location near them."
Previously, the tech giant offered a service network of more than 5,000 Apple Store and AASP locations worldwide to provide safe, high-quality repairs, according to information derived from a 2019 environmental responsibility report published by Apple which was released prior to the announcement of the expanded partnership with Best Buy.
"Customers can access these repair locations in person or by mail. And we are continuing to expand our services," the report said.
Some of those past customers, who either have called Apple Support directly or used the live chat feature online, may previously have noticed that when being given choices for walk-in service or repair, in addition to the Apple Store, Best Buy stores were on the list of available locations as an option.
Initially, only roughly a fifth (1/5) of Best Buy stores were a part of the service network, 225 stores to be exact, according to numbers provided in an article published last month by Reuters. The new deal between the two companies now includes all 1,043 Best Buy stores in the U.S.
Of note is that the total number of U.S. stores, 992, reported by Reuters — which the news agency apparently seems to have reported in error — does not match the numbers provided (at the time of this article's publication) by Best Buy on its store directory page on the company's website.
Apple said in its press release that by expanding to every Best Buy store across the U.S., customers will have more convenient access to Apple authorized repairs.
Those repairs will be performed by members of the Geek Squad which now has a complement of nearly 7,600 newly Apple certified technicians ready to make same day repairs on iPhones or to service other Apple products.
To make sure that repairs are performed safely, securely, and to the highest quality, Apple — according to an excerpt from its environmental responsibility report — continuously trains and certifies service channel personnel, with over 265,000 active trained personnel. Its providers perform diagnostics and calibrations to target repairs precisely, avoiding unnecessary service and replacements of parts. When new parts are needed, only genuine Apple parts are used, so a repaired device works exactly the way it should.
Or (not from that report), work as the Apple product did when originally purchased by the customer.
"And all Apple-certified repairs are backed by Apple," the report said.
In its press release, Apple also mentioned that in addition to its retail stores, there are over 1,800 third party AASP locations in the U.S. — all of which are using parts certified for safety, quality, and reliability — making its service network increase by three times (3x) as many locations as it had three years before.
Now, 8 out of 10 Apple customers will be within 20 minutes of an authorized service provider according to Apple.
With all Best Buy stores now AASP locations, Apple has made good on its promise to grow its service network even further which now totals more than 6,000 locations globally thanks to this expanded partnership between the two companies.
"We love being there for our customers no matter what their Apple need is, from helping them choose the right device, to offering AppleCare protection, and now helping fix their devices," Trish Walker, president of services for Best Buy, said in the Apple press release.
"We've always enjoyed a great partnership with Apple and we're thrilled that together, we can better serve our customers."
An earlier partnership with Apple in the past dates back to 2006 when Best Buy started to sell Apple products in its stores which began with a test pilot program at a handful of select locations in July of that year, and after a successful run, eventually expanded to all of its stores across the board towards year's end. The following year, in the Spring of 2007, that early partnership was cemented in stone when new miniature versions of the Apple Store began to appear in prominent areas of Best Buy stores — a store-within-a-store concept — which replaced the former method of Apple merchandise being haphazardly displayed on store shelves almost hidden from view (at least, as observed by this writer at two local Best Buy stores in the San Francisco Bay Area).
This move by the Cupertino, California-based tech giant to expand its service network by partnering with the Minneapolis, Minnesota-based consumer electronics retailer only makes sense as the latter was ranked number one out of the top 100 consumer electronics retailers in 2018 by TWICE, a trade magazine covering the consumer electronics (CE) industry.
Apple trailed behind partner Best Buy and was ranked number four by the magazine in that report.
At present, with all Best Buy stores now AASP locations, one simply can walk in to the Geek Squad for troubleshooting, service, or repairs, making the nation's top big box consumer electronics retail chain — where practically all of Apple's products also can be purchased in-store or online — the next best place to obtain assistance for one's Apple hardware or devices like a Mac or an iPhone.
To find a Best Buy store near you, use this store locator, or, for more information on obtaining service and/or repairs, visit this support page from Apple.
---
A Note from the Author: special thanks to press contacts Keri Fulton, corporate communications at Apple and Brenden Johnson, spokesperson at Best Buy for their assistance with this story and for providing some of the information contained within this article.