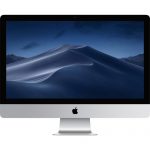 Abt Electronics has dropped their price on clearance, previous-generation 21″ 3.0GHz 4K iMacs to only $936 shipped. That's $363 off Apple's original MSRP, and it's the cheapest price we've seen so far for a 21″ 4K iMac:
– 21″ 3.0GHz 4K iMac (8GB RAM/1TB HD): $936 $363 off original MSRP
Available while supplies last! For more information, see our iMac Price Tracker, updated continuously.
Update:
Abt's price is now $1099