Apple Pencil Support May Be Key Feature In New Pro Model Of 2019 iPhone
FEATURE: 09.04.19- With Apple now highly expected to be releasing an iPhone Pro model for this year's lineup (or two Pro models as reported late last month by Bloomberg), one particular accessory for the new device may potentially be a newer and smaller version of the Apple Pencil which would finally give stylus-like support for the first time ever, a heretofore never before seen option to be included as part of the Cupertino, California-based company's smartphone for interaction with its screen.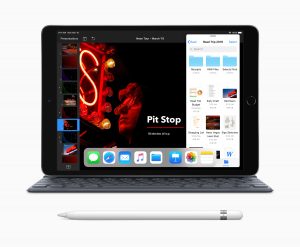 The Apple Pencil might not be just for use only with iPads any longer.
Support for the electronic writing and input device could extend over to the iPhone beginning with the new 2019 lineup, specifically the rumored Pro model (as reported in early August of this year by the website MacRumors), if a handful of cases currently available for pre-order online by Mobile Fun — a seller of smartphone accessories on the web based in the United Kingdom — in advance of an iPhone Pro release bears any weight.
As if the accessory in question — an Olixar brand genuine leather case and Apple Pencil holder — doesn't speak volumes in and of itself alone, suggesting what key feature Apple may be including with an iPhone Pro, what is interesting to note as the staff and editors of Macworld magazine have noticed in their recently published 2019 iPhone rumor roundup is that the slot on the backside of the case for storing the Apple Pencil is not for a standard-sized apparatus but rather? A smaller one.
The staff and editors of the magazine wrote the following in regard to this discovery:
"Normally we'd completely dismiss such an odd rumor as ridiculous, but there a few reasons why we're lending some credence to this one. For one, it's already being sold, but more importantly, Mobile Fun has a decent track record of predicting phone designs before launch. … ."
" … If Apple is actually going to differentiate its flagship iPhone with the Pro moniker this year, it's going to need something other than a bigger screen to justify it. Apple Pencil support would fill that need well and the current Pencil isn't exactly iPhone friendly in that it's taller than every model. … ."
Accessories like smartphone cases being sold in advance of an impending product release sometimes can be a telltale sign of what is to come from Apple because a plethora of third party manufacturers get insider information (e.g., product dimensions or external features) leaked out from various sources deep within the product supply chain who are manufacturing a new device, like an iPhone, for the tech giant. Although, that being said, there are times when accessory manufacturers get it totally incorrect like if the leaked information they received was bad or fake (such as in the, case, of one company back in 2011 which was revealed by the website AppleInsider).
This latest rumor revolving around Apple Pencil support for a new iPhone Pro — in particular, a newer and smaller version — is the latest entry into the ring and would be corroborated by similar ones published on the Apple rumor mill circuit over the last few years.
A U.S. patent filed by Apple in 2015 for a model of the electronic writing and input device compatible with the iPhone was discovered first by the website Patently Apple. Though the tech giant frequently applies for patents for new innovations, a majority of those never see the light of day.
However, the following year, Apple CEO Tim Cook had revealed in an interview (probably by mistake) with NDTB — a television channel based in New Delhi, India — information that would suggest that the chief executive officer had already seen an Apple Pencil working with an iPhone prototype yet to be released.
"Well we launched a pencil, not a stylus, first of all, and there's a big difference, and the things people are doing with this pencil, I think that Steve would have loved. He loved to help people create. And if you've ever seen what can be created with that pencil on an iPad or an iPhone, it's really unbelievable," said Cook.
Interestingly enough, rumors of a Pro model of the then yet to be released iPhone 7 surfaced in a Tech Insider report on the Business Insider website two months after Cook gave that interview. His words, paired along with rumors floating around at the time of the Apple Pencil being supported by an iPhone 7 Pro, seemed to suggest that it was imminent and definitely going to happen (to which it did not).
In 2017, The Investor — an online business news website based in Korea — ran an exclusive story on Apple mulling over a stylus for the iPhone, reporting that according to industry sources, company engineers recently (at the time) had been working on a new iPhone that would come with a digital pen. Also, those same sources shared, on condition of anonymity, that Apple was preparing to launch that phone in 2019.
Last year, the technology industry market research analysis firm TrendForce correctly predicted plans for three new iPhone models which would consist of two premium versions but their prediction that the Apple Pencil would be offered as an option as well was a forecast that fell short and did not come to fruition.
More recently, late in July of this year, Business Insider shared a new analyst report from Citi Research on what it's expecting from the next iPhone which highlighted one potential feature: support for an iPhone pencil / stylus.
**AD: Looking to purchase an Apple Pencil compatible with your iPad model? Before you buy, be sure to check out our daily price tracker right here on MacPrices for the latest deals and lowest prices for the electronic writing and input device for your Apple tablet computer.
The original Apple Pencil, which was released in 2015, initially was designed exclusively as an accessory for use with the then new iPad Pro. Earlier this year in March, the latest generations of the iPad, iPad mini, and iPad Air became compatible across the board and gained support for the original version of the electronic writing and input device. (A second generation model was released in 2018, once again for exclusive use with the latest models of the iPad Pro).
When the original iPhone made its debut at the 2007 Macworld Conference & Expo, during his keynote address on the new device's unveiling, the late co-founder and former Apple CEO expressed at that time his disdain for styluses (styli?) when he demonstrated the multitouch features of the smartphone.
"Oh, a stylus, right? We're going to use a stylus. No! Who wants a stylus? You have to get them and put them away and you lose them. Yuck! Nobody wants a stylus. So let's not use a stylus," said Jobs.
Apparently, Apple in this post Jobs era seems to think otherwise and that people do want a stylus with their iPhone, albeit it in the form of the Apple Pencil, and it would appear that the tech giant has done a complete 360° and gone against its late co-founder's rule playbook (which, in turn, would make the former Apple CEO do the same — a complete 360° — in his casket six feet underground).
With all of these rumors adding up to what well could be an iPhone Pro alongside a new Apple Pencil made just for it, it's difficult to dismiss the notion outright and it's very plausible that the two will be coming to the masses as part of this year's 2019 iPhone lineup. However, whether that will happen indeed and finally be unveiled by Apple this year remains to be seen.
An Apple event scheduled for next Tuesday, September 10 to be held in the Steve Jobs Theater at Apple Park in Cupertino, California is where the next generation iPhone models are widely expected to be showcased along with the possibility of other Apple devices and Mac hardware.