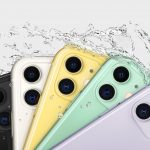 AT&T Wireless will include a second free 64GB iPhone 11 with the purchase of one eligible iPhone at full price. They will also include a free $300 rewards card.
The fine print: "Buy an elig. iPhone and get the iPhone 11 on us when you buy both on a qualifying installment plan with an eligible AT&T unlimited plan (min. $145/mo. combined before discounts)."
You'll need to:
– Purchase two eligible iPhones on a qualifying installment agreement
– Add at least one new line to a new or existing account
– Pay taxes on the full retail price of both devices up front.
– Have an eligible AT&T unlimited plan (min. $125/mo. combined after discounts for new customers. Pay $145/mo. until autopay and paperless bill discounts starts w/in 2 bills. Existing customers can add to eligible existing plans, which may be less.).
– Pay a $30 activation or upgrade fee for each device
Note: Requires qualifying 0% APR installment agreement (30-mo. term at up to $40/mo.). Other installment options may be available and vary by location. If buying on the AT&T Installment Plan with Next Up, customer is responsible and will not receive any credits for an additional $5/mo. for the Next Up upgrade feature. Port-in of new line and well-qualified credit required for $0 down on both lines, or down payment may be required.
Eligible Phones: iPhone 8, 8 Plus, XR, X, Xs, Xs Max, 11, 11 Pro, 11 Pro Max (priced up to $1450)
After all that you'll get:
– iPhone 8 64GB, 8 Plus 64GB, XR 64GB/128GB, or 11 64GB for free after up to $700 in bill credits
– iPhone 8 256GB, 8 Plus 256GB, XR 256GB, X, Xs, Xs Max, 11 128GB/256GB, 11 Pro, or 11 Pro Max will be up to $700 off.
This deal is live today at AT&T Wireless.