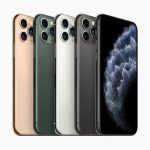 Holding onto an older iPhone 6 or 6s and ready to upgrade to a new Apple iPhone 11? Verizon is offering Apple's new iPhone 11 models for $300 off MSRP to new customers with an eligible trade-in (see list below). Discount is applied via monthly bill credits over 24 months. Verizon is offering a $100 discounts on iPhone 11 models for existing customers wishing to upgrade, also with eligible trade-in (see below). In addition, Verizon will include a $200 prepaid MasterCard for new customers.
This deal is live at Verizon today.
Their fine print is below:
Get up to $300 off a new iPhone with select trade-in and Unlimited.
– Add a new iPhone 11, iPhone 11 Pro, iPhone 11 Pro Max, iPhone XS or iPhone XS Max with monthly device payments or at full retail price to your cart.
– Trade in one of the phones below within 30 days after checkout.
– Get up to $300 for your trade-in credited to your account over 24 months.
Trade in:
iPhone 6s Plus
iPhone 6s
iPhone 6 Plus
iPhone 6
iPhone SE
iPhone 5s
And get:
Up to $300 (new lines) or $100 (upgrades).
Plus, get a $200 Prepaid MasterCard when you switch to Verizon on Unlimited.
– Add any iPhone as a new smartphone line with port-in to your account on any Unlimited plan.
– After checkout, visit vzw.com/digitalrebatecenter. Enter promo code: APPLE200 and the other necessary information when prompted.
– Receive your Prepaid Mastercard within 8 weeks.
"Up to $1449.99 purchase on device payment or at full retail price w/new smartphone line req'd. Port-in required for $200 prepaid card. Less $200 prepaid card (mailed w/in 8 wks) + up to $450 trade-in/promo credit applied over 24 mos.; promo credits begin when new purchase has shipped and trade has been received; and end if eligibility req's are no longer met; 0% APR. Trade-in conditions apply."