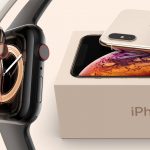 Through midnight Saturday night (November 9th), Sams Club online has several Apple products on sale as part of their One Day sales event. Choose free shipping or free local store pickup (if available). Sale prices for online orders only, in-store prices may vary:
(1) 11″ iPad Pros (64GB & 256GB models): up to $150 off MSRP
(2) 12″ 64GB iPad Pro: $200 off MSRP
(3) 10.5″ 256GB iPad Air: $100 off MSRP
(4) Apple Watch Series 5 models: up to $40 off MSRP
(5) Apple iPhone 11, 11 Pro, 11 Pro Max, Xr, Xs, & Xs Max with Verizon, Sprint, or AT&T: up to $650 in gift cards. Gift cards include a $400 Sam's Club Gift Card + $250 Sam's Club e-Gift Card.
How do the gift cards work? Here is the fine print: "Up to $400 gift card per activation when purchased on installment. Gift card provided at time of activation and may not be used toward same transaction or to pay for membership fee or select services. Up to $250 value eligible with trade-in of a Samsung Note9 512GB AT&T or iPhone 8+ 256GB Verizon or newer and other select devices."
Note that a $45 annual Sams Club membership is required to qualify for these savings. Sale prices expire Saturday night, November 9th, at midnight ET!