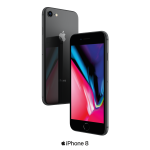 T-Mobile is offering a free 64GB iPhone 8 for new customers who switch to T-Mobile and open a new line of service. Eligible trade-in required, and discount applied over a 24 month period.
The fine print: "If you cancel your line before receiving 24 bill credits, you may owe up to $449.99 (iPhone 8 64GB); if canceling your account, you can contact us first to instead make discounted monthly balance payments. Tax on pre-credit price due at sale. Limited time offer; subject to change. Qualifying new line of service, finance agreement, & trade-in (iPhone 6, 6 Plus, 6s, 6s Plus, 5, 5s, SE) required. If you have canceled voice lines in past 90 days, reactivate them first. $10 SIM card, and, in stores & on customer service calls, $20 assisted or upgrade support charge may be required. 1 offer per account. Up to $450 via monthly bill credits; must be active and in good standing to receive credits; allow 2 bill cycles. May not be combinable with some offers or discounts (e.g., Carrier Freedom)."
This deal is live today at T-Mobile.