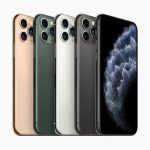 Apple's Cyber Monday sale on iPhones include a $50 Gift Card with the iPhone 8 Plus and 8 and a $50 Gift Card with the iPhone XR. Apple wireless carriers are also having a Black Friday/Cyber Monday 2019 event with various deals on the iPhone 11 family as well as previous iPhone models. Here are their best Cyber Monday sales:
Verizon:
– Get up to $800 off iPhone 11 & 11 Pro when you switch to Verizon with select trade-in plus an Unlimited plan.
– Buy an iPhone XR & get $600 towards another eligible iPhone XR plus get a free $400 prepaid MasterCard.
These deals are live on Verizon's site today. Offers are valid from 11/28/19 to 12/1/19.
Sprint:
– 64GB iPhone 11 available for $0 per month for new lines. Over is valid fro November 25, 2019 until December 5, 2019. Qualified trade-in of iPhone 6S or newer, in any condition, required.
This deal is live at Sprint today.
AT&T:
– Free 64GB iPhone XR for new or existing customers opening a new line of service, no trade-in required. Offer is valid from 11/22/19 to 12/5/19.
This deal is live today at AT&T Wireless.
Xfinity Mobile:
– Take $250 off the purchase of any iPhone with a new line activation, and transfer of phone number to Xfinity Mobile, through December 8, 2019. This includes Apple's new iPhone 11 family of smartphones as well as previous-generation models.
This deal is live today at Xfinity Mobile.
Boost Mobile:
– 2019 Apple iPhone 11 Pro and iPhone 11 Pro Max for $100 off MSRP with service. Their discount reduces the cost of an iPhone 11 Pro to $899 for the 64GB model and $999 for the 64GB iPhone 11 Pro Max. Order online, then pick a Boost unlimited plan when the phone arrives. Boost Mobile is part of the Sprint network, and they offer plans beginning at $50 per month for one line. No annual contract is required.
This deal is live today at Boost Mobile.
US Cellular:
– 64GB iPhone 11 for $0 for new customers. Discounts are applied via monthly bill credit over 30 months and require one new line of service.
US Cellular's deal is live on their site today.
T-Mobile:
– 4 free 64GB iPhone 11 devices for when you add 4 lines of Unlimited service. Eligible trade-in required, and discount applied over a 24 month period.
This deal is live today at T-Mobile.