Cyber Monday Final Opportunity To Take Advantage Of Apple 4-Day Shopping Event
FEATURE: 12.02.19- Shoppers looking for some exclusive deals directly from Apple who elected to forgo the long lines, ruckus rush, and parking problems of a Black Friday nightmare need fear not because its 4-day shopping event lasts until today, Cyber Monday, through 11:59 PM ST local time where one can snag a gift card worth up to $200 redeemable towards any merchandise by simply letting one's fingers do the walking (so to speak) and clicking on the "buy" button on the Cupertino, California-based company's website — or using the Apple Store app for iOS and iPadOS — right from the comfort of home.
Those who were weary of the madness associated with Black Friday apparently decided to do their shopping on the internet instead, a ritual usually saved for today, Cyber Monday. The website TechCrunch reported that on November 29, consumers spent $2.9 out of a total $7.4 billion online via smartphones with the rest on tablets and computers. One of the items shoppers were going for, according to an analytics report from Adobe, were Apple laptops (no word on what specific model).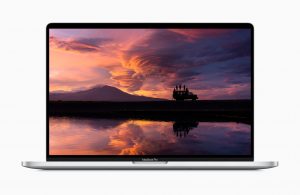 The company making those Mac notebook computers is not marking down its products, per se, with nominal discounts as it previously used to do in the past — which was solely, and exclusively, on Black Friday itself (with savings of anywhere from a maximum of $101 off hardware as it did back in 2006) — and is instead tacking on, as it has done in recent years, an Apple Store gift card to an eligible purchase that can be used to buy any merchandise online or at a retail store location. (Limit two per person for each item category).
However, and unbeknownst to most people, according to the promotional offer's terms and conditions, customers who purchase an eligible product during the promotion period may receive a discount equal to the value of the Apple Store gift card (should one choose to do so).
This year's promotional Apple Store gift card offer for the 4-day shopping event, which ends today, is available for the following products with the corresponding values:
AirPods- get a $25 gift card
Apple TV- get a $25 gift card
Apple Watch: get a $25 gift card
HomePod- get a $50 gift card
iPhone- get a $50 gift card
Beats by Dr. Dre- get up to a $100 gift card
iPad- get up to a $100 gift card
Mac- get up to a $200 gift card
Per the terms and conditions, refurbished items, end of life products, and open box merchandise are not eligible for this promotion. iPhones purchased online also do not qualify for the offer (unless bought physically in-store).
**AD: It's always Cyber Monday (and Black Friday) on MacPrices where one can find the latest deals & discounts and lowest prices on all Apple products. Simply go to the home page and navigate over to the "price trackers" menu on the top left of the screen to engage the online shopping experience!
Cyber Monday shoppers buying online have one of two free ways to get their new hardware or devices in hand: either to have the product(s) shipped and delivered to one's mailing address, or, to acquire the merchandise instantly by selecting a desired local Apple retail store location to use the same day pickup option (if applicable and where available).
In addition, orders placed online (yet another perk) have the option for personalized engraving on any eligible products to make that new mobile device such as an iPhone or iPad truly personal (though these can only be shipped; no in-store pickup is available).
Apple states on its website that it wants you to be thrilled with your purchase and has updated the policy for returns and refunds which currently reflects, for a limited time only, an extended window of opportunity — one that both online and retail shoppers can take advantage of — to ship back, or simply bring in-store, any items bought (designed primarily for gifts) from the standard 14 days for the holiday shopping season. All merchandise (provided it meets the company's requirements or any applicable terms and conditions) purchased from November 15 to December 25, 2019 may be returned through January 8, 2020.
Note that any items ordered online with personalized engraving can not be returned for refund or exchanged whether shipped back or brought in-store.
Furthermore, any Apple Store gift cards procured from the 4-day shopping event promotion — if not redeemed as an instant discount — must be returned with the eligible product purchased in order to receive a full refund. If it is missing, the value will be deducted from the amount refunded.
Shopping for one's family or friends this holiday season and don't know what to buy this year? Apple has published this gift guide for the holidays showcasing its top picks and recommendations for the company's own products as well as third party offerings sold in its stores both at retail locations and online on its website. Merchandise obtained from the latter method have the choice of getting gift wrapping which includes a card one can personalize with a custom message (simply select this option, if applicable and eligible, at checkout).
Here's a nifty idea: with the 4-day shopping event promotion, one can purchase a product for oneself, and, instead of taking an instant discount, give the Apple Store gift card as a gift (or vice versa, if one so wishes)!
Ready to shop online? Visit this direct link to start your Cyber Monday shopping at Apple now before time runs out.
---
Note from the Author: the links provided in this article are seasonal for the holiday shopping season and may not open up to the intended URL past a certain date and may already have expired and been taken down by Apple when reading this story.