Apple's 2019 Guide To Holiday Gifts Can Help Get Your Christmas Shopping List Checked Off
FEATURE: 12.17.19- There's only one week left to get your Christmas shopping done and if Apple items are on the top of your gift list this year and you're wondering what hardware or device to purchase for either a family member or a friend, the tech giant is here to help with a hand picked selection of recommendations of its own products as well as a handful of third party merchandise you can buy instantly, available today at its stores, both online and at retail locations which are ready to be shipped to your door or for same day pickup in-store.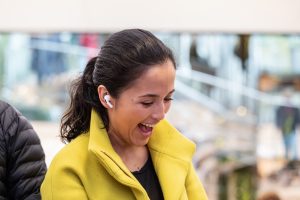 The Apple guide to holiday gifts for 2019 — which was published online last month in November ahead of the shopping blitz of the season — outlines some of its top curated selections for, of course, its own hardware and devices plus accessories for those items as well as third party products from wireless charging pads (for your compatible iPhone model) to smart water bottles and mugs. Kids are not forgotten and included too with electronic toys and games prominently featured which would make any boy or girl's day when they wake up and look under the tree on Christmas morning.
The top 25 holiday gifts are listed here as presented on the special webpage from apple.com (as seen during the time of this article's writing):
#1- iPhone 11
#2- Apple Watch Series 5
#3- Apple Watch Studio (case and band)
#4- AirPods Pro
#5- iPad
#6- HomePod
#7- MacBook Air
#8- Frozen 2 Wireless Bluetooth Karaoke Microphone with Light Show
#9- Xbox Wireless Controller
#10- Hot Wheels ID Smart Track
#11- Star Wars: The Force Coding Kit by Kano
#12- Disney Frozen 2 Coding Kit by Kano
#13- UBTECH Jimu Robot MeeBot 2.0 App Enabled Building and Coding STEM Kit
#14- Hot Wheels ID Darth Vader Racer
#15- Marbotic "Sesame Street" Numbers
#16- LEGO Hidden Side Newbury Haunted High School
#17- Sphero Mini Robot Activity Kit
#18- Insta360 GO Stabilized Camera Bundle
#19- DJI Osmo Mobile 3 Gimbal Combo
#20- Mophie Dual Wireless Charging Pad
#21- Hidrate Spark 3 Smart Water Bottle
#22- iPhone 11 Pro Smart Battery Case (Pink Sand)
#23- 44mm Alaskan Blue Sport Loop
#24- Pmber Temperature Control Travel Mug 2 (12oz)
#25- OtterBox Exo Edge Case for Apple Watch 40mm (Pink)
Note that the items listed above have been numbered for editorial purposes and not by the company itself. In addition, some holiday gifts in the guide are exclusives and only available for purchase at Apple.
As mentioned previously, all of the holiday gifts curated by Apple are available for purchase both online at its website (or by using the Apple Store app or calling 1-800-MY-APPLE) and in its retail store locations.
Two perks of shopping online — other than letting your fingers do the walking (so to speak) — are engraving and gift wrap for eligible products. Both options allow for personalization of an item whether it be engraved (free of charge) or a card included in a gift box (for a fee) with a message for a family member or a friend that it will be sent to. However, the caveat for getting certain items engraved is that your gifts will not arrive to the intended recipient in time for Christmas as the cutoff date for personal engraving to be shipped and subsequently delivered by December 24 was December 13 (so if you still want that option, you'll have to inform the recipient of your gift that they will not get their present until just before or after the New Year, depending on when the order was placed).
In what appears to be for the holidays only, Apple is offering for orders placed online two free options for delivery: same day 2-hour delivery on select products in most metropolitan areas and next day delivery on in stock items, both for orders placed by 3:00 PM on December 23. (Note that these delivery times may differ or may not be applicable for items with gift wrap chosen as an option… check for confirmation of shipping times at checkout).
If an Apple retail store location is available near you, you can take advantage of free same day in-store pickup for most eligible products sold online. (Again, excluding items with engraving or gift wrap). Check out the delivery and pickup webpage on apple.com for more information regarding both topics as it pertains to your online order.
During the holidays, Apple has an extended returns and refunds policy for any items purchased through December 25 which can be returned for a refund (or exchanged, if applicable) through January 8, 2020. (Standard 14-day policy for returns and exchanges will apply after December 25).
And, for shoppers with an Apple Card, through December 31, cardholders can save 6% (earned as a daily cash back reward) on purchases made on any holiday gifts from the curated list online.
Speaking of cards? If you still don't know what to get for a family member or a friend for Christmas, you can simply purchase one of three available gift cards for either the Apple Store, App Store, or iTunes Store of varying denominations that they can redeem towards their favorite Apple product or even service (such as Apple Music or Apple Arcade, both of which require a monthly subscription). Sky's the limit (so to speak) when they've got the power to choose on their own.
No matter what route you take this holiday shopping season — be it a gift fromApple's curated list or a gift card — time is running out so go online or shop in-store today before it's too late! Happy Holidays!
---
Note from the Author: the links provided in this article are seasonal for the holiday shopping season and may not open up to the intended URL past a certain date and may already have expired and been taken down by Apple at the time this story is being read.