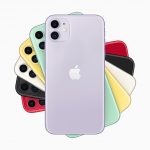 T-Mobile is offering a free 64GB iPhone 11 to new customers who switch to T-Mobile and open a new line of service. Eligible trade-in required, and discount applied over a 24 month period.
Here are the details:
"Bring your number from an eligible carrier and activate a qualifying voice line. Buy iPhone 11 64GB on a monthly payment plan. Complete your purchase and make a down payment (if applicable).
Trade in one of these eligible devices in good condition to get an iPhone 11 for free:
iPhone XS Max
iPhone XS
iPhone XR
iPhone X
iPhone 8
iPhone 8 Plus
Samsung Galaxy S10
Samsung Galaxy Note9
Google Pixel 4 XL
Google Pixel 4
Get up to $500 off with these trade-ins:
iPhone 7
iPhone 7 Plus
iPhone 6s
iPhone 6s Plus
Samsung Galaxy S9
Samsung Galaxy S8
Samsung Galaxy Note8
Google Pixel 3 XL
Google Pixel 3
LG G8
OnePlus 7 Pro
You'll receive a trade-in credit based on the fair market value of your trade-in device and the balance of the promotional value via 24 monthly bill credits. If you trade in a store, you'll receive your trade-in credit instantly. If you send us your qualifying trade in within 30 days of receiving your new iPhone 11, you'll receive your trade-in credit on your bill within two bill cycles after your trade in is received.
Receive promo credits over 24 months: We'll apply the balance of your promotion by crediting your bill each month. If you cancel wireless service, credits may stop & remaining balance on required finance agreement may be due."
This deal is live today at T-Mobile.