Best, Safest Methods For Cleaning Versus Disinfecting An iPhone Amidst Fears Of Coronavirus Outbreak
FEATURE: 03.11.20- With current events contributing to widespread fears of an outbreak attributed to possibly catching the novel coronavirus, also known as COVID-19, rampant on everyone's minds domestically and across the globe (one country's medical chief even going so far as to issue a warning to its citizens that over wearing a face mask to prevent infection, to be aware of things most commonly touch: a person's phone), it would be wise to keep your iPhone cleaned and disinfected, preferably on a weekly, if not daily, basis but with a plethora of ways to clean versus disinfect your Apple smartphone, what's the best and safest method for keeping your device free of all of that bacteria resulting from its constant use and handling during the day?
While the most common thing people may do to clean their iPhone screens — a ubiquitous personal tech gadget people don't readily associate with being "germy" (what with all of that touching, tapping, and swiping which easily can make your Apple smartphone a harborer and distributor of many types of bacteria) — is simply to wipe it on a shirt sleeve or pant leg for a quick cleaning, that is not sufficient enough to disinfect it. Plus, in addition to the touch screen, the other surfaces — like the back of the device — or its case (if applicable), — the power and volume buttons, and the mute switch — often get overlooked and must be cleaned and disinfected as well.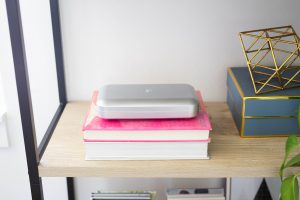 A 2017 study, published online in 2018, done by researchers with the division of comparative medicine and department of biological engineering at the Massachusetts Institute of Technology (MIT) found that the use of an ultraviolet (UV) light was the most efficient way of cleaning and disinfecting a smartphone in order to kill 100% of any bacteria present on all of its surfaces from its touch screen to its case.
The two UV light sanitization devices used in the study were the Flashbox Mini (model no. FBM120) and PhoneSoap (model no. PS300). Out of both, the former was 100% effective in complete disinfection of all surfaces of the smartphone while the latter, while it completely disinfected the touch screen and junction (where the phone meets the case), left some residual bacteria on the case itself.
Three common phone case types were tested for bacteria: hard plastic, hard silicone, and one which was a combination of the two (if none was present, the back and sides of the device were the areas used for testing). Additionally, smartphones with and without a screen protector installed were tested as well and found no difference in results for bacteria count between the two whether protected or unprotected by such.
The MIT researchers also discovered in their experiment that more germs existed inside the smartphone's case junction than on the touch screen itself.
Scientists at the college of life sciences and agriculture at the University of Arizona revealed in 2012 that phones carry ten times more bacteria than a toilet seat. More recently, another study performed by the collegiate institution, published online in 2017, found more than 17,000 forms of bacteria present on smartphones tested that belonged to everyday high school students.
"Cell phones pick up germs all the time," said Charles Gerba, a microbiologist and professor at the University of Arizona, as quoted in the article.
"However, the amount of germs on a phone isn't a problem: it's the sharing of phones between people. Without sharing, each phone carries just one set of germs and won't get its owner sick."
"Very rarely do people clean their phones so germs and bacteria continue to build up," said Gerba whom Health magazine spoke with for a report published last week which was a guide on how to disinfect your iPhone during cold and flu season.
According to the microbiologist, cell phones are one of the dirtiest things we encounter daily and he recommended cleaning your smartphone at least once a day, sharing the following ways for disinfecting your device on the go:
microfiber cloths- one of the easiest ways to clean your phone frequently is to keep a stash of microfiber cloths to quickly wipe it down
rubbing alcohol and water- for a serious deep clean, create a homemade solution of 60% water and 40% rubbing alcohol and to use, lightly dampen the corner of a microfiber cloth
disinfectant wipes- if you prefer not to mix your own solution, you can try packaged Lysol or Clorox disinfectant wipes
UV light- use this if you prefer a device that can do the disinfecting for you
In their 2017 study, the researchers at MIT noted that in a previous study done in a hospital setting where all the surfaces of a smartphone were wiped down with a lens wipe that contained isopropyl alcohol (also known as rubbing alcohol) found that that method was not as effective in completely disinfecting the device with bacteria still present afterwards, although, a second study using the same process on solely the touch screen found 100% effectiveness.
In a discussion of their results, they also noted that none of the liquid disinfection methods that were used damaged the sampled smartphones after their experiments, however, they could not comment on device impairment after repeated exposure by such (e.g., Clorox disinfectant wipes) as used in their experiment.
Just this past Monday, the technology news and reviews site Engadget reported that Apple had updated its website to let iPhone — plus iPad and Mac — owners know that it was okay to clean their devices with disinfectant wipes, adding that the new advice came as the ongoing coronavirus outbreak worsens globally.
Specifically, Apple states on its official support page topic on how to clean your Apple products on whether it is okay to use a disinfectant that you may gently wipe the hard, non-porous surfaces (e.g., the screen) using a 70% isopropyl alcohol wipe or Clorox disinfecting wipes (but not to use bleach).
Last week, just days after the guide to disinfecting an iPhone was published by Health magazine, CNET offered tips on how not to clean your phone — applying to all smartphones, not just Apple's iPhone — and advised against using rubbing alcohol because it can damage your screen since it's so caustic. Furthermore, the tech and science oriented news outlet also said that since many newer phones have a protective coating, the liquid chemical solution can wear it away quicker over time causing it to be more prone to scratches.
This means that, in addition to a handful of other cleaning agents and liquid chemical solutions that you should never clean your smartphone with (e.g., soap or window cleaner), disinfectant wipes probably shouldn't be used either because according to James LeBeau, an associate professor of materials science and engineering at MIT (who was not involved in any way with the 2017study referenced throughout this article), whom CNET spoke with, it typically contains rubbing alcohol that will strip off the oleophobic oil repellent and hydrophobic water repellent coatings.
CNET also noted as well that while keeping your phone screen clean goes a long way, remembering to wash your hands is also an important step in the process.
In an online guide to when and how to wash your hands published by the Centers for Disease Control and Prevention (CDC), the government agency said that handwashing is one of the best ways to protect yourself from getting sick, especially during these key times when you are likely to get and spread germs. If soap and water are not readily available, you can use an alcohol-based hand sanitizer that contains at least 60% rubbing alcohol (check the product label) although the CDC warned that using such does not get rid of all types of bacteria.
Gerba, the microbiologist and professor at the University of Arizona, also concurred and pointed out in his interview with Health magazine that it's essential to practice good general hygiene habits such as not taking your phone into the bathroom and washing hands frequently. In addition, he noted, among his recommendations of disinfecting a smartphone on the go, that using hand sanitizer is also a good idea with the best choices being ones that offer residual protection (meaning it continues to work long after it has been applied).
So, with all of these conflicting tips, what's the best and safest way to clean versus disinfect — technically an entirely different process altogether — your iPhone without harming its screen or any of its other surfaces in order to prevent the accumulation and spread of bacteria (such as, heaven forbid, the novel coronavirus, a.k.a., COVID-19)?
The 2017 study done by the researchers at MIT concluded that the use of a UV light sanitization device was potentially superior to all other methods of disinfection because of the risks of damage with exposure to liquid disinfectants.
However, the same study indicated that in a previous report where a smartphone's touch screen was wiped down with a new and dry microfiber cloth, 25% of the devices tested showed no presence of any bacteria afterwards. According to the MIT researchers' own words, physically wiping the phone is a variably effective method for decontamination when no other sanitation options are available.
In fact, prior to Monday's update to its official support page topic regarding how to clean your Apple products, on another webpage specifically regarding cleaning your iPhone, Apple solely recommended using a soft, slightly damp (with warm soapy water if material is still present), lint-free cloth and warned to avoid getting moisture in openings and advised to not use any cleaning products.
The official support page since has been updated to include at the very top — in addition to the statements above — the answer to the question: is it okay to use a disinfectant on my iPhone? (with the same advice detailed on its how to clean your Apple products webpage given as the response).
CNET's advice was that the safest and most effective way to clean your screen is with a microfiber cloth. Per their instructions, if it is in desperate need of cleaning, use distilled water to dampen the fabric and then wipe it down accordingly.
In addition, CNET also recommended the use of a UV light sanitization device — coincidentally giving the same one used by the MIT researchers in their 2017 study, the aforementioned PhoneSoap — as a way to disinfect your smartphone.
Of the two brands of UV light sanitization devices previously referenced, the Flashbox Mini is designed for use by the health care industry while PhoneSoap, currently at version 3.0, is available for consumers and retails for $79.95 (buy on Amazon).
"There aren't too many competing products on the market right now," said Kelli Sprunt, earned media manager at PhoneSoap (also the company's name), whom MacPrices spoke with regarding their flagship product,.
"PhoneSoap 3 is the most effective method for sanitizing your smartphone because we include a bulb on the top of the device and a bulb on the bottom, as well as a reflective coating which offers a 360-degree clean 100% of the time."
"With disinfecting wipes, you run the risk of improper application or damage to the phone," added Sprunt.
In a review of PhoneSoap's flagship product (along with other versions sold) published last Wednesday on the website of cable news network CNN, , author Monica Mabuti explained — writing for the column "CNN Underscored" (a guide to the everyday products and services that help you live a smarter, simpler, and more fulfilling life) — that PhoneSoap 3 is the company's basic UV light sanitizer that fits all smartPhone models and sizes. Furthermore, she revealed that it also doubles as a charging hub with two ports, USB and USB-C, that lets you charge your device while its getting disinfected.
According to PhoneSoap, per Mabuti, which says the device was laboratory tested against common household germs, after ten minutes? Voila! Your smartphone comes out as clean as new. The company also says that UV light is harmless to your phone and encourages you to leave the case on when you sanitize since that's full of germs too.
The verdict? Mabuti wrote, in her own words, the following conclusion:
"… the PhoneSoap family has some room for improvement. First off, the device doesn't get rid of fingerprints and smudges so you'll still have to use a microfiber cloth to clean your screen. And there is no accurate, technical way for consumers to personally check and know if the germs on their phones have indeed been killed, so you'll have to rely on the tests and research that back PhoneSoap."
Alternatively, microfiber cloths branded as PhoneSoap Pads sold by the same company are available in a pack of three and retail for $5.95.
Currently, the company's website notes that due to increased demand, the option to pre-order will be available for some products that are out of stock — — which includes its flagship product, PhoneSoap 3 (scheduled to ship April 15, 2020 as of this article's publication) — — and they advise to order today to keep your place in line. According to Their earned media manager, Sprunt, an increase in demand like this during this time of year is definitely abnormal and attributed it to fears surrounding the coronavirus.