Rumor Of New 14-inch MacBook Pro From Apple Evokes Memories Of 20-Year Old Predecessor 'Pismo' PowerBook
COMMENTARY: 03.16.20- News of a rumored upcoming piece of Apple hardware in the company's product pipeline, a new 14-inch MacBook Pro model with a 14.1″ mini-LED display, has called to mind personal memories of owning its previous incarnation, the 2000 version of the PowerBook line featuring G3 processors (this writer's first ever Mac notebook computer)) which debuted two decades before, a very popular machine that was the mobile powerhouse of its time and the epitome of computing on the go.
The news, first reported by the website MacRumors, detailed a forecast by renowned analyst Ming-Chi Kuo of TF International Securities ( a financial services group in the Asia Pacific region) — an individual who is well regarded in the Apple news and rumor circuit due to a very good track record at predicting upcoming products due to his periodic forecasts based on intelligence gathered from his contacts inside the tech giant's Asian supply chain — who predicted a number of hardware and device updates to be released by the Cupertino, California-based company sometime this year, and into the next, featuring a newfangled screen technology called mini-LED. Notable among the items on the list was a new 14-inch MacBook Pro model which will have a 14.1″ display.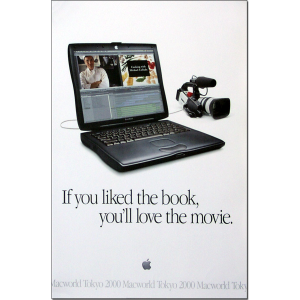 The news, at least for me, has evoked fond memories of the first Mac notebook computer I ever owned: the 2000 model of the PowerBook (a.k.a, the "Pismo") due to its screen size: a 14.1″ TFT active matrix display.
More commonly, and widely, known as the "Pismo" (the company's internal codename for the machine) the 2000 model of the PowerBook was the third iteration among the line featuring fast G3 processors — preceded by the "Lombard" in 1999 and the "Wallstreet" in 1998 — and would be the mobile powerhouse of its time. Announced on February 16, 2000 and unveiled by the late co-founder and former Apple CEO, Steve Jobs, at the Macworld Expo held in Tokyo, Japan (two decades ago on this day last month), the professional grade Mac notebook computer sported an all black finish with a plastic body and came in two models, versions with either a 400MHz or 500MHz chip, and, a hard drive and memory starting at 6GB and 64MB of RAM, respectively (with the high end offering featuring twice the capacities). The unit would start at a retail price of $2,499 (a hefty cost compared to today's cheaper and more powerful Intel-based counterparts).
The other features of the PowerBook, specifically, the entry level 400MHz version, included:
product dimensions: 1.7″ x 10.4″ x 12.7″
product weight: 5.7 to 6.1lbs
operating system: Mac OS 9 (version 9.0.2)
system bus speed: 100MHz
screen resolution: 1024 x 768 pixels
video card: ATI Rage Mobility 128 graphics with 8MB of SDRAM
modem: 56k
Ethernet: 10/100 Base-T
wireless connection: AirPort (802.11b)
USB ports: x2 (1.1)
FireWire ports: x2 (400)
optical drive: 6X DVD-ROM (in expansion bay)
expansion bay: x1 5.25″
expansion card slot: x1 Type I/II PC Card (CardBus compatible)
battery type: 50 W LiIon (lithium ion)
(The technical specifications above come by way of EveryMac.com).
I bought my PowerBook, a 400MHz version, in used condition from the friend of an acquaintance of mine (if I recall correctly it was in 2001 or possibly 2002) who was trying to offload his Mac notebook computer for some quick cash in advance of a trip to Las Vegas. The amount being asked for the machine was $500 and at that cheap price, I could not resist, especially after looking it over and being attracted to its sleek curves and all black finish (not to mention its substantial discount over its original cost at retail.
What I liked about the "Pismo" — other than its all black finish — was that all of its ports, from USB (1.1) to FireWire (400), resided on the back of the machine which was covered by a flip down door to hide them when not in use for a clean look. And, when used on a desk, all the wires were hidden from view and out of your way. (Although some users would argue that it was a pain to have to access things from the rear).
The best part of the PowerBook, as I would discover, was its easily upgradeable nature. To start off, I would upgrade the standard 6GB hard drive and 64MB of memory (although I think the previous owner had upgraded the machine to 256MB) to a larger 30GB (if I recall correctly) and 1GB, respectively. (Although the official amount of maximum RAM topped out at 512MB, you could unofficially, as users would discover, max it out to 1GB). And, since AirPort was not a standard built-in option in Apple laptops back then, to make my Mac notebook computer wireless, I had to spring for an AirPort Card for $79 (or was it $129?) to enjoy the freedom of a Wi-Fi connection.
Then, with its "hot swappable" primary expansion bay designed for an assortment of different third party media drives, I would get one each for standard 1.44MB floppy disks, SuperDisks special 120MB high capacity floppy disks from Imation), Zip disks (cartridges made by Iomega featuring 100MB or 250MB capacities), and CD-RW discs (a custom made hack of sorts that I got from a seller on eBay for disc burning capability). There was nothing that my Mac notebook computer couldn't do, data wise, when it could accept all of those ways to save files.
Finally, the ultimate upgrade? Due to the machine's removable daughtercard, I also upgraded from its original 400MHz to a faster 900MHz G3 chip which was being sold by a company called PowerLogix. (You had to mail it in for the swap to which it would be mailed back to you ready to put back in). Another option I considered was a 550MHz G4 processor from Daystar Technologies but benchmark tests from third parties showed that the other option was much faster in real world performance.
Probably the best aspect of all was the ability to remove the media drive expansion bay and insert a second battery for twice as long computing on the go while disconnected from AC power, extending the five hours of life it was rated to double that amount. And because it and the battery bay were "hot swappable," you easily could change a dead battery and swap in a new one, therefore,, I had three extra batteries on hand in addition to the primary one that came with the machine so that I could work without ever having to be tethered to a desk connected to its charger (which didn't match the all black finish of the Mac notebook computer since its cord was translucent, plus, it was big and pretty bulky anyway, called by some as a "yo-yo" adapter because it looked just like that: a yo-yo).
The worst part of the "Pismo" was that the Apple logo on the backside of the display, its lid, was oriented correctly when closed and facing the user but when the machine was in use and open? The logo was upside down! (This would be corrected with its successor, the 2001 titanium PowerBook G4).
I owned and used (and loved!) that PowerBook until 2006, five years give or take, before I would let it go and upgraded to the faster, smaller, and even more portable version — the aluminum 12-inch PowerBook G4 with a 1.5GHz processor — which was released in 2005, a little machine I think I would adore even more for its minuscule size and extreme portability by comparison. I currently own a different "Pismo" which I acquired in 2011 as an obsolete piece of hardware being kept in storage in the computer lab where I taught technology at and it sits at home, unused, keeping it more for sentimental value more than anything else. (In fact, I also have a second, non-working one, which I got as a donation to the previous place I worked at, which I've been planning to sell for its parts or for someone who wants to repair it and use it themselves).
Plus? I still have the original 6GB hard drive that came with my PowerBook which resides in a portable USB 2.0 aluminum enclosure, a device that I had been using as an emergency Mac OS X boot partition, the only surviving memento of my first ever Mac notebook computer (with the exception of some third party accessories that I also still have lying around).
As an interesting anecdote, this Mac notebook computer — my "Pismo" — would lead me to the enthusiast site, PowerBook Central, which was a resource for everything mobile for the Mac, and, especially the machine that was the site's namesake. As a regular reader of its content, I would one day, in 2006, come across a job posting for a columnist to which I applied and my career as a professional freelance journalist was launched! Its publisher, Steve Hildreth, the same person who is behind MacPrices, has since closed down the website and merged it with this one in 2018 (the same year I came aboard as a writer and debuted the "Mac Potpourri" column).
And, here we are at present.
Today, while now 20 years old (an ancient relic technology-wise), the "Pismo" still can be bought — in used condition, of course — on places like eBay, going for anywhere on average from $150 on the low end to $250 on the high end, which is quite a pretty penny (so to speak) considering what I paid for mine back in 2001! (Check out this one for sale at $700+). However, due to its antique age, it probably only will be good for serving as a collector's item for nostalgia more than anything else.
**AD: Looking for the best prices on a PowerBook? Well, you're out of luck! (This website hasn't done that in ages. But, if you're in the market for a new MacBook Pro, look no further than to our price trackers for the latest deals and discounts on the 13-inch and 16-inch models from Apple and its authorized resellers.
Since the discontinuation of the 2000 model of the PowerBook, beginning with the aforementioned titanium PowerBook G4 in 2001 with its 15.2″ display, the flagship of Mac notebook computers for the professional user has always been the 15-inch variety — notwithstanding various versions of the aluminum PowerBook G4 and MacBook Pro in 12-inch, 13-inch, and 17-inch iterations (respective to each machine) — until the introduction of the new 16-inch MacBook Pro that was released in November of last year.
Prior to the rumor of a new 14-inch MacBook Pro in the works, the "Pismo" was the last professional grade Mac notebook computer ever to sport a screen of the same size. Although, on the consumer side, Apple would bring it back for that particular group with the 14-inch iBook which debuted in 2002, the bigger sibling of the 12-inch model, geared toward users who wanted a larger viewing area. Codenamed "Son of Pismo" (and appropriately so), the machine featured a similar 14.1″ display and resolution (1024 x 768). Four years later, then with an upgraded processor, a G4 chip (versus a G3 which it had prior to that), it would be discontinued in 2006 and replaced with the original MacBook with a 13.3″ display.
Macworld magazine speculated in their own report (based on the news reported by MacRumors) and said that just as the 16-inch MacBook Pro has smaller bezels around the display to fit into a body about the size of the old 15-inch iteration, they expect the rumored new 14-inch model to do the same: fitting a 14.1″ screen into a notebook computer the size of the current 13-inch version (which it feasibly will replace).
With the rumored new 14-inch MacBook Pro said to be in production, this would mark a return for Apple after almost two decades to the 14.1″ screen size of yesteryear for its professional users, last seen in its equivalent, its predecessor, the 2000 model of the PowerBook (a.k.a, the "Pismo").
---
A Note from the Author: the image featured in this article was procured from (and courtesy of) a product page on the website, The Missing Bite, a source for vintage Apple collectibles.