What If An iPhone And iOS App To Track COVID-19 Could Mitigate The Virus's Spread?
FEATURE: 03.23.20- With COVID-19 (a.k.a., the novel coronavirus) since having been declared a global pandemic and cases on the rise, spreading like a wildfire in countries including the United States, what if we could slow down the spread of infection rates with just a simple tracking app in iOS and on iPhone (which, while on the topic of both, should be kept clean and disinfected due to the fact that smartphones have been proven to be a harborer and distributor of harmful bacteria such as, during this period of time, the virus in question itself)?
In a feature revolving around the coronavirus published last week in Wired magazine, senior writer Will Knight wrote that phones could track the spread of COVID-19 but is it a good idea? According to the author, China and South Korea used smartphone apps to monitor people with the disease but pointed out that Americans have different views of privacy and data collection (if it were also to be done here).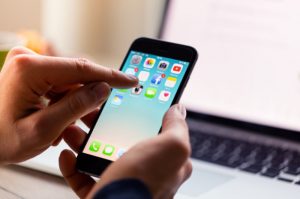 "As the deadly COVID-19 respiratory virus stalks the U.S., some techies suggest using smartphones to track and report transmissions," wrote Knight.
The Wired magazine senior writer reported that back in 2011, two scientists at Cambridge University in the U.K. — Jon Crowcroft and Eiko Yoneki — had devised a clever way to measure and monitor the spread of influenza: a smartphone app called FluPhone which used Bluetooth and other wireless signals as a proxy for interactions between people.
FluPhone asked users to report flu-like symptoms, for example, if you had eaten out with a friend (or been near someone else) who later got sick, it would let you know. Aside from slowing down the spread of influenza, it promised to help health officials to track and model its spread. Although it caught the attention of the media, including the front page on the website of the BBC (the British Broadcasting Corporation), in the end? According to Knight, fewer than 1% of people in Cambridge signed up to use the app.
The creators behind FluPhone believe, almost without a doubt, that a smartphone app like theirs could assist in the battle against the coronavirus. Crowcroft said that the health protection agencies could use it to populate anonymized map data which might help reduce transmission and that such an app also would help researchers learn how long the virus survives on a surface, what fraction of the population are asymptomatic carriers, and where to target critical medical resources.
John Edmunds, a professor at the London School of Hygiene and Tropical Medicine — a participant that also worked on the FluPhone app, as well as a person who assisted in the development of Influenzanet (an online system for voluntary reporting of flu-like symptoms used by tens of thousands of people in ten countries) — who spoke to Wired magazine, said the following:
"I think that self reporting illness through the internet or on your phone is very useful for getting a proper picture of what is going on. Influenzanet has helped health experts better understand the spread of the disease and an individual's risk factors."
According to Knight, some U.S. technologists have begun working on tracking apps for just this purpose, apparently having been inspired by the way China and South Korea used smartphones to slow the spread of COVID-19 (however, he did note that those two countries' governments use of coronavirus-related apps have not been entirely positive, for example, sending out texts detailing the movements of specific people infected with the virus stirring up public shaming).
One individual, Ramesh Raskar, a professor at the Massachusetts Institute of Technology (MIT) Media Lab, along with his colleagues have been developing a smartphone app — of which a prototype recently was released and tested — that would allow people to record their movements and compare them with those identified as being infected with the coronavirus using recorded information provided by the state or national public health departments. As time moved forward, willing participants would be asked whether they were showing positive signs of infection which would give a way to target the spread of the virus in the same manner as FluPhone.
Raskar has been trying to get other researchers and tech executives onboard and also has been in touch with the World Health Organization (WHO), the U.S. Centers for Disease Control and Prevention (CDC), and the U.S. Department of Health and Human Services (HHS). The MIT professor said that while those groups are providing guidance on what will work, none has yet endorsed their idea.
Per the Wired magazine senior writer, others have suggested that similar technology be added to smartphones by default. A letter — signed by several dozen prominent technologists, executives, and clinicians — called on the tech industry to do more to combat the coronavirus. The group recommended to Apple and Google that they both update their smartphone software (iOS and Android, respectively) to make it possible to track contact between people, provided users grant permission.
They wrote that if such a feature could be built before a virus like COVID-19 becomes ubiquitous, it could prevent many people from being exposed, and, in the long term, such infrastructure could allow future disease epidemics to be more reliably contained (and make large scale contact tracing of the sort that has worked in China and South Korea feasible everywhere).
Peter Eckersley, a distinguished fellow at the Electronic Frontier Foundation (EFF) — and a signer of the letter — who spoke to Wired magazine, said the following:
"It should be possible to implement such a system without establishing a national database that could enable government surveillance. The checks could happen privately on your own phone or with advanced security software."
According to Knight, Eckersley acknowledged the shortcomings of the Chinese and South Korean approaches but still believed that the endeavor is worth it, given the severity of the situation and has called on the tech industry to help.
Apple and Google did not return Wired magazine's requests for comment.
In a related report by the Washington Post published two days after the Wired magazine feature, the newspaper publication reported on its website that the U.S. government was in active talks with Facebook, Google, and a wide array of tech companies — including Apple — about how they can use location data gleaned from American's smartphones to combat the coronavirus, as well as tracking whether people are keeping one another at safe distances to stem the outbreak. According to three individuals who spoke to the Washington Post on condition of anonymity, public health experts are interested in the possibility that private sector companies could compile the location data in an anonymous and aggregated form, which, they could then use to map the spread of the infection.
A task force created by tech executives, entrepreneurs, and investors presented an assortment of ideas revolving around telehealth and the mapping of disease to the White House last Sunday during a closed door meeting. Among those present were tech giants Google and Apple (the latter of whom, when asked for comment by the Washington Post, said that it only had worked on issues related to distance learning and telehealth, and stressed that the company doesn't collect iPhone users' locations).
Sources who spoke to the newspaper publication cautioned that in seeking to battle the coronavirus, the U.S. government is not looking to collect and maintain a database of Americans' whereabouts but asking whether companies' vast amounts of geolocation data might assist epidemiologists in spotting trends which include vulnerable populations or in identifying areas which could be at risk. According to the Washington Post, smartphones regularly transmit their locations to wireless carriers, and often to major tech companies as well, in order to make certain services work (e.g., ridesharing apps such as Uber).
Google acknowledged that it had been in discussions with government officials, other tech giants, and health authorities and said that it is working on its own to tap its treasure trove of location data, in particular, any insights that can be derived from its popular Google Maps app. A company spokesman told the Washington Post in a written statement that they were exploring ways in which aggregated and anonymized geolocation information could help in the fight against COVID-19 and gave the example of how health authorities would be able to determine the impact of social distancing that would be acquired similarly to the way their maps application shows traffic patterns in real time, however, he stressed that any such partnership with the U.S. government would not involve sharing data about an individual's location, movement, or contacts.
The company itself also stressed that the project was currently in its early stages and it still was considering whether or not it would participate. Google added that it had not shared any aggregated and anonymized data with the government.
So, back to the original idea at hand, what about the use of an app on a smartphone to track the spread of COVID-19?
"The idea raises many questions, including how well such a system would actually work, whether it might sow unnecessary alarm or confusion, and whether such tools might enable unwanted corporate or government surveillance," wrote Knight, the senior writer at Wired magazine.
"Smartphone surveillance might seem like a good solution to tracking the spread but it is far from guaranteed to work and it might do more harm than good. … Beyond this, it may be challenging to get people to report their infectious status reliably or to overcome concerns over privacy. And, at least 20% of a population would need to contribute for such an app to be effective for modeling a disease and predicting its spread."
In a report published just last month by the leading provider of market and consumer data, Statista, on the installed user base of the iPhone in the U.S.from 2016 to 2019, as of this time last year, the Apple smartphone had around 193 million users in the nation, a number which is over half (50%) of the country's total population.
Another statistic in a separate report also published just last month by Statista found that there are more than 100 million people who currently use an iPhone, a figure that is 45% of the 250 million total number of smartphone users in the nation (the latter making up 80% of the entire U.S. population who have access to such a device). In addition, iOS, its operating system has a 50% market share in the country (which gives Apple dominant positioning in the mobile phone sector within America).
---
A Note from the Author: the image featured in this story of iOS apps on an iPhone 6 screen was procured from and courtesy of an April 2016 article published on the website of Macworld magazine.