Closures Of Apple Retail Stores Worldwide Extended Indefinitely To Protect Employees And Customers From Coronavirus
NEWS: 03.27.20- Apple retail stores in the United States and countries outside of greater China that had been closed temporarily from March 14 through today, March 27, as a precautionary measure enacted by the Cupertino, California-based company in order to protect its employees and customers worldwide amid the global pandemic surrounding the novel coronavirus (also known as COVID-19) have been extended indefinitely according to an anonymous source familiar with the matter.
On Monday, the website Cult of Mac broke the news that Apple probably wouldn't be reopening its retail stores until mid-April at the earliest according to multiple sources it spoke with. It reported that many store employees were being told quietly that the situation remained a "wait-and-see" status while company executives would continue to assess which locations might reopen — and when — on a case-by-case and country-by-country (including state-by-state in the United States) basis.
The website also reported that it had discovered a message posted online March 17 on apple.com that stated, "Our retail stores are closed until further notice" which it speculated was the first indication Apple would not be reopening its locations on March 28 as originally planned.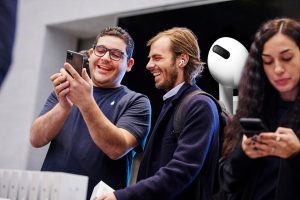 When Cult of Mac spoke with multiple sources connected to the Cupertino, California-based company who had knowledge of developments, they told the website that Apple was never totally confident it would be able to reopen all of its stores outside greater China on March 28 when it closed them on March 14.
An Apple retail store manager in the southern United States — who asked not to be named (since, according to Cult of Mac, the discussions were meant to be private) — told the website:
"I've been told not to expect stores in my area to be open anytime soon, and when I asked for a guess, two people ventured to say mid-April, but they said it with no certainty."
Cult of Mac reported that some sources associated with Apple retail stores told the website that the March 28 date was an intent, but not a definite.
Another Apple retail store manager based in the United Kingdom — who also asked Cult of Mac to protect their anonymity — told the website:
"It was a target. When I asked people above me when we closed if we were opening our doors again for sure on March 28th, [they] said, 'Your guess is as good as mine.'"
Cult of Mac also reported that other sources it spoke with had indicated to the website that Apple executives appeared to be concerned that as the impact of the coronavirus becomes even more worse globally, so does the risk to the company's retail store employees and customers worldwide.
An unnamed source connected with an Apple retail store in the state of Georgia told the website:
"I'm told the concern is that it's just not worth taking a risk. When you have authorities urging or ordering everyone to stay home, there's little doubt Apple sees this as a sign to stay closed indefinitely."
Confirming these developments was an internal memo — of which a copy was obtained by subsidiary Bloomberg News and seen Tuesday by business and market news site Bloomberg — sent out earlier this week and circulated throughout the company by Apple senior Vice President of retail + people, Deirdre O'Brien, which informed employees that some of its retail stores may reopen in mid-April as conditions locally permit them to do so.
"[Apple is] putting the health of our teams, customers, and communities first," wrote O'Brien.
"For all of our retail stores outside of Greater China, we will reopen our stores on a staggered basis. At this time, we anticipate some stores may be able to open in the first half of April depending on the conditions in their community. We will provide updates for each store as soon as specific dates are established."
The closures, according to Bloomberg, affect all of the Cupertino, California-based company's 458 retail stores outside of greater China (which includes Hong Kong and Taiwan). The business and market news site reported that Apple previously closed its 42 China stores, but all of those have reopened since then.
Bloomberg also reported that Apple was one of the first retailers to close its stores in response to the coronavirus.
In an official letter published on its website March 13 regarding the company's COVID-19 response written by Apple CEO, Tim Cook, which detailed that it would be closing all of its retail stores outside of greater China until March 27, the chief executive officer addressed the worldwide Apple family and said that the global spread of the coronavirus was affecting every one of us and that it wanted to continue to play a role in helping individuals and communities to emerge stronger.
Cook also mentioned that this effort — to protect the most vulnerable, to study this virus, and to care for the sick — required all of our care and participation and he wanted to update customers on the ways it was doing its part to help.
"Though the rate of infections has dramatically declined, we know COVID-19's effects are still being strongly felt," wrote Cook.
"… What we've learned together has helped us all develop the best practices that are assisting enormously in our global response. One of those lessons is that the most effective way to minimize risk of the virus's transmission is to reduce density and maximize social distance. As rates of new infections continue to grow in other places, we're taking additional steps to protect our team members and customers."
According to retail experts who spoke with Cult of Mac, for retailers like Apple, the country-by-country curve will determine a strategy for reopening its retail stores. The website reported that in many parts of the world — including the United States and large parts of Europe — the so-called flattening of the coronavirus' infection curve has yet to begin.
Industry experts who also shared their thoughts with the website said that it makes little sense for retailers like Apple to reopen its stores for some time.
One of these experts, Neil Saunders, managing director of GlobalData (a retail consulting firm), told Cult of Mac:
"It is hard to have any certainty right now. Stores might reopen at different times, based on the severity of the COVID-19 outbreak in various regions or states [in the U.S.]."
"A lot of stores claim they will open at the end of March or very early April. That's very unrealistic. I think the earliest they will open is in late April or early May. The worst case is that large numbers of stores and malls could be closed until the summer."
Cult of Mac reported that Apple also faces another major barrier as it deals with its retail store closures: hundreds of its brick and mortar outlets around the globe operate inside privately owned shopping centers. With many of these venues closed, or closing, due to the coronavirus, that leaves the Cupertino, California-based company with no choice but to keep its stores shuttered for the foreseeable future until the COVID-19 global pandemic is under control.
While Apple retail stores remain closed worldwide in the United States and countries outside of greater China, customers — per Apple CEO Tim Cook's March 13 letter — can shop online at www.apple.com or by downloading the Apple Store app on the App Store. (For service and support, visit support.apple.com).
In order to address any frequently asked questions (FAQs) in regard to the company's temporary retail store closures, Apple has published a special page on its website as a resource for affected customers.