Upgrade Conundrum Over An iPhone SE (Second Generation) Now Versus an 'iPhone 12 mini' Later
COMMENTARY: 04.30.20 – The latest Apple smartphone to hit the streets (so to speak) is finally here after a period of delay and the new iPhone SE (second generation), a sequel of sorts to the original, will be the upgrade path forward that this writer plans on taking in order to replace a four-year old phone mainly due to the size and price of the device, however, a dilemma has come up over whether to go ahead with the purchase or hold off to see what next big thing the tech giant will announce surrounding an entry level version of its newest flagship iPhone model, which, is expected to drop sometime towards the end of the year).
After having waited with, baited breath (so to speak), four years ever since rumors started floating around the web of a successor to the original special edition iPhone model — hence, the SE moniker — the long-awaited day finally arrived in mid-April. Without any fanfare or big product unveiling to showcase the second generation version of the device along with an accompanying keynote address by Apple CEO, Tim Cook, onstage at the Steve Jobs Theater in Apple Park, the Cupertino, California-based company — quietly announced by way of a simple press release on its website the new iPhone SE.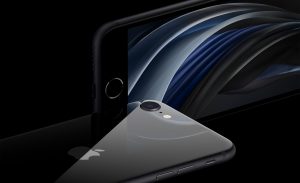 Now that it's here, the conundrum that I'm currently faced with which has been a temporary roadblock in the process regarding the debate over whether to upgrade to the new iPhone SE is the following: to make the purchase now or put it off for the moment to see if reports of a low priced entry level version of the next flagship iPhone model are indeed true.
Size Does Matter
Just like it did before when it announced the original version in 2016, in its official announcement this year, the tech giant said that the new iPhone SE comes in a compact design, something that I want in an Apple smartphone. There's just one big caveat though.
Reinvented from the inside out, Apple has stayed true to form by releasing a special edition iPhone model for the current year which has the body of the device from three years prior and contains the internal components of the flagship phone from the year before. The big difference, however, is that The company has strayed away from the 2016 original with the 2020 version growing in size (diagonally) by 0.7 of an inch, which, is nothing to sneeze at (so to speak)!
To quote the movie tagline of the 1998 Summer blockbuster film (from director Roland Emmerich), Godzilla, "Size Does Matter"
Here's a comparison of the specifications — as far as dimensions and weight are concerned — of the original versus the new iPhone SE (courtesy of the website PhoneArena) to give you an idea of how much bigger the second generation version of the special edition iPhone model is:
The revised compact design of the new iPhone SE — a 4.7-inch form factor — is not only wider but taller and heavier than its predecessor by comparison which makes use of (recycles) a retro six-year old concept that was last seen in 2017 with the iPhone 8 (the device that this special edition iPhone model in its second generation form is based on).
While the 0.7 of an inch increase seems nominal, at best, namely the size of its display, which, as a result, expands the height and width (the latter the key measurement: a mere 0.34 of an inch more than its predecessor), the new iPhone SE pales in comparison to the now classic 4-inch form factor of the original (which is my current phone, a device that I have been holding onto for the past four years for lack of a similarly sized iPhone model from Apple).
Apple's own senior Vice President of worldwide marketing, Phil Schiller, hit the nail on the head (so to speak) when he made a reference to the small size of the original iPhone SE when he said in the company's official announcement surrounding the second generation version of the special edition iPhone model:
"The first iPhone SE was a hit with many customers who loved its unique combination of small size, high end performance, and affordable price: the new second generation iPhone SE builds on that great idea and improves on it in every way — … while still being very affordable."
Despite it now being the smallest iPhone in the company's lineup, the irony of the current situation is that the new iPhone SE that I'm considering purchasing and debating over has the same exact 4.7-inch form factor that I had been avoiding altogether since 2014 — when the iPhone 6 debuted (along with its bigger phablet sibling the iPhone 6 Plus which I definitely was not going to get) — when the time came for my bi-annual upgrade cycle (due to the two-year contracts that I was signing with my wireless carrier), causing me to hold onto my then two-year old iPhone 5 (purchased in 2012)for an additional two years for a total of four before upgrading, eventually leading to the phone I have in my possession at the moment. Plus, I find myself in, the same boat (so to speak), having held on to this original special edition iPhone model for four years having skipped over Apple's flagship iPhone models the last two years due to the larger sizes of those devices (history repeating itself).
And, here we are at present. Hey, is that an iPhone in your pocket or are you just… never mind! (Talk about Godzilla).
Why Upgrade?
So, what exactly do you get with the newest Apple smartphone on the block?
For starters, the new iPhone SE sports some aspects borrowed from the latest Apple smartphones available, namely, the iPhone 11 released late last year, which features the newest technology currently found in an iPhone, like the A13 Bionic processor — that the company, in its press release, said is the fastest chip ever in a smartphone, — and, most of the older specifications that were in the iPhone 8 (which it replaces and is based on), such as, a lower resolution front-facing selfie camera.
Here's what you get, in a nutshell (so to speak), based on the information Apple provided in its press release on the device:
A13 Bionic (Apple-designed processor) with a third generation neural engine
4.7-inch Retina HD display with True Tone
Home button (designed with sapphire crystal) with Touch ID fingerprint sensor
Haptic Touch for quick actions (e.g., accessing contextual menus)
single-camera system with a 12 megapixel f/1.8 aperture Wide camera and QuickTake (easily transition to recording video while in photo camera mode)
Smart HDR photography with Portrait mode (including all six Portrait Lighting effects)
fast charging (up to 50% charge in just 30 minutes)
wireless charging capable (with Qi-certified chargers)
Wi-Fi 6 and Gigabit-class LTE (enables lightning fast download speeds)
Dual SIM with eSIM (allows users to have two separate phone numbers on a single device)
dust and water resistant (with an IP67 rating for water resistance up to 1 meter for 30 minutes)
rear glass finish with a color matched aluminum band
colors: black, white, and (PRODUCT)RED (with an all-black front)
64, 128, and 256GB storage capacities
Additional features and specifications of the new iPhone SE that are not mentioned in the Apple press release which were obtained elsewhere on its website in addition to third party sources are 3GB of RAM, an 1821 mAh battery (the last two specs both unconfirmed), an LCD display with a screen resolution of 1334 x 750 pixels, a 7 megapixel FaceTime HD f/2.2 aperture front camera with Auto HDR, Bluetooth 5.0, a wireless modem with a 2 x 2 MIMO (multiple input / multiple output) single antenna system, Apple Pay support via NFC (near field communication) with Express Transit mode, and a 5 W charger for standard charging included in the box (the fast charging USB-C 18 W charger must be purchased separately).
On the flip side, a number of key features and specifications that you won't find on the new iPhone SE, high end ones only found on the iPhone 11, are (but not limited to) a u1 chip with ultra wideband technology, an OLED Liquid Retina HD display with a screen resolution of 1792 x 828 pixels, Face ID, IP68 water resistance to a depth of 2 meters for up to 30 minutes, a 12 megapixel TrueDepth front camera with portrait mode and support for animoji and animated memoji, a 12 megapixel ultra wide and wide dual-camera system with night mode, and a wireless modem with 4 x 4 MIMO antennae system.
And, despite having the same body and form factor of the iPhone 8? 3D Touch, a technology that was last used and featured three years ago on the latter device, is missing from the new iPhone SE (which Apple has discontinued since then and replaced with Haptic Touch, as previously noted). By the same token (so to speak), just like on the iPhone 8 — and every iPhone model released since late 2016 beginning with the release of the iPhone 7 (after the debut of the original iPhone SE) — the second generation version of the special edition iPhone model also does not have a headphone jack onboard.
Moving on to the entry level version of the next flagship iPhone model — which does not officially yet have a name although the scuttlebutt purports it to be the "iPhone 12" (just as the new iPhone SE was previously dubbed the "iPhone SE 2" and "iPhone 9" among the rumor circuit before it officially was given a name by Apple) — coming later this year, not much is known that is written in stone (so to speak) that we know of other than that, of course, this new iPhone will have the next generation Apple-designed processor (perhaps an A14 Bionic chip) at the heart of the device in addition to a low price (but not lower than that of the new iPhone SE).
Reports suggest that there will be multiple Apple smartphones in the next flagship iPhone lineup coming this year. A total of four altogether, two lower end to replace the iPhone 11 with screen sizes of 5.4 and 6.1 inches, and, two higher end to replace the iPhone 11 Pro and iPhone 11 Pro Max with screen sizes of 6.1 and (get this) 6.7 inches, respectively, which are expected to have names with similar branding as last year's lineup for the standard, mid-range, and high end iterations along with a new entry level version that could be called (I don't know), perhaps, the "iPhone 12 mini"? (which I'm taking the liberty to name the smaller phone in the collection).
Why would it be a mini (again, that isn't what it's going to be called, although I'd like it to be) when it will have a 5.4-inch screen close to the size of the former phablet that had a 5.5-inch one, last seen in 2017 with the iPhone 8 Plus and since discontinued (at least, for the moment, as rumors of an "iPhone SE Plus" are purportedly in the works for 2021)?
Well, the company needs to distinguish it from the standard "iPhone 12" with a 6.1-inch screen and it wouldn't make sense to have two versions of the same name. A logical choice for branding would be "iPhone 12 mini" because it will be the smallest of the four flagship iPhone models that purportedly will be offered. As far as its size is concerned (bet you thought I didn't think of that important aspect!), this small Apple smartphone reportedly will have a body similar in dimensions to the new iPhone SE despite sporting a larger display measuring 5.4 inches.
How can this be so? It's all about the bezels (or lack thereof).
In an informative piece from Macworld magazine published on its website on whether you should buy the new iPhone SE or wait for the "iPhone 12" — based on answers to a number of questions which make the case for one phone over the other, — and, helps an undecided prospective buyer (such as yours truly who, at the moment, is embroiled in a debate surrounding the two in question) to make a decision, staff writer, Jason Cross, advises to give pause. The latest rumors hint that the entry level version of the next flagship iPhone model may have a display without a top or bottom bezel which would be similar in design to the iPhone 11 that it is expected to replace. According to Cross, that would make the smaller of the four iPhones purported to be on the way nearly the same dimensions as the second generation version of the special edition iPhone model that Apple just released.
The Macworld staff writer argues that if you want a more modern Apple smartphone with dual cameras, Face ID, and so on, even if it will be more expensive, you might want to hold off until later this year to see if that rumor proves to be true: thus, my upgrade conundrum. (Where's an Apple Card when you need one?).
Adding to my dilemma is the biggest feature widely expected to be included in the company's lineup of flagship iPhone models for 2020 and that is next generation 5G connectivity. A huge drawback of springing for the second generation version of the special edition iPhone model now means that you'll be stuck with n older cellular standard with 4G LTE (one of the main reasons I said back in December of last year that that would be why I would pass on upgrading to the "iPhone SE 2").
Assuming that the forthcoming Apple smartphones even do include the next generation cellular standard this year — since the tech giant is known to wait until a nascent new technology matures before it jumps on the bandwagon (so to speak) — granted, while 5G is the wave of the future and it's already here? Waiting until 2022 (just about the time my two-year contract would be up if I was to get the new iPhone SE now) to get a 5G enabled smartphone probably would be the better upgrade path to take / make, once the three major wireless carriers install additional cell towers to improve and expand their networks' coverage across the entire nation.
Apple has a new dedicated page on its website that helps to answer the question "Why upgrade?" and serves as a comparison tool which shows the increases in speed and performance between a previous generation iPhone model and the new iPhone SE for those, like myself, who are considering purchasing the latter device and wondering if (well, you know).
In my specific case, when upgrading from the original iPhone SE, there is a significant bump in overall performance and speed. With the second generation version of the special edition iPhone model that Apple just released, performance-wise, it has a (up to) 2.4x faster CPU and a 4x faster GPU than the A9 chip found in the minuscule handset from 2016 that it succeeds. Speed-wise, it has (up to) 6.5x faster cellular and 2.7x faster Wi-Fi speeds. On battery life, Apple rates the usage time of the newer device for up to 2.5 hours longer.
It would have been great to have seen, too, how the new iPhone SE stacks up against the iPhone 11, the company's standard version of its flagship iPhone model from last year — considering that the former borrows some features from the latter — but it seems that the tech giant really is touting the low cost of its newest iPhone along with its balance of great features for a modern device when comparing the pair of competing Apple smartphones in a like-for-like manner and doesn't want you necessarily to dwell on what you're not getting between the two for the price.
The Price Is Right
There is one other major aspect to consider in all of this, one that is not to be overlooked and dismissed (which, when all is said and done, could be the deciding factor in the end): cost.
Of the two competing Apple smartphones in question, the new iPhone SE wins without a doubt by a long shot (so to speak). The company's latest phone with a compact design certainly has the bigger advantage for its small size having a starting price of just $399, which, trumps all else considering that it has the same modern chip found in all three versions of last year's more expensive higher end flagship iPhone models. Yes, the next generation processor (and whatever other newer technologies the tech giant introduces and includes in the device) will be found only in the "iPhone 12 mini" — such as 5G connectivity (hopefully) — but, even if this entry level version will be the cheapest of the four phones expected to be released? Its price definitely will be higher, anywhere from $549 to $699 (the latter the price of the standard iPhone 11).
It's like the three P's: price, price, and price. I said it just as many times in that last paragraph. (What?).
The phrase being referenced is from a commercial on television for a life insurance plan of which Alex Trebek — of Jeopardy! fame — is the spokesperson and in it, he uses the expression as a selling point to explain to viewers that two of the three P's are a price you can afford and a price that fits your budget. Let's face it. The new iPhone SE is, hands down (so to speak), the best Apple smartphone currently offered that is a combination between the latest modern features and a classic design that's still viable today, albeit, with a few compromises here and there, with a low cost to boot and a very affordable price that a cheap mini version of the "iPhone 12" can't beat (costing hundreds of dollars more which isn't just loose change!). What's not to love about that?
Just like the tagline Apple used on its website for the new iPhone SE: "Lots to love. Less to spend."
**AD: for the lowest prices, latest deals, and discounts on the newest Apple smartphones available, look no further than to our exclusive iPhone price tracker right here on MacPrices!
Because it is only two years old (after the one I initially bought back in 2016 was replaced, brand new, by Apple in 2018 due to a botched battery replacement at the Genius Bar — geniuses, right — which damaged it in the process), I briefly did consider hanging onto my original iPhone SE for another two more years for lack of a similarly sized iPhone model. . However, this far out, the minuscule handset is, a little long in the tooth (so to speak), and quite antiquated in technology years, considering it is literally an iPhone 5s from 2013 on the outside and an iPhone 6s from 2015 on the inside with a four generations old A9 chip.
To quote the popular line spoken by the creature, Gollum, from the 2001 film directed by Peter Jackson, The Lord of the Rings: The Fellowship of the Ring, "My preciousss…!"
It is definitely time to get a newer phone that is current and an upgrade is long overdue. Between the two competing Apple smartphones in question, getting either one to replace my aging original iPhone SE will be a huge step forward since I'll be getting a more modern device compared to what I already have. With the features and specifications, price, and (not to mention) size of the new iPhone SE in mind, as well as, an idea of what the entry level version of the next flagship iPhone model might (or might not) have in comparison, what have I decided to do?
Having weighed all of the pros and cons, it's beginning to look like the new iPhone SE likely will be the upgrade path forward that I'll be taking, up from the 2016 original, which, at this point, is my only option for a somewhat minuscule handset. It's the smallest Apple smartphone now available in comparison to everything else that the company currently sells that has a modern chipset and a great set of features for the price (one that I can afford on my budget). With that said, however, there is still a very slight chance that I may wait to see what the tech giant includes in the rumored low cost higher end entry level version of its next flagship iPhone model when, and, if, it is announced later this year.
I'm certainly on board for that possibility and entertaining the idea as the notion is a very tempting prospect to consider with an Apple smartphone the same size as that of the new iPhone SE, which, will be faster and may have 5G connectivity. After all, there's no need to rush into things. I only waited four years the last time around before I upgraded to the original iPhone SE, as well as, the same amount of time for its successor to be released.
in fact, I almost did rush into things without a second thought and jumped the gun (so to speak) after I caught a tip right here on the MacPrices website on how to get the new iPhone SE for only $199 which is a special offer for current customers of AT&T or Verizon — the new T-Mobile is not included — who can save 50% off when they upgrade their device and re-sign a two-year contract with their respective wireless carrier (unfortunately, and to my dismay, naturally the iPhones quickly sold out).
At this rate, considering it took me four years before I upgraded to the phone I currently have, I could get away with buying the new iPhone SE now and waiting another four years to upgrade to a 5G-enabled device come 2024 (by that time, the next generation cellular standard will have been adopted by more smartphone users enjoying a stronger signal widely available across the U.S. and around the globe) whether it be a special edition iPhone model yet again or a high end flagship one that hopefully will be a, mini, version in the lineup.
I'll take the new iPhone SE, a 64GB version in black, for $399, Alex! ("Come on down! You're the…" oops, wrong game show!).