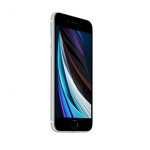 Purchase a new 2020 Apple iPhone SE with AT&T service on Sams Club's online store, and receive a free $100 Sams Club eGift Card.
The fine print: "For online purchases, eGift card will be sent 21 days following order completion. eGift card will be sent to the member's email address provided at the time of activation and may not be used to pay for membership fees or select services. Valid online through 5/31/2020, Each mobile phone purchase must be completed as a single transaction, Do not purchase with other items in your cart"
A Sams Club Membership is required for purchase.
Sams Club deal is live on their site now and valid through 5/31/20.