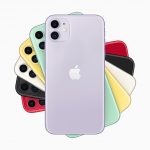 AT&T is offering a 50% off the 64GB Apple iPhone 11 for new customers who switch to AT&T and open a new line of service. Discount applied over a 30 month period. AT&T will also include a free $150 reward card.
The fine print:
"Purchase an iPhone 11 on a qualifying installment agreement.
Add a line to a new or existing account.
Pay taxes on the full retail price up front.
Activate postpaid unlimited wireless service (min. $75/mo. for new unlimited customers before discounts. Existing customers can add to eligible existing unlimited plans, which may be less).
Pay a $30 activation fee. (waived for online orders)
Note: Requires a qualifying 0% APR installment agreement (30-mo. term at up to $28.34/mo.) Other installment options may be available and vary by location. If buying on the AT&T Installment Plan with Next Up, customer is responsible and will not receive any credits for an additional $5/mo. for the Next Up upgrade feature. $0 down for well-qualified customers only, or down payment may be required and depends on a variety of factors. Down payment if required will be either 15% to 80% of device cost or a dollar amount currently ranging from $200 to $1400 (amount subject to change, may be higher and will not exceed the device cost).
After that you'll get:
$350 in bill credits, applied in equal amounts over 30 monthly installments – that's 50% off the iPhone 11 64GB. Credits may be applied to iPhone 11 1268GB and 256GB, which will be discounted but not 50% off.
Get a $150 AT&T Visa Reward Card with iPhone 11:
When you order online, add a new line and purchase an iPhone 11 smartphone on a qualifying installment plan, get a $150 AT&T Visa Reward Card"
This deal is live today at AT&T.
Keep an eye on our iPhone Price Tracker for the latest prices, sales, and plans from Apple and its authorized iPhone service carriers, updated daily.