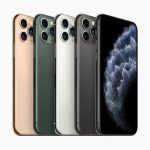 New and existing customers can take $200 off the purchase of any new Apple iPhone model at Xfinity Mobile through 8/17/20. Service plan required:
The fine print: "New customers and new line activations receive $200 off the purchase of any iPhone when you transfer your number within 30 days. Credits applied over 24 months of the device payment plan. Existing customers replacing or updating a device receive a $200 Visa Prepaid Card."
Their offer can reduce the price of a 64GB iPhone SE, for example, to only $199.
This deal is live today at Xfinity Mobile.