Apple Unveils 'Planet-Size Plan' For Carbon Neutrality In Order To Be Lighter On Environment
NEWS: 07.24.20 – Apple, Inc. has a "planet-size plan" to reduce its carbon footprint in order to be lighter on the environment.
Earlier this week, the Cupertino, California-based company unveiled its intent to become 100% carbon neutral — a goal it plans to accomplish by the year 2030 — and to manufacture all of its hardware and devices with clean energy using recycled and renewable materials. According to Apple, this commitment will reduce emissions by 75% with the remaining 25% of its carbon footprint addressed through the development of innovative carbon removal solutions.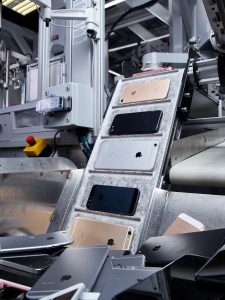 "Businesses have a profound opportunity to help build a more sustainable future, one born of our common concern for the planet we share [and] with our commitment to carbon neutrality, we hope to be a ripple in the pond that creates a much larger change," said Apple CEO Tim Cook.
Apple detailed a roadmap of innovative actions that it will implement over the next ten years which are expected to lower emissions produced by the company:
low carbon product design: Apple will continue to increase the use of low carbon and recycled materials in its products, innovate in product recycling, and design products to be as energy efficient as possible
process and material innovations: Apple will tackle emissions through technological improvements to processes and materials needed for its products
renewable energy: Apple will remain at 100 percent renewable energy for its operations — focusing on creating new projects and moving its entire supply chain to clean power
expanding energy efficiency: Apple will identify new ways to lower energy use at its corporate facilities and help its supply chain make the same transition
carbon removal: Apple is investing in forests and other nature-based solutions around the world to remove carbon from the atmosphere
Apple reported that it is already carbon neutral today for its global corporate operations and this new commitment means that every product sold will have net zero climate impact by the end of the decade. Last year, the company decreased its carbon footprint by 4.3 million metric tons through design and recycled content innovations in its products.
All Mac hardware and iPhone, iPad, and Apple Watch devices released in the past year have been made with recycled content according to Apple.
Apple also reported that it now has commitments from over 70 suppliers which will use 100% renewable energy to power the manufacturing of the company's products, effectively avoiding over 14.3 million metric tons of carbon emissions annually (the equivalent of taking more than 3 million cars off the road each year). Through partnerships with its suppliers in 2019, the company reduced — by more than 242,000 metric tons — emissions from fluorinated gases used in the manufacturing of some components found in consumer electronics (which can contribute to global warming).
To this end, the company has supported the development of the first ever direct carbon free aluminum smelting process through investments and collaboration with two of its aluminum suppliers. Apple reported that the first batch of this low carbon aluminum is being used in the production of the 16-inch model of the MacBook Pro .
In a page on the company's website dedicated solely to its environmental response, Apple highlighted some of its other efforts to reduce its impact on the planet.
"Some chemicals last forever and can cause harm to people and the environment. That's why we're conducting industry-leading work to map, test, and switch to safer substances. All Apple products are tested to evaluate their compliance with our list of regulated substances."
The company reported that it is in the process of collecting the chemical composition of all materials in its products to further assess the effect on human health and the environment.
In the area of the materials that its products are packaged in, according to Apple, since 2016, it has reduced the use of plastics by 58%, and, the following year, 100% of the wood fibers it has used came from recycled sources. For example, when the company switched from plastic trays to molded fiber alternatives for the iPhone 7, the move led to such transitions as the plastic shopping bags in the company's retail stores being made mostly of 100% fiber-based recycled content. Both of those changes have allowed it to close the loop in its paper supply chain.
"Packaging is important to our environmental impact. We're working to eliminate plastics, increase recycled content, and reduce our packaging overall. Continuing to improve our packaging will help change the planet for good."
Last month, based on rumors from a number of Apple-centric blogs, it was reported by the website Business Insider that this year's flagship iPhone models (dubbed the "iPhone 12" by most media outlets) may not be bundled with EarPods or a 5 W power adapter. It is unclear at this time whether the removal of these two accessories — which have been standard inside the box with every Apple smartphone released since 2007 to-date — is indeed a cost-cutting measure to keep the price of the device low (reportedly to offset costs associated with the expected inclusion of 5G connectivity according to a research analyst's forecast) or if this could be an effort by the company to lessen its impact on the environment: effectively reducing packaging and simultaneously eliminating electronic waste (from customers who don't use the supplied earbuds or charger, instead, preferring to use an older existing one from a previous purchase) that would end up in landfills and only harming the planet.
As a footnote, according to Apple on its webpage dedicated to its environmental response, the company helped to divert more than 47,000 metric tons of electronic waste from landfills in the fiscal year of 2019.
In addition to its commitment to becoming carbon neutral by 2030, Apple has established the first of its kind carbon solutions fund to invest in the restoration and protection of forests and natural ecosystems around the globe. Furthermore, as a vital component of global climate action, the company is engaged actively with governments, non-governmental organizations (NGOs), businesses, and consumers around the world to support policies that strengthen environmental protections.
According to Apple Vice President of environment, policy, and social initiatives Lisa Jackson — in an introduction to preface the company's environmental progress report for the fiscal year of 2019 (which was released on Tuesday) — the responsibility to protect the planet intersects every aspect of everyone's lives,, adding that this year in particular has offered humbling reminders that nature is bigger and more powerful (an indirect reference to the current global pandemic) than any single person on this Earth. For this reason, the company has dedicated its resources and its best thinking to considering the environment in everything that it does: from the energy that powers its operations and the materials in its hardware and devices, to the companies it does business with and the health and safety of those who make and use its products.
"We've led our industry in reducing our environmental footprint for years, but we know there is more to do, so we've set a groundbreaking new goal to further reduce our impact on the planet we all share," wrote Jackson.
The Apple Vice President of environment, policy, and social initiatives reported that the company is already carbon neutral for its corporate emissions — including employee travel (domestically and globally) — resulting from the use of 100% renewable electricity in its facilities. It is also on its way with its supply chain but is going even further to cover its entire end-to-end footprint, down to the shipping that moves the company's products around the world and the energy used to power its customers' hardware and devices.
Apple also has invested in projects that protect and restore forests, grasslands, and wetlands.
"We're committed to supporting smart policies around the world that better protect the planet and make transitioning to a low carbon future more efficient. Our commitment to the planet means working with partners who share in our mission and those who are holding out should know that the clock is ticking."
In the press release (linked at the top of this article) which announced the company's commitment to be 100% carbon neutral by the year 2030, Jackson said that Apple is proud of its environmental journey and the ambitious roadmap it has set for the future.
Complete details on Apple's planet-size plan — and how it measures its carbon footprint — can be found in its 2020 Environmental Progress Report. For more on the company's efforts to be lighter on the environment, visit: apple.com/environment.