People Profiles: Apple Accessibility Evangelist Reflects On Company's Assistive Technologies For Users With Disabilities
FEATURE: 07.31.20 – In honor of the 30-year anniversary this month of the Americans with Disabilities Act (ADA) being signed into law, Apple sat down for an interview with its own technical evangelist of accessibility who shared their thoughts on how the assistive technologies found in the Cupertino, California-based company's products have helped to improve people's lives.
About the Series

People Profiles is a special series that periodically appears here in the "Mac Potpourri" column on MacPrices which feature unique stories about users of Apple products (or related to the use of them in general)
stories featured in this series are original (and in most cases exclusive to this column), however, from time to time, they may be derived from other sources, and, should this be the case, the source will be cited at the end of the story
for more about People Profiles and its goal, primary focus, as well as the inspiration behind it, see this introduction to the series
(story continues after the break)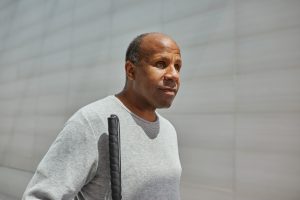 Meet Dean Hudson, technical evangelist of accessibility at Apple, a visually impaired individual who joined the company in 2006 and is part of the original team behind VoiceOver, a screen reader that enables people who are blind — legally, partially, or completely — or have low vision — to navigate Apple products: from hardware such as the Mac and devices like the iPhone and iPad, to wearables like the Apple Watch as well.
"When the iPhone 3G S launched with VoiceOver in 2009, little by little, people really started getting into it, and now it's amazing to see people who are blind and all sorts of people with disabilities using the device," says Hudson.
"When my team started working on VoiceOver for the iPhone, there was a lot of exploration around things like what happens when you touch items on your screen. A sighted user can see it and decide where to touch. I have to touch in order to see it."
Hudson had an interest in computers early on. In the late 1970s, his siblings would read computer manuals to him and he would type in the programs. This led to him studying computer science in college where a person had to assist him with reading things on screens because, as he points out, screen readers — like Apple's VoiceOver — did not yet exist back then.
"I was really curious about making things happen on the screen," says Hudson.
As the technical evangelist of accessibility at Apple, Hudson is responsible for ensuring that everyone has access to the same simple, easy to use technologies with each new product released by the company.
"Accessible technology should be very clear: there really should not be any layer between the things I can do on my iPhone [or Mac] and the things someone who doesn't have a disability can do," says Hudson.
Hudson says that there are a lot of voices behind how specific features should work in Apple products, and, according to this technical evangelist of accessibility, all of those voices are important because it makes the product much more customizable for users.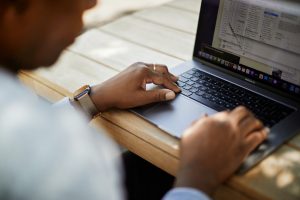 Two of these voices — people with disabilities themselves who are users of Apple's products — shared with Apple their own personal stories of how the company's assistive technologies are relied on and have helped them in their daily lives.
"Technology makes my life a lot easier as a person who has multiple disabilities," says Tatiana Lee.
As an activist working to make Hollywood more inclusive and accessible, this actress and model not only provides a voice for those with disabilities but as an individual who is disabled herself, also uses it for tasks like scheduling meetings or typing up documents on her notebook computer: things that she is able to do with the help of voice-enabled technology tools such as Siri on her iPhone and Voice-to-Text on her Mac. Without Apple products and those assistive technologies, Lee — who is paralyzed from the waist down, and, as a result, depends on her hands a lot to do just about everything, from pushing her wheelchair around to getting herself dressed — would have difficulty running her self-owned business on a day to day basis.
"It gets complicated trying to navigate it all [at times], but, from being able to copy and paste on my phone to my laptop [using Voice-to-Text], to putting reminders on my HomePod, to saying 'Hey Siri, schedule this meeting,' and using Siri Shortcuts to get things done quicker with my voice? Just having the entire Apple ecosystem in my home saves me so much time, thought process, and energy with my hands," says Lee.
**AD: looking for an Apple smart speaker to play out loud (in stereo sound) songs purchased and downloaded from the iTunes Store or playlists from your Apple Music subscription? Be sure to check out our exclusive HomePod price tracker right here on MacPrices for the lowest prices and latest deals and discounts.
Technology does not solve every obstacle one can encounter as a blind person, but having access to the equipment and applications I need in daily living, music creation, and being a student is the right of every American with a disability," says Matthew Whitaker.
For this student and jazz musician, when it comes time to record new songs, a tool that really helps him to get the job done is technology like VoiceOver — first introduced to him on an iPod touch from his dad — which provides a voice that reads content from the Logic Pro X user interface on the screen of his MacBook Pro. Whether its working on an album, composing or arranging a song, notating a piece of music, or whatever task it may involve, as an individual who is disabled and visually impaired, Whitaker is able to complete his unique creations with the help of the assistive technologies found in Apple products, something he could not easily do on his notebook computer otherwise, or, without it.
"With VoiceOver enabled, I'm able to navigate really well around [Apple's music creation] software," says Whitaker.
I usually record the drums first, then I add bass, then add whatever else I need. Once the piece is completed, I can share the audio [with my band members]. [This] technology has given me the opportunity to share my music [with others]."
Three decades after the Americans with Disabilities Act was signed into law by the late President George H.W. Bush, its benefits can be seen in Apple products like the hardware and software used by Lee and Whitaker or, in the case of Apple's technical evangelist of accessibility, assistive technologies such as VoiceOver which Hudson and his team helped to design.
In addition to the actress and model, the student and jazz musician, and the company's own technical evangelist of accessibility, Apple also spoke to a speaker and author who has been a voice advocating for digital access for people with disabilities and she shared her story as well.
"While a deaf-blind student in college, I witnessed advocates using the Americans with Disabilities Act to force tech companies to render digital services accessible," says Haben Girma.
Impressed by the success of those advocates, this speaker and author was inspired to join their cause and, as a former disability rights lawyer, litigated cases which revolved around the ADA. As the first ever deaf-blind student to attend and graduate from Harvard Law School, Girma — whose studies centered on technology and the Americans with Disabilities Act — attributes assistive technologies designed with accessibility in mind for allowing her to be able to participate in classes and conduct legal research (she did not indicate whether Apple products were involved). Today, she continues her work to change society's attitude towards ableism: the widespread assumption that disabled people are inferior to nondisabled people.
"Back then, and even now, I encountered many barriers in the digital world, not because of my disability, but because of attitudes among tech developers who trivialize disability access," says Girma.
"People, not tech, create ableist assumptions. Tech will perpetuate all the assumptions of its designers. Learning to identify ableism will allow people to catch and remove it."
Since it was founded, Apple has been a pioneer in democratizing powerful technology through hardware and software designed for everyone. From VoiceOver and Text-to-Speech to Voice Control and Switch Control — including Siri, Apple's AI (artificial intelligence) virtual assistant — every product and service in the company's ecosystem is designed with accessibility built in.
"When you meet someone who is quadriplegic being able to get their own apartment and live on their own because of Switch Control, after needing a personal assistant with them 24/7 their whole life, that's a life changer," says Hudson.
"Today, people use technology in a variety of ways. [When] I went to school, [I] had a human read code to me on the screen, but now, people can use these tools and actually get a job as an engineer. That's huge!"
---
A Note from the Author: This is the fifth edition of the People Profiles series here in the "Mac Potpourri" column. The subject of this story was not interviewed personally or directly by this writer (as is normally the case) and most of the information, if not all, herein was derived from the article: "Apple, Creatives, And Disability Rights Activists Reflect On 30 Years Of The Americans With Disabilities Act". In addition, this story is one of a number of stories with Accessibility or disability related topics as its subject matter which this writer features periodically in this column due to his own disabilities (being visually impaired and partially hearing impaired) and, whenever the opportunity arises to share such stories, it is published here.