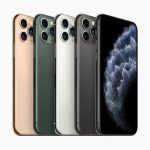 New customers can take $200 off the purchase of any new Apple iPhone model at Xfinity Mobile through 8/17/20. Service plan required. Existing customers can purchase an iPhone and receive $200 back in the form of a prepaid card.
While supplies last, Xfinity Mobile is offering an additional $150 off the purchase of the 512GB iPhone 11 Pro, in Space Gray, for a total of $350 off MSRP.
This deal is live today at Xfinity Mobile.