Apple Offers Free AirPods For Back To School, Touts Wearable As Tool To Enhance Learning
FEATURE: 08.12.20 – If you're a student headed for, or back to, college and are in need of new tech to help you with your studies, Apple has some sound advice on one of its products that can provide assistance: AirPods.
When you think of technology tools that can help enhance your learning experience, Apple's AirPods are the last thing that would come to mind. However, for college students headed back to school, Apple — which is offering the Bluetooth-enabled wireless earbuds free with the purchase of a new Mac or iPad for a limited time — is touting its popular wearable as the perfect complement to the use of its computers or tablets for your studies.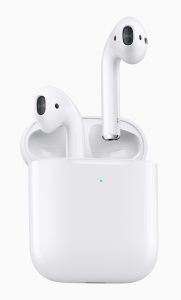 Apple is offering college students a free pair of AirPods for a limited time during its "Back to School 2020" sale this year. (Photo: Apple, Inc.)
In addition to snagging a free pair of AirPods, you also can score savings of up to $200 on a Mac or $100 on an iPad as part of Apple's "Back to School 2020″ sale:
MacBook Air: $899 (or $74.91/mo.)
MacBook Pro 13-inch: $1,199 (or $99.91/mo.)
MacBook Pro 16-inch: $2,199 (or $183.25/mo.)
iMac: $1,049 (or $87.41/mo.)
iMac Pro: $4,599 (or $383.25/mo.)
iPad Air: $479 (or $39.91/mo.)
iPad Pro: $749 (or $62.41/mo.)
Note that monthly installments are valid only with the use of an Apple Card and are subject to approval and available credit limit. Also, tax and shipping charges are not included in the installment.
Plus, the savings don't end there. Also on sale for the back to school season are discounts on Apple's smart speaker (the HomePod), and accessories for the Mac (like leather sleeves for the MacBook Air or MacBook Pro) and the iPad (such as an Apple Pencil, a Smart Cover, or a Smart Keyboard). You can even enjoy 20% off an extended warranty (valid only on AppleCare+).
**AD: not a college student but want to score some savings on a Mac or an iPad? Look no further than right here on MacPrices and use our exclusive and award winning Apple products price trackers for the lowest prices and latest deals and discounts from the Apple Store and third party authorized resellers. Pricing updated daily.
So, you may be asking yourself, but how can AirPods help me with my studies?
As an example, Apple describes its Mac — aside from being packed with power to help you tackle any task and get more done — as being great for working on group projects from anywhere. Using FaceTime, students can collaborate remotely and with AirPods, you'll be able to hear every idea shared by the group's members loud and clear.
Another example for the use of its Bluetooth-enabled wireless earbuds is implied by Apple in its description of how the iPad can help you do more in college. As you tune in to your classes online, you can use AirPods to listen to a lecture and take notes (whether typing them in with either the Magic Keyboard or a Smart Keyboard attached to the device).
In both instances, when using the wearable with a Mac remotely from anywhere or an iPad to tune in to classes online, (which are clearly a reference to the global pandemic and the current times college students are living in where in-person instruction at collegiate institutions is either limited or not allowed at all), Apple is touting the use of AirPods to lend assistance to one's studies and to enhance your learning experience.
A subsequent promotion running in tandem with the free AirPods is a complimentary subscription — with a qualifying purchase — to the company's services with six months to Apple Music or a full year to Apple TV+! So, when you're not studying, you can listen all day to your songs or playlists and watch your television shows or feature-length movies with your Bluetooth-enabled wireless earbuds thanks to its custom audio architecture which provide you with an immersive experience in sound. And because it can switch seamlessly between hardware and devices, the wearable can connect easily to either your Mac or iPad in an instant whether its for school to work on an assignment or for your leisure to enjoy music, etc.
And paired with an iPhone, the hands-free "Hey Siri" feature built-in to AirPods lets you summon Apple's AI-powered (artificial intelligence) virtual assistant on a whim, allowing you to use the Bluetooth-enabled wireless earbuds for things like sending text messages or initiating phone calls without ever having to handle your device.
Released in March of last year, the second generation AirPods were described in a press release by then Apple senior Vice President of worldwide marketing, Phil Schiller, now an Apple Fellow, as one of the most beloved products that the company has ever made, delivering a "magical wireless experience" that provides crystal clear sound through intuitive and innovative control of audio.
The limited time promotion on its Bluetooth-enabled wireless earbuds is part of this year's back to school sale that Apple holds during the Summer months each year. And, while the offer gets you a free pair of AirPods (a retail value of $199), you do have the option to upgrade to the AirPods Pro and simply pay the difference — a cost of $50 — for the more high end version of the Apple wearable which feature active EQ (equalizer) and noise cancellation.
To take advantage of this free promotion as well as the savings going on now, you must purchase your new Mac or iPad through the Apple Store for Education for the special discounted pricing. Per Apple's terms and conditions, prices are valid for current or newly accepted college students, their parents, as well as faculty and staff (including homeschool teachers) of all grade levels from any educational institution.
Apple does not indicate on its website when its back to school sale and promotion ends so get your new Mac or iPad — with free AirPods (for a limited time) — today!