How The Upcoming Mac Transition To Apple Silicon Factors In To The ARM + Nvidia Equation
FEATURE: 09.25.20 – Apple's plan to transition all of its desktop and notebook computers away from Intel processors to Apple silicon, chips designed by the company itself, has been eclipsed by the news of a potential Nvidia acquisition of ARM in a multi-billion dollar merger but will this spell doom for the ARM-based Mac?
Earlier this month, the Wall Street Journal reported — based on sources with knowledge of the agreement — that Japan-based SoftBank was nearing a deal to sell off one of its assets, ARM, to video game graphics chip maker Nvidia for more than $40 billion, describing it as, a union that would create a powerhouse in the semiconductor industry. According to the publication, the Japanese technology conglomerate originally bought the British chip designer back in 2016 for $32 billion but had been struggling to jump start growth with the business.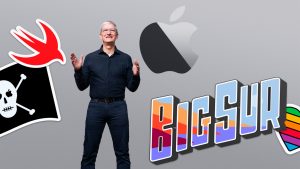 In an analysis of the news, Macworld magazine staff writer Jason Cross reported that Nvidia, the dominant force in high performance graphics — and increasingly in artificial intelligence (AI) and machine learning — wants to buy a company that is integral to every mobile processor in the world, including Apple's, adding that it's a huge deal that could shake up the semiconductor industry. As far as Apple is concerned, however, and what it means for the Cupertino, California-based company's products, especially with the Mac transitioning to its own ARM-based silicon?
According to Cross, none of Apple's products in the short term will change because of this deal, and, even over the coming years, people also shouldn't expect a dramatic shift.
The Macworld staff writer also reported that Nvidia CEO Jensen Huang has publicly stated that his company would keep the ARM business unit separate from its graphics chip unit and continue ARM's open licensing arrangements. Per cross, as long as ARM continues to license its instruction set under Nvidia, nothing would really change for Apple.
"Chip design licenses tend to be long term multi-year, multi-product agreements. Even if Nvidia wanted to cut off Apple or other licensees, it would take years to filter through to the products we buy," said Cross.
ARM licenses CPU and GPU designs to many companies which then incorporate these into their own chips, often with tweaks or modifications according to Cross. A company can also license the ARM instruction set and design a compatible CPU from scratch, something which Apple has been doing for years.
Per the Macworld staff writer, the A6 processor in the iPhone 5 from 2012 was the first with an Apple-designed CPU. Since then, the Cupertino company has never gone back to licensed CPU designs from ARM and nearly all of its products now contain ARM-compatible CPUs. The iPhone, iPad, Apple Watch — as well as the Apple TV and HomePod — all feature processors that run the ARM instruction set.
In addition, Cross noted that modern Macs have the ARM-based T1 or T2 processors in them to perform some tasks.
**AD: Looking to purchase a new Mac, iPhone, iPad, or Apple Watch? Consult the exclusive and award winning Apple products price trackers on the MacPrices website for the lowest prices and latest deals and discounts. Pricing updated daily, seven days a week!
Cross reported that if there are any significant changes, they are likely to take hold years from now, also pointing out that just because Nvidia has come to an agreement with ARM and SoftBank, this is not a done deal. The Macworld staff writer noted that the merger is a consolidation between two massive and influential technology companies that will have to clear regulatory hurdles — from countries such as the United Kingdom (UK), European Union, China, and, of course, the U.S. — which could take a while.
On a side note, ARM co-founder Hermann Hauser has petitioned the prime minister of the UK to save ARM and to help stop its purchase by Nvidia. In the open letter published to the web, Hauser expressed his concerns over the deal and why the British government should step in. The primary concern over the merger was the dismantling of the very basis of ARM's business model, being the Switzerland of the semiconductor industry (Hauser's own words) and dealing in an even-handed way with its over 500 licensees.
However, Hauser's other concern would appear to be in Apple's favor as one of those licensees.
According to the ARM co-founder, the British chip designer — which is a dominant force in mobile phone microprocessors with a market share of over 95% (a statistic provided by Hauser) — is the only remaining technology company in the UK and because ARM chips power the smartphones of Apple, Samsung, and practically every other brand in the world, it can therefore exert influence on all of those companies. Hauser's concern was that a sale to Nvidia would mean that ARM would become subject to the U.S.'s regulations, placing Britain in the invidious (his own words, almost a direct play on the word "Nvidia's") position that the decision about ARM's business dealings would be made in the White House rather than the UK's Downing Street (where the prime minister's office and residence are located).
"The UK has suffered from American technology dominance by companies like Google, Facebook, Amazon, Netflix, Apple and others," wrote Hauser.
On Apple's dominance in the technology sector, the Macworld staff writer seemed to address this when he mentioned that compared to the Cupertino company's competition in the PC, smartphone, and wearables markets, the purchase of ARM by Nvidia is less likely to have a material impact on the Apple product line than it would on rival products in the same category. Even then, any significant disruption to the Mac, iPhone, iPad, Apple Watch, etc. would be years away.
"Don't panic! This deal is unlikely to change Apple's products for the foreseeable future," said Cross.