AT&T now offering $1000 discount on Apple iPhone 11 Pro and 11 Pro Max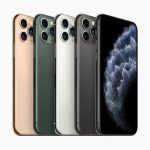 AT&T is offering a $1000 discount on any Apple iPhone 11 Pro or 11 Pro Max with trade-in and new line of service. Discount applied monthly over a 30 month period. Eligible iPhone trade-ins are iPhone 7 models and newer.
The fine print:
"Get up to $1000 off eligible iPhones when you switch to AT&T and buy on a qualifying installment agreement with eligible wireless and port-in your number, or up to $400 off without port-in; and trade-in an eligible smartphone.
You'll need to:
Purchase eligible device on a qualifying installment agreement, including taxes on full retail price (up front) and $30 activation fee Activate a new line of service on an eligible AT&T unlimited wireless plan (min. $75/mo. before discounts for new customers). Trade-in an eligible Smartphone in good working condition with a minimum trade-in value of $60 within 30 days of activation
Then you'll get:
Get up to $1000 in bill credits when you add a line and transfer your number from an eligible third-party carrier. Up to $400 in bill credits when you add a new line without transferring your number. Credits start within 3 bills after trade-in is completed and will be applied over 30 months. You will receive catch-up credits once bill credits start. Credit will not exceed the lower of the device cost or $1000. Other installment options may be available and credit will be applied in equal amounts over the term of the installment."
AT&T's offer is live on their site now.