Apple, Inc. Disagrees With U.S. Lawmakers Calling Company And Its App Store A Monopoly
NEWS: 10.09.20 – A congressional report suggesting that Apple be broken up due to its tight control of iOS and apps sold on the iPhone prompted the company to issue a statement in its defense late Tuesday.
Apple's response came following the release earlier in the day of a 449-page report on competition in digital markets published by the House Judiciary Committee's Antitrust Subcommittee which stemmed from an almost year-and-a-half long investigation into the business practices of Apple, Google, Facebook, and Amazon. According to the subcommittee, these modern day tech giants — who they compared to the likes of railroad tycoons and telecom barons of yesteryear — have amassed tremendous market share over vital areas of commerce such as app stores, search engines, and social media services (or, in Amazon's specific case, retail marketplaces).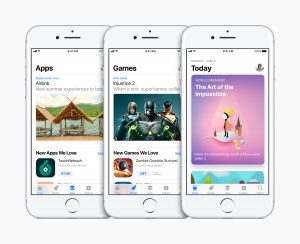 In the subcommittee's report, the Cupertino, California-based company was specifically called out for using its power to exploit app developers — it charges a 30% fee for them to submit their apps — and for leveraging its control of the App Store to create and enforce barriers to competition while promoting its own offerings which excludes and discriminates against its rivals. The technology news-centric blog Engadget reported Tuesday that, most notably, the report concluded that Apple enjoys a monopoly in app distribution on iOS devices (e.g., the iPhone).
Apple, in an effort to refute the subcommittee's findings, responded with a statement which Engadget published on Tuesday evening in a late breaking update to its blog post from earlier that day.
"We have always said that scrutiny is reasonable and appropriate but we vehemently disagree with the conclusions reached in this staff report with respect to Apple. Our company does not have a dominant market share in any category where we do business," said Apple in the statement.
"From its beginnings 12 years ago with just 500 apps, we've built the App Store to be a safe and trusted place for users to discover and download apps and a supportive way for developers to create and sell apps globally. Hosting close to two million apps today, the App Store has delivered on that promise and met the highest standards for privacy, security, and quality. The App Store has enabled new markets, new services, and new products that were unimaginable a dozen years ago, and developers have been primary beneficiaries of this ecosystem."
In its statement, Apple provided statistics from last year, stating that in the United States alone, the App Store facilitated $138 billion in commerce with over 85% of that amount accruing solely to third party app developers. The company also defended itself by pointing out that its commission rates are, in its own words, firmly in the mainstream of those charged by other app stores and gaming marketplaces (e.g., Google's Google Play which also charges a 30% fee to apps submitted to its store).
"Competition drives innovation, and innovation has always defined us at Apple," said the company.
The day that the subcommittee's report was released, CNN reported that the investigation into anticompetitive behaviors by the tech giants found that Apple, Google, Facebook, and Amazon hold monopoly power in key business segments and have abused their dominance in their respective markets in what the cable news network called, "a full-throated condemnation" of those companies, adding that the investigation's findings set the stage for possible future legislation. The subcommittee also found that there was significant evidence to show that the companies' conduct has hindered innovation, reduced consumer choice, and weakened democracy.
According to CNN, the subcommittee's report laid out several recommendations to curtail the dominance of the tech giants, ranging from structural separation — in essence, breaking up the companies — to giving new tools and funding to antitrust enforcement agencies.
On the political front, the business news-centric website Business Insider reported on Tuesday as well that Democrats on the subcommittee said that new laws should be passed to ban companies from giving their own products an advantage on platforms that they control (e.g., Apple's App Store). The Republican members in the group, on the other hand, didn't agree with all of the Democratic majority's conclusions.
In particular, one of the Republican members on the subcommittee — who published on Monday a rebuttal in response to the subcommittee's report (which, at the time, was still forthcoming) — objected to calls by Democrats to separate the companies but they, according to Business Insider stressed that they supported the drive of the investigation and viewed the tech giants' behavior as anticompetitive.
While sweeping legal changes are recommended to promote competition, Engadget reported that — among other recommendations — the subcommittee's report also suggested strengthening antitrust laws and requiring dominant companies to make their platforms compatible with the services of their competitors. If enacted, the changes recommended by the report would dramatically reshape the tech industry moving forward.
"The totality of the evidence produced during this investigation demonstrates the pressing need for legislative action and reform. These firms have too much power, and that power must be reined in and subject to appropriate oversight and enforcement," said the subcommittee in their report.
Earlier this year back in July, Apple CEO Tim Cook, along with Alphabet CEO Sundar Pichai (the parent company of Google), Facebook CEO Mark Zuckerberg, and Amazon CEO Jeff Bezos, appeared before Congress to testify in congressional hearings — which were co-ordinated and conducted by the House Judiciary Committee's Antitrust Subcommittee — into anticompetitive behaviors by Cook's and the other CEO's respective companies. The four chief executive officers faced questions about how their companies' business practices propelled them into the dominant tech giants that they are today. Other issues that were touched on were innovation, data privacy, and the key issue: competition.
Business Insider reported on Tuesday that, per the subcommittee's report, Democrats were very critical of the CEOs for dodging questions during the hearing as well as criticizing the companies for being slow and uncooperative in providing documents pertinent to the investigation that were requested of them outside of the hearings. According to the subcommittee, the answers that the chief executive officers provided were often evasive and at times, were non-responsive, which raised questions over whether these tech giants believed they were beyond the reach of democratic oversight.