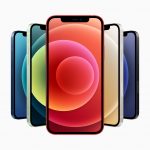 Looking for a new Apple iPhone 12 or 12 Pro? Perhaps a deal on last year's iPhone 11? Check out our iPhone Price Tracker here at MacPrices.net. We track new and clearance iPhone prices from Apple as well as their major carriers on a daily basis.
Today's deals include a free 64GB iPhone 12 at AT&T, Verizon, and US Cellular for customers willing to switch and open a new line of service (and with trade-in at Verizon and AT&T) or $250 off the 12 or 12 Pro at Xfinity Mobile. Discounts at these carriers are also available on the iPhone 12 Pro, iPhone 11, iPhone SE, and iPhone Xr.
Don't want a contract? Then try this $249 iPhone SE at Boost Mobile.