Upgrading To The iPhone 12 And Making The Switch To 5G? Not So Fast…
FEATURE: 10.28.20 – If you're looking to upgrade your existing Apple smartphone and getting one of the new flagship models of iPhones for 2020 in order to jump onto the 5G bandwagon, you might want to hold on to that thought for a moment and explore this informative article first.
The future of wireless technology, 5G, is here, and, if you want to experience it for yourself, you'll have to purchase a 5G-enabled mobile device from Apple in order to get 5G connectivity. No matter which end of the spectrum your upgrade path takes you, whether its the standard iPhone 12 and iPhone 12 mini on the low end or the more premium iPhone 12 Pro and iPhone 12 Pro Max on the high end — devices which are all compatible with 5G networks — if you're upgrading solely to take advantage of the blazing fast speeds offered by 5G, before you ditch your old iPhone, there are a few caveats (some major, some minor) that you should know about in regard to this new cellular standard.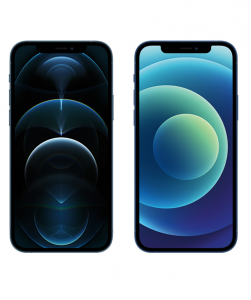 5G is the "must have" feature of today's mobile devices, especially due in part to its faster speeds in comparison to 4G LTE. In a survey of existing Apple smartphone users — conducted prior to the announcement of the iPhone 12 — which asked more than 2,500 people what they were looking for most in this year's new lineup of iPhones if they were to upgrade, topping the list was a faster device. Statistically, out of the 4-in-10 surveyed, 5G connectivity ranked 58% as one of the top features on everyone's list while 41% said it was the deciding factor to upgrading.
Out of the 41% of the people who were surveyed that indicated 5G connectivity was the deciding factor to upgrading, the respondents said the following:
23% marked it as important
15% thought it was somewhat  important
21% voted that it was not important in their decision-making process
With that said, since you've already read this far, it's safe to assume that you're one of those existing Apple smartphone users who wants a faster device — in particular, a 5G compatible phone like the iPhone 12 — however, there's a lot you'll need to learn about the wireless technology, from its benefits and downsides to what (if any) issues you may encounter with regard to 5G compatibility when purchasing one of the new models of iPhones, and, that's where this informative article comes in.
**AD: For the lowest prices, best deals, and latest discounts from Apple and Apple Authorized Resellers on all of the new iPhone 12 models announced by the company on October 13, 2020, be sure to check out the exclusive and award winning iPhone price tracker on MacPrices. Pricing updated daily, seven days a week!
5G: The New Cellular Standard
According to iPhone Life magazine, 5G — the fifth generation cellular standard — is the most reliable high capacity mobile network to-date and provides the best peak data speeds, plus the ability to seamlessly connect multiple devices with more security and privacy. In addition, a key feature of 5G is its ultra-low latency, allowing nearly real time communication between not only mobile devices but other smart devices as well. As far as iPhone 12 users are concerned, the publication reports that those who live in an area where 5G has been rolled out will have, per Apple's senior Vice President of worldwide marketing, Greg Joswiak, the best 5G experience on the market (as quoted in the article).
The magazine also reports that, in addition to offering faster connection times which can be as fast as double the upload and download speeds of 4G LTE, all four of the iPhone 12 models will offer less latency and more responsiveness in gaming, higher quality video streaming, and even high definition FaceTime HD calls. In particular, the publication indicates that owners of the iPhone 12 Pro and iPhone 12 Pro Max will enjoy most, if not all, of those 5G features since the Pro models of the new iPhones feature more 5G bands than any other competing 5G-enabled smartphones currently available.
When it comes to current 5G connectivity and areas of coverage available now, or, will be by the end of this year, according to iPhone Life, urban customers have it the best as long as one lives in a large or medium-sized city where you'll be sure to find a 5G spectrum of some sort from at least one of the three major wireless carriers in the U.S., however, if you live in a more sparsely populated area, that doesn't necessarily mean that 5G is completely off the table but it may not happen until 2021 or even later.
Apple did its best to sell people on the potential of 5G (see linked YouTube video) when it unveiled its new iPhones as Wired magazine reports, but the cellular standard remains nascent. The publication says that the road to 5G has been less impressive than advertised so far and has yet to live up to the hype, paved with "meh" (in the author's own words)speeds and patchy coverage, largely because the wireless technology is so fragmented.
The caveat about 5G connectivity is that, according to Macworld magazine, it's still going to be awhile before most people can take advantage of the 5G modem in the new iPhones released this year.
That said, however, when 5G coverage expands nationwide, owners of these newer Apple smartphones will be getting the fastest possible connection speeds available as Macworld reports. The reason for this, per the magazine, is because the company has included support for both 5G technologies — sub-6GHz and mmWave — in all four of the iPhone 12 models announced. The publication points out that one could argue that this decision was not necessary and Apple could have easily reduced the cost of the devices by dropping compatibility for the faster spectrum of the two, but, in a few years, when those speedier connections are more widespread across the U.S., your phone will feel just as fast as an iPhone released in 2022.
But, just what exactly are these two 5G technologies and what are the differences between them?
5G: sub-6GHz vs. mmWave
The website, Networking Report, says that if you are thinking about making the jump to 5G, it is important to understand every technical aspect of the technology behind this new cellular standard in our connected lives and you will have to know and learn the terminology involved which is where the networking-centric news site comes in to help break down how different variations of 5G — sub-6GHz and mmWave — can lead to vastly different experiences for users of 5G-enabled mobile devices.
According to the networking-centric news site, strictly speaking, spectrum above 24GHz is mmWave. Practically speaking, in the context of 5G, 6GHz is the dividing line: spectrum above that is mmWave and spectrum below that (thus, the term sub-6GHz) is not. On the other hand, spectrum, per Networking Report, is the range of radio frequencies used to transmit sound and data through the air.
The reason that the mmWave spectrum is so fast, as Networking Report illustrates, is because it is not as crowded as opposed to the lower sub-6GHz frequency bands — which, according to them, are most often used for cellular communications — making that end of the spectrum more crowded. In contrast, at the higher mmWave frequencies, there is more bandwidth available: in short, as they explain, the mmWave spectrum allows for large bandwidth, paving the way for potentially faster speeds whereas sub-6GHz spectrum, meanwhile, has limited bandwidth and therefore its speeds could potentially be slower than what is possible at the opposite end of the spectrum.
A caveat of the mmWave spectrum, however, in terms of the 5G experience as the networking-centric news site reports, is that there are potentially very different results at higher frequencies compared to lower frequencies. According to their explanation, the lower frequency spectrum, including sub-6GHz, can travel farther and penetrate solid objects like buildings better than a higher frequency spectrum such as mmWave which doesn't offer the broad coverage that the opposite end of the spectrum supports, due to its sensitivity to external factors (therefore, negating its benefits such as ultrafast speeds). As a result, as Networking Report indicates, this makes the limited coverage of the mmWave spectrum its major concern.
Speaking of coverage, you're probably wondering which of the wireless carriers in the U.S. have a 5G network and which of the two spectrums they support, so, let's keep reading, shall we?
5G: Network & Coverage
According to the website, iDrop News, 5G rollouts are happening quite aggressively across the country but the three major wireless carriers in the U.S. each have a very different approach to how it has been deploying, or, has already deployed, the new wireless technology.
For example, the Apple-centric news site reports that Verizon has put a focus on the mmWave spectrum which is concentrated only in major cities, leaving those in more rural, and, even suburban, areas stuck on its 4G LTE network. Although, since that report, Verizon's CEO has announced — during the "Hi Speed." Apple Event in October — that the company was rolling out a new nationwide 5G network (but not mmWave and one that will share its spectrum with its 4G LTE network). Wired reports that this new 5G network will run on low frequencies which will mean broader coverage but less spectacular speeds.
On the other hand, AT&T, as iDrop News reports, has been taking a more gradual approach to its 5G network rollout by mixing the mmWave spectrum in major urban centers with the sub-6GHz spectrum for suburban and rural areas (these are not to be confused with the company's marketing ruse that it deployed last year and was dubbed "5G Evolution" and branded as 5GE).
Meanwhile, taking the opposite approach is T-Mobile (who recently merged with Sprint in April) — the first major wireless carrier in the U.S. To launch a nationwide 5G network in December of last year, and, according to the Apple-centric news site, over the Summer became a standalone network decoupled from its 4G LTE network — which has chosen to deliberately avoid, almost in its entirety, the use of the mmWave spectrum (although the company has deployed the technology in some U.S. cities in limited fashion) in favor of spreading out 5G coverage across all 50 states with its 600MHz spectrum (a sub-6GHz technology), however, as iDrop News notes, while this particular implementation provides a greater and more expansive footprint as well as better in-building coverage due to the much longer range of the 600MHz spectrum, it is far from the maximum speed that 5G promises to ultimately deliver (e.g., mmWave). That said, as the website indicates, in the short term, the 600MHz speeds are likely to be more than sufficient for mobile device users since it already rivals most in-home broadband connections.
The caveat of the 600MHz spectrum, however, in terms of the difference in 5G speeds is that the technology is only marginally faster than 4G LTE as the business -centric cable news network, CNBC, reports, noting that the mmWave spectrum is 10x faster in comparison. In the report (which was published back in January of this year but still remains true to this day), CNBC's technology product editor points out that because the faster spectrum is not yet widely available nationwide — as illustrated by the limited coverage offered by AT&T, Verizon, and T-Mobile as well — any smartphone users who want the fastest 5G connection possible will need to be standing very close to a cell tower that offers support for mmWave in order to get a good signal as that particular 5G wireless technology can't pass through buildings or penetrate walls.
As far as how much of an increase in speed that one can get with the 600MHz spectrum offered by T-Mobile, the website, The Verge, reports that while in some places this low band 5G can be a lot faster than 4G LTE, in most locations, customers won't see much of a difference (quoting a company spokesperson from the wireless carrier).
The Verge also references the faster 5G technology in its report, pointing out that although the mmWave spectrum delivers much faster speeds than the 600MHz spectrum, the signal doesn't travel very far and is easily blocked by almost anything in its path. In addition, according to the technology-centric news site, because of the physical limitations of mmWave, deployments of the technology are likely to stay confined to densely populated areas like major U.S. cities and sports stadiums.
Now that you know more about what 5G can do, the two types of the technology available, and which of the wireless carriers in the U.S. offer coverage for the next generation cellular standard, there are still some technicalities involved like advantages and disadvantages to upgrading to an iPhone 12 that you should consider before taking the plunge.
5G: Pros & Cons
In an edition of the "Insider Tech" weekly newsletter published the day after the announcement of this year's lineup of iPhones, the global tech editor of the website, Business Insider, reports that something big was happening in the world of tech, that being the beginning of the long-awaited (so-called) iPhone "super cycle."
According to the global tech editor's report, it's been awhile since the release of a new iPhone triggered a mass buying binge, referencing the iPhone 4 from 2010 which was the very first 4G-enabled Apple smartphone, and many analysts — citing one in particular who says that there are roughly 350 million iPhones out there waiting anxiously to be upgraded — are convinced that the stars are finally aligned for a "super cycle." The big question is, however, per the author of the "Insider Tech" newsletter, what will make these 350 million owners of those older devices decide they need to buy the iPhone 12? They say that, presumably, the answer is the latest and greatest new technology: 5G.
The caveat with 5G wireless technology, however, as the author of the "Insider Tech" newsletter proceeds to point out, is that there isn't yet a killer app out there right now that takes advantage of 5G in such a mind-blowing way that it completely changes how you use your phone (one of the disadvantages to upgrading to this year's 5G-enabled iPhones now).
Something that will definitely change the way you use your phone when using 5G is how long you'll be able to use the device — in this case, the new iPhones for 2020 — on a single charge. To help shed light on this are the people over at the website, Tom's Guide, a site that provides everything from buying advice and expert recommendations to in-depth reviews on a wide variety of tech product categories.
According to an article on their website on a battery test that they conducted on both the iPhone 12 and iPhone 12 Pro (the only two models currently available for testing at the time of publication), the tests' results are in, and, they're not so great (another disadvantage to upgrading to this year's 5G-enabled iPhones now).
The report finds that when compared to similarly equipped Android smartphones? The battery life of the iPhone 12 and iPhone 12 Pro is a step behind the competition: especially over 5G networks. Tom's Guide reports that their tests on the new iPhones were conducted over 5G networks — and 4G LTE as well for comparison — and the difference in battery life was (in their own words) pretty dramatic.
Results from their tests show that the iPhone 12 on AT&T's 5G network lasted just 8 hours and 25 minutes versus being switched on to only 4G LTE where it lasted for 10 hours and 23 minutes. The iPhone 12 Pro, on the other hand, fared a bit better, lasting 9 hours and 6 minutes on T-Mobile's 5G network which jumped to 11 hours and 24 minutes on just 4G LTE. In comparison, according to the article, Samsung Galaxy smartphones generally last longer — approximately 1.5 hours longer in one instance from their tests — on a full charge over 5G.
The caveat of getting faster speeds with 5G involves a huge trade off: battery life. Tom's Guide reports that, overall, their tests find that the battery life on both the iPhone 12 and iPhone 12 Pro is (in their own words) a bummer while on 5G and they suggest, in some specific cases, manually switching to 4G LTE by using Smart Data mode (click on the link to learn more) in order to save extra juice.
Explaining the reason for the shorter battery life is a report from the tech blog, Engadget, on how 5G has changed things in the new iPhones. Engadget surmises that the shorter battery life — which they note that they observed in their review of the product — may be attributed to larger logic boards which they say is likely due to the addition of 5G technology (e.g., modems and antennas), decreasing the amount of space available for a battery to fit inside the device. Their hypothesis was derived from a teardown of the iPhone 12 and iPhone 12 Pro performed by iFixIt (a website that offers repair guides and sells the tools needed to do such) which reveals that the batteries of these phones are smaller in size and capacity than last year's iPhone models.
Battery life issues aside, these larger logic boards found inside the iPhone 12 may have a huge benefit (a silver lining) because, as Wired reports, all four of the iPhone 12 models are designed to use a range of frequency bands encompassing most of the low, mid, and high frequencies used for 5G around the world (which may explain the smaller battery size as a result of the addition of all of those 5G technologies in the device) and means that the devices should be capable of working on multiple wireless carriers and roaming between 5G networks (an advantage to upgrading to this year's 5G-enabled iPhones now).
In an explanation about how Apple built 5G connectivity into its new iPhones, Wired notes that this is a significant achievement because, per the magazine, 5G operates across a confusing patchwork of frequencies which means that the company had to pack additional chips, radio frequency filters, and multiple antennas into this year's iPhone lineup to accomplish such a feat. As the publication cites in its report, in order to ensure full compatibility, Apple says that it had tested its iPhone 12 models on more than 100 different networks.
5G: Now & Later
According to the magazine, PCMag, this year's iPhone lineup may be the only future proof 5G-enabled smartphones currently available. The publication reports that the four iPhone 12 models are the first major mobile phones to be sold stateside which supports "C-Band": a powerful 5G network system coming to the U.S. in 2021 (how much faster and where it falls into the 5G spectrum was not indicated in the article).
In an analysis of the data that it compiled, SellCell, the company which conducted the survey of existing Apple smartphone users (the one that was referenced earlier in this article), says that although the wireless technology surrounding 5G is still in its infant stage, the survey's results revealed that a majority of consumers want their new iPhones to be 5G-enabled – in order to be future proof for what is going to become the cellular standard moving forward.
As far as what the future of 5G will look like, in a forward-looking editorial written in October of last year by a blogger who writes the column, "Appleholic," which is published on the website of Computerworld magazine, the author notes that while Apple will be the catalyst for 5G adoption in North America? The op ed piece makes reference to a report which predicts that it won't be until next year before 80% of the population of North America sees widespread coverage of 5G over the entire continent. Furthermore, user adoption will take some time as consumers will need to upgrade and/or migrate to new hardware (e.g., 5G-enabled iPhones such as this year's lineup).
Per the Computerworld blogger (who provides a handful of statistics in their editorial), the biggest growth rate for 5G will be between 2020 and 2021, up to 14%, when the GSMA (an association which represents the worldwide mobile communications industry) will be looking to Apple's deployment of 5G-enabled iPhones to help boost adoption, where by 2022, the data shows the numbers increase to 24%. In addition, globally, it wont be until at least 2025 before the next generation wireless standard accounts for just shy of 50% of 5G connections around the world, up from 1% in 2019 and 4% this year.
You may be asking yourself, hold on, what do these numbers mean as far as iPhone users are concerned? To put it all into perspective, according to the author of the "Appleholic" column, the 5G party hasn't started yet and really won't kick off until 2022.
5G: The Verdict
The "Macalope," a self-described mythical beast (really, a pseudonym for the author) who writes a regular column for Macworld but notes that they are not an employee of the magazine, says that Apple's big marketing tool for its new iPhones, 5G, is not all there yet. They argue that after several years of hearing how behind the times iPhones have been by not giving access to something its users couldn't take advantage of yet, Apple — which was first told it was too late to the party but is now too early (coincidentally, a similar theme used in the aforementioned editorial in Computerworld) — is currently in the position of having to try to sell its customers on the benefits of something most people can't use yet.
"At long last, you can buy an iPhone and enjoy the blazing fast speeds delivered by 5G," says the fictitious mythical beast.
However, that may not necessarily be the case for most everyone as the "Macalope" points out, adding that it's a network that people probably won't be able to use for another year. After being told we needed it now, it turns out, borrowing the headline of an article originallly published in the "Yahoo Finance Tech" newsletter (which they link to in their commentary), they say that while Apple's 5G-enabled iPhones are here, 5G isn't ready for showtime.
In that article, the tech editor of the financial business news site, Yahoo Finance, reports that Apple's latest iPhones sure seem impressive at first blush (their own words), from more durable displays and improved cameras, to an updated and more refined style, but, while the inclusion of 5G wireless technology makes these particular iPhones stand out?
The author of the "Yahoo Finance Tech" newsletter reports that the three major wireless carriers in the U.S. have been talking up 5G for many years as the next big thing, promising huge advancements in the mobile landscape, however, they proceed to point out that those carriers' 5G networks (in terms of nationwide coverage) just aren't there yet. For instance, as they report,T-Mobile boasts that it has the largest nationwide 5G network, and, based on its coverage map, it certainly looks like it does, but, according to the tech editor, there are still plenty of areas across the country that its 5G network doesn't reach. AT&T's map, on the other hand, has even larger gaps with its 5G coverage, leaving out entire swaths (their own words) of states and Verizon (which they disclose is their parent company) covers even less than that, also noting the rollout of the carrier's new nationwide 5G network (as previously referenced in this story via a report from Wired)..
In addition to issues with the wireless carriers' 5G networks and available coverage, according to the tech editor, it's important to recognize that 5G wireless technology still isn't as ubiquitous as current 4G LTE networks are and 5G has little to show users outside of faster download and upload speeds and reduced latency and bandwidth, although they do note that when used in the right scenario, the next generation cellular standard will unlock new ways of using our smartphones
As it currently stands, the author of the "Yahoo Finance Tech" newsletter indicates that our apps right now are currently optimized for 4G LTE: they're not built around the capabilities offered by 5G. The apps that actually require such speeds haven't been created just yet and when they will finally hit the market is not entirely clear. The tech editor says that if they had to guess, they would say in the next year or two is when we'll start to see apps that truly need 5G to function properly.
That said, leaving apps aside, the tech editor says that there's no doubt that each of the three major wireless carriers in the U.S. will continue to build out their 5G networks until it blankets the country as much as their current 4G LTE networks do, however, at the moment, they stress that there's no guarantee that your brand new iPhone with 5G connectivity will have a readily available 5G connection. Plus, while the author of the "Yahoo Finance Tech" newsletter says that they plan on upgrading to one of the iPhone 12 models for themselves, they end on this note: don't expect to get all of those benefits that the wireless carriers have promised the minute you take your slick new phone out of the box.
"In other words? When you get your shiny new iPhone, or any 5G phone really, don't expect your world to change overnight," says the tech editor.
So, if you're planning to upgrade to a new iPhone in 2020 just for the 5G connectivity — now that you know all about the caveats involved with regard to this wireless technology — maybe it would behoove you to hold off until next year, or, at least 'til 2022, before you spring (or is it fall?) for a 5G-enabled mobile device. But, if you're so inclined after everything that was discussed in this article? If you do happen to end up buying an iPhone 12, especially if what you currently have isn't cutting it anymore in terms of speed and performance (e.g., processor and iOS compatibility), check out this Apple Support document on apple.com about: "Using 5G with your iPhone."
---
A Note from the Author: this writer is an occasional contributor to iPhone Life magazine and has a blog on the publication's website at iphonelife.com (although they are not the author of the article from the publication which was referenced and cited in this story).