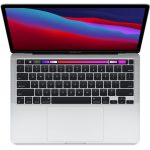 Apple reseller Adorama is accepting preorders for the 512GB Silver 13″ MacBook Pro with Apple's new M1 CPU for $1374 shipped. Their price is $125 off Apple's MSRP, and it's the cheapest price we've seen so far for the model with a 512GB SSD. Act now if you're interested, as we're not sure how long this price will be available:
– 2020 13″ MacBook Pro, Silver, M1 CPU/512GB SSD: $1374 $125 off MSRP
For the latest prices and sales of Apple's new M1 13″ MacBook Pros, keep an eye on our 13″ MacBook Pro Price Tracker, updated daily.
Update 11/12:
Sale has ended, and their price has returned to Apple's standard MSRP of $1499.