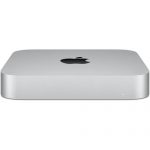 Apple reseller Datavision has received stock of Apple's popular new M1 Mac minis. DataVision charges sales tax for NY, NJ, MA, PA, MD, TN, MS, and CA residents only. If you don't reside in one of those states, you can save on sales tax by purchasing through DataVision, depending on your state's current rate:
– Mac mini M1 CPU/256GB SSD: $699
– Mac mini M1 CPU/512GB SSD: $895, $4 off
These are the same Mac minis sold by Apple in their retail and online stores. For the latest prices and sales, keep an eye on our Mac mini Price Tracker, updated daily.