Apple's New Ship-From-Store Model May Leave In-Store Shoppers With Sold Out Products
FEATURE: 11.30.20 –With the holidays upon us, the mad rush to get our holiday gift shopping done has begun, however, after the Cyber Monday buying blitz is over, you still may want to let your fingers do the walking (so to speak) on the web and have your purchases from Apple shipped directly to your door rather than visiting the company's retail store (and not just because of the global pandemic).
According to Business Insider in a report published on this year's Small Business Saturday, this shopping year is unlike any other. In practice, consumers have adapted their purchasing habits to the times by choosing to shop online earlier to avoid shipping delays induced by the global pandemic.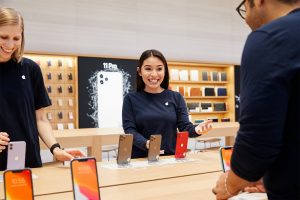 Consumer preferences during the global pandemic, as Business Insider also reported, have shifted even more to e-commerce, virtual business models, and: delivery.
Speedy Delivery
The global pandemic has not only changed people's shopping habits but the retail landscape as well with brick and mortar establishments like Apple's own stores changing operational procedures. According to a report published in October from Bloomberg, some Apple locations have become distribution centers for shipping out the company's products to customers — a model that has been popularized by retailers across the U.S. in recent years — in order to speed up delivery of orders placed online.
Bloomberg reported that Apple started testing the program at a small number of its re-opened retail store locations that were previously closed due to COVID-19 and has rolled out to more, but not all, sites across the U.S. and Canada.
According to sources familiar with the matter who spoke to Bloomberg and asked not to be identified as they were discussing internal policies, The program will apply to people who live within 100 miles from a store. The company has typically shipped out products like Macs, iPhones, and iPads from warehouses located across a customer's region or directly from China. Now items that are in stock can be sent directly to customers from a network of almost 300 Apple retail stores spread across the U.S. and Canada, .
Apple told its retail store team members that the shift in its operations will mean faster delivery times for customers who live further away from distribution centers than from stores, the people familiar with the matter said. The products will be shipped via ground shipping through FedEx in the U.S. and UPS in Canada and may be delivered as early as the day after a customer places an order online.
Unfortunately, as Bloomberg noted, customers won't be able to choose the option to have their online orders shipped from a specific store (in order to guarantee faster shipping times) nor will they be aware when it happens per sources who said that the decision on where an item ships from is made by Apple's operations team.
**AD: Ordering online from apple.com for the holidays (or any time of the year) to have your items shipped directly to your door? Before you do so, be sure to check out the exclusive and award winning Apple products price trackers right here on MacPrices for the lowest prices, best deals, and latest discounts from Apple and Apple Authorized Resellers. Pricing updated daily, seven days a week!
Cupertino? We Have A Problem…
According to a report based on the one by Business Insider and also published in October from Morning Brew, a website that covers retail and technology news in weekly newsletters to subscribers (which this writer is subscribed to), Apple has join the current model recently adopted by the likes of Target and Walmart in fulfilling web orders with store inventory. However, as much as retailers want to take the ship-from-store approach to fulfillment, there will be days when online and in-store shoppers compete for the last pair of AirPods Pro available in stores. The solution?
"Creating an inventory buffer for in-store customers [and] conducting regular cycle counts to ensure inventory accuracy will ensure customers aren't disappointed," said Rebekah Kondrat, founder of consultancy firm Kondrat Retail, speaking to Morning Brew.
However, as Morning Brew pointed out, shipping problems can arise when retailers switch to the use of their retail stores rather than using the company's warehouses to fulfill customers' online orders. In addition, the ship-from-store sites will have competing priorities when converting those store locations' storerooms in the back into distribution centers for fulfillment.
"Having a flexible, cross-trained workforce is critical to running a robust back of house operation while also ensuring that customers in the front of house receive a high level of customer service," said Kondrat.   
Per Kondrat, foot traffic timeframes should determine which tasks team members focus on. Stores can flex teams to front of house operations during busy times, leaving order fulfillment in back for slower periods. Also, all employees need to memorize their corporate-sanctioned greetings for customer engagement while mastering quick picking and packing for fulfilling orders: those are different skill sets and retailers shouldn't shift people from one to the other without adequate training.
Morning Brew reported that retailers — including Target and Walmart — began testing ship-from-store operations pre-pandemic. Some brands have even built dark stores for online orders or converted existing stores to permanent mini warehouses for order fulfillment.
But, despite recent surges in curbside pickup (due to the global pandemic), as reported by Morning Brew, most shoppers would rather commute to their doorsteps.
Shifting Priorities
According to insights from the "14th Annual Shopping Survey" conducted in September by Accenture, a multinational consulting company based in Ireland, the 2020 U.S. holiday shopping season will be very different from past years. Citing the research report, Morning Brew reported that 77% of the shoppers who were surveyed want their purchases shipped directly to their homes.
Another key takeaway from the research report highlighted by Accenture was that consumer expectations remain high, and retailers must increase efforts to enhance digital commerce while shoring up supply chain resilience.
Morning Brew also reported that there is still, however, an incentive to packing boxes in store aisles for reasons beyond boosting delivery speeds. In the report from Bloomberg, based on the information that Apple provided to its retail store team members, the practice — aside from being beneficial to the environment according to the company — will reduce costs which potentially improves product margins.
Additionally, Bloomberg reported that the shift in delivery operations will ensure locations that remain shuttered due to COVID-19 restrictions can still operate in a way that assists in selling the company's products.
According to the Bloomberg report, in addition to distribution centers, the company also has discussed converting select locations into mini call centers for online sales or support in the event that they need to be closed again as a result of the global pandemic. The rooms in the back at some Apple retail stores have already started serving as such.