Best New Years 2021 prepaid deals on Apple's cheapest new iPhone: Apple iPhone SE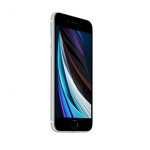 Looking for the cheapest new Apple iPhone this New Years 2021? Several of Apple's wireless carriers are offering free iPhones if you sign up for new service spread over 24 or 30 months. If you don't want to be locked into a contract, the carriers below are offering the lowest outright prices on Apple's most affordable new iPhone, the 64GB Apple iPhone SE:
(1): Boost Mobile is offering 2020 Apple iPhone SE models for $150 off MSRP with service. Their discount reduces the cost of an iPhone SE/64GB to $249.99. 128GB models are offered at a $50 discount: $399.99.
Note that availability at Boost can vary, depending on color and configuration.
Order online, then pick a Boost unlimited plan when the phone arrives. Boost Mobile is part of the newly expanded DISH network, and they offer plans beginning at $15 per month for one line. No annual contract is required.
(2): No contract wireless carriers Straight Talk, Total Wireless, and Simple Mobile are all offering Apple's 2020 64 iPhone SE for $200 off Apple's MSRP (one-time payment of $199), or $8.29 per month for 24 months:
– Simple Mobile: $199
– Straight Talk: $199
– Total Wireless: $199
You must also purchase at least one month of prepaid service starting at $35. See each carrier for details and their service areas.
Keep an eye on our iPhone Price Tracker for the latest prices, sales, and plans from Apple and its authorized iPhone service carriers, updated daily.